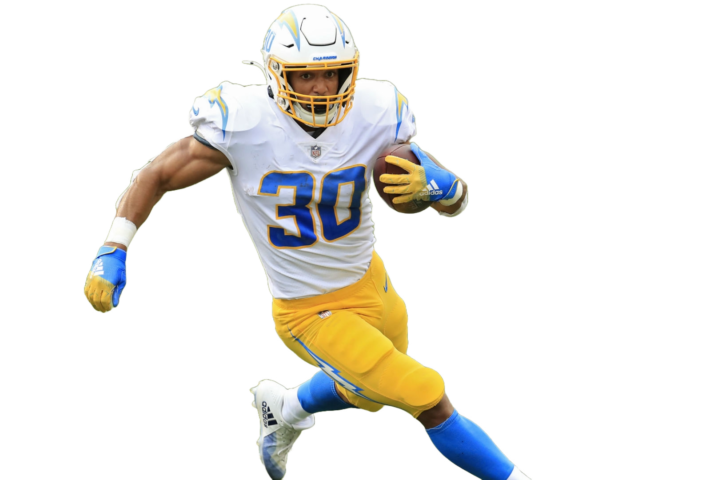 Welcome back to Fantasy Football Blueprint and thank you for taking the time to read my articles. RBs have become slightly less appealing early in drafts these past few seasons but still are a vital position to fill in your starting fantasy lineup. Dual threat RBs (Ekeler, McCaffrey, etc.) are always going to have an advantage, especially in PPR. Let's dive into the RB position and see who we have for a sure thing, a sleeper, a bust, and a breakout.
For all things fantasy football, follow me on Twitter (@FantasyHubbard).
RB
SURE THING
Austin Ekeler – LA Chargers
Ekeler continues to impress year in and year out and this season should be no different. Last season he set career highs in rushing yards, rushing TDs, and receptions. He is a huge part of the Chargers offense, and he is known to play fantasy football and likes to score/win. He played every game last season and has played in 16 or more in 4 of his 6 career years. Ekeler has accrued 38 total TDs in his last 2 seasons combined which is exactly who you want starting for you at RB1. Austin Ekeler and Christian McCaffrey are consensus top 2 RBs in fantasy this year, but I'll give the edge to Ekeler due to Christian's history of injury.
SLEEPER
Alexander Mattison – Minnesota Vikings
Mattison has been the back up RB behind Dalvin Cook for some time now, but Cook is now a Jet and Mattison is in line to be the Vikings starting RB. When Cook had been injured, which seemed to happen frequently, Mattison would step up, play well, and put nice fantasy numbers up for those who had him. Last season he played a full 17 games and set a career high with 5 rushing TDs despite his career low in carries. Alexander should be within the top 15 RBs this season if he plays anything like the back up with something to prove role like he had been used to.
BUST
Kenneth Walker III – Seattle Seahawks
Walker had burst onto the scene last season as a somewhat overlooked rookie for the Seahawks who finished his rookie campaign with over 1000 rushing yards. He was in the top 12 players in rushing yards and had a solid 9 TDs. So why is he in the bust category? I believe Walker should be able to get healthy in time for the regular season, but his groin injury could be of concern. Seattle was middle of the pack in rushing yards last season. Seattle then went on to draft the RB Zach Charbonnet in the 2nd round of the NFL draft. That addition to the teams RB core could definitely put a damper on Walkers numbers this season, especially if Zach plays like he did at UCLA in his last 2 seasons. It will be interesting to follow the snap counts and figure out how active Charbonnet will be on Pete Carroll's team.
BREAKOUT/PREDICTION
Bijan Robinson – Atlanta Falcons
There has been a ton of hype over Bijan and his upcoming rookie season. Robinson was taken 8th overall in this year's NFL draft by the Atlanta Falcons. The Falcons led the entire NFL in rushing attempts last season which bodes well for the rookie, and his contributions to the pass game can really make him stand out. In his 3rd and final season at Texas he finished the season with over 1500 rushing yards, 18 rushing TDs, and averaged 16.5 yards per reception. I think the Falcons are going to have a very tough year, but Robinson could be the bright spot. I could compare him to Saquon Barkley in his rookie year. That turned out well for the Giants so Robinson owners should be excited to see what he can do for your fantasy team. My prediction for Bijan this season is offensive rookie of the year and a top 10 fantasy finish amongst RBs.