Daily
Get access to this and all our season-long content!
Get our building-block players. Each week we do a ton of research so you don't have to. We take into account projected game scripts, player projections, expected ownership levels, recency bias, and much more to make sure you've got the players you need to build a good lineup foundation.
Foundation: These are players we feel have a high floor and a high ceiling, meaning there is a chance they do really well with little risk that they are a complete bust. These players are great in cash lineups and tournaments.
Tournament Winners: These are players who can be the foundation of your tournament lineups. Some are popular players with really strong match-ups, others are high-variance players who have a high ceiling and are expected to be low-owned. These players won't always hit, but are needed to differentiate yourself from the field in large tournaments.
Million $ Players: These players are even more high variance and best suited for massive tournaments with thousands of entries. These are the low-owned difference makers you need to take a shot at winning the million $ tournaments.
Hail Mary: These are players who generally aren't expected to do well, but we see a potential path for them surprising at minimum ownership levels.
Fading: These are players we expect to be heavily owned by the public, but we aren't playing them.
Favorite Stacks: In tournaments, it's generally best to pair correlated players. For example, pairing a QB and WR. If one does well, there is a good chance the other will do well too. (You'll sometimes see players listed in a stack that aren't in our core picks… in those cases, we like those players better as part of team stacks or game stacks, rather than individually.)
Read more about stacks and other tournament-winning strategies here. 
Brush up on the basics of building DFS lineups here.
Current week picks are typically posted on Saturday afternoon. Occasionally we will make some updates Sunday morning as new information comes out. Player recommendations table needs to be viewed on the computer; not mobile optimized.
---
Week 4 
Sunday Update: Still going with a Mayfield stack as primary. Still like Burrow stack and Watson stack, but mixing in a Stafford stack in there as well now, with New Orleans' top two corners out. I still like Hockenson but he's picking up a lot of ownership so may go with a Stafford + Kamara + Golladay stack instead and move to Gronkowski at TE, perhaps coming back with Keenan Allen.
Still locking in Baltimore, but if you want to get away from heavy Mike Davis and James Robinson ownership, I like a Henderson + Rams stack.
——————
Well, another week, another game stack winning one million dollars. I'll keep telling you each week… building your lineup around correlated stacks is the way to put yourself in position for success! We once again saw the QB + WR1 + WR2 + Opposing WR stack lead the way. Yes, it was in a game that scored 69 points, but these concepts work all weeks, even going down to the more common QB + WR1 + Opposing WR stack. We also saw another instance of the RB + DEF stack with Taylor and Indy (a stack we told you use if you were already going to play one or the other individually).  
I was largely avoiding the Dallas and Seattle game, simply because of the leverage I would get by fading it had it underwhelmed. It actually started out going the underwhelming route, but we saw the Cowboys, once again, having to pass, pass, pass to catch up. We need to keep an eye on that – that could lead to more of these situations or it could lead to a Cowboys game being more popular than it should be and the game finally underwhelming. This is a good time to remind you of one of my favorite lineup strategies – when you have such a popular game, build two or three lineups… one fading the game, one stacking one side, one stacking the other side. Your main lineup might have been a Steelers or Falcons one like mine was, but hopefully you got some smaller lineups in with a Seahawks stack. If you did that and followed the rest of our picks and analysis, your lineup would have looked awfully close to the one above as I highlighted Gallup, Graham, and even Ekeler (though I didn't like his price enough to play him).  
One more concept on stacking… it's okay to leave salary on the table. If you're trying to fill your last roster spot and are choosing between two players who are $500 apart, don't just blindly take the more expensive player. You need to have a reason (a belief about how the game might go to enable your player to get a big score) for picking any player. Unless you have a really strong preference for the more expensive player, go with a player that fits your lineup correlations – opposing WR for one of your RBs, opposing TE, etc. You have to find a way to have a unique lineup, leaving $1,000 or more of salary unused is a way to achieve that, as others will blindly use up all their salary not considering the individual players.  
Okay, on to Week 4 – our first COVID-impacted week.  
My initial thoughts as I look at the slate… 
QB 
Lamar Jackson is expensive, as usual, but coming off a bad loss and playing Washington is a recipe for success. But there is a ton of blowout risk there. I might be more inclined to try a Baltimore RB paired with Baltimore DEF. If you think Lamar still gets enough red zone carries to pay off, could even go with a Lamar + Baltimore DEF stack. 
Wilson against Miami gives people no reason to go away from him this week, especially with the banged up RB situation. Similar blowout risk as the Ravens above, but the Seahawks may just keep throwing anyway. Could take a flier on RB and/or Seattle DEF. 
Not sure what Josh Allen has to do to get a salary bump. He's in play every week and seems to be this week too. Allen + Jacobs + Beasley could be an under-the-radar stack. 
Kyler could run all over Carolina. 
Dak seems too cheap compared to the other top options. Baker seems like an attractive option on the other side. 
Watson/Cousins could find themselves in a shootout. As well as Brees/Stafford. 
If you really want to go with a contrarian lineup (only if you're putting multiple lineups into the Sunday Million) could throw in a Dwayne Haskins lineup. Sure, Baltimore is supposed to crush them. They probably will, but what if they don't. Or what if they do and Haskins has to throw it 50 times trying to catch up? 
RB 
Now we see why Dak is priced down – Elliott is priced up. Certainly could be a bounce-back spot; great addition to a Baker + WR stack. Baker is cheap enough that you can easily make this work and still fit some nice pieces in around your core. 
Kamara and Cook are nice options at the top. Mentioned both those games as potential shootouts making both of these guys solid additions to a game stack. 
Carson could actually play this week. It's risky for sure as he could reinjure knee or he could move to the bench in a blowout. But, if he's playing, I'm at least throwing in one Carson lineup to offset all the Wilson ownership. Same theory as last week, but with a lot more risk this week.  
Kenyan Drake is a really solid bounce-back spot this week against a Carolina team that keeps getting plowed over by RBs. At only $7,000 he may be the most popular RB this week, but sometimes you just have to go with the best play and find a way to differentiate your lineup somewhere else. Mike Davis is pretty popular at $6,300 but I'm not sold on his usage just yet; after all, they weren't even using McCaffrey in his normal McCaffrey role. Sure, Davis will likely be playing from behind and catching passes, but I'd rather pay up for Drake.  
David Johnson is in a good spot to fill out your lineup or use with a Cousins stack. 
James Robinson continues to get it done and has a fine matchup. Jags need a bounce-back, but I'm not sure I want to bank on another good game from Robinson at what could be pretty high ownership. He's awfully cheap though… 
Ingram/Dobbins if you want to play RB roulette. Either could be fine or both could be fine. I'm okay with an Ingram + Dobbins + Baltimore D stack.  
WR 
Lockett seams cheap if going wiith a chalk Wilson stack. Metcalf even cheaper. 
Cooper at home seems affordable if going with a Prescott stack. 
Thielen seems cheap if targeting a HOU/MIN shootout. 
Odell Beckham Jr seems priced right according to his recent performance, but seems way under-priced for his potential. This week is starting to look more and more like a Mayfield + Elliott + OBJ stack for me.  
Parker in a game where Miami will surely be trailing could get enough volume to pay off his cheap salary. 
Marvin Jones Jr is cheap, especially if Golladay gets the Lattimore blanket. 
Boyd at only $6,000 in another game that could be much higher-scoring than we think; his best games come with AJ Green on the field. Note, AJ Green is even cheaper and is getting the volume – this certainly might be the week he cashes in a TD or two and crushes his salary value. A Burrow + Robinson + Green stack starting to look pretty nice. This could even be a Burrow + Robinson + Green + Boyd stack, giving us the same team stack we've seen win the million the first three weeks. 
Landry fairly priced but cheap if you want to go away from OBJ.  
Keelan Cole is off the radar because of a bad game last week, but he's shown good rapport with Minshew and could be an addition or substitution to a JAC/CIN stack. Would be a nice piece instead of James Robinson if you wanted to put your money on a Robinson regression game. 
TE 
Andrews is expensive but is a great bounce-back candidate this week.  
Waller is useable, especially if you're going with a Josh Allen stack. 
Liked Graham last week, but will be avoiding him this week against Indy. 
Hooper a good addition/subsitition in a CLE/DAL stack. 
Logan Thomas is in play if you're going with a Haskins garbage-time game. Note, this is one of those rare weeks where you can comfortably play a DEF with an opposing player – it's entirely possible for Baltimore to rack up enough points in the early part of the game to pay off, while still allowing some Washington players to pay off in garbage time. That would also be a unique lineup build. 
Sample is a better option than his performance showed last week and could be good addition/substitution to JAC/CIN stack. Or a cheap fill-in piece to the rest of your lineup. 
DEF 
Not a lot that I love so I'll probably lock Baltimore in wherever I can. Seattle is intriguing at only $4,000. Rams are fine. Chargers recently held Mahomes to 23 points in OT, could capitalize on an aging Tom Brady. Dallas as a flier if you think the normal version of Mayfield shows up. Or Dallas in a lineup or two as a hedge against a Mayfield stack if you go that route.  
Pro tip, don't just make multiple lineups for the sake of having more entries. Be strategic about it. If you're fading the most popular game in your main lineup, put in a lineup that stacks the most popular game. If you're stacking a certain team, like in the Cleveland example above, what happens if they tank? Grab a lineup with the opposing defense. If you like a game, but are unsure what side you like most, stack both sides. If you're making a bunch of lineups, stack that same game a bunch of different ways.  
Also, depending on your budget, find a cheap tourney that you can try out a bunch of lineups in. You can put 150 lineups into the Pooch Punt at five cents each. That's only $7.50! Play around with what types of lineups you like and then pick your favorite one for your main contests. If you have the budget, can do the same thing with the Sunday Million at $4.44 each. Maybe not 150 lineups, but if you want to try out 10 or so to either get coverage of more players or to build a lineup for a few different scenarios you like you can. This is a great way to learn how to build these mini-stacks – you'll find yourself with three or four lineups you don't really like, then will suddenly hit on a combination that you like and can use as your main lineup.  
So, I provided all the above thoughts as I was doing my initial review of the slate, just going right down the list of players in the order FanDuel has them. Hopefully this gives you a glimpse into how I look through the player list and then how I start identifying a couple stacks I like. As you can tell from above, I'm probably leaning toward a Mayfield + Elliott + OBJ stack. And maybe a secondary lineup with one of those Burrow stacks (Mixon is expected to be popular so a Burrow stack could be a nice way to offset that.) Although, as I build lineups, I'm getting more and more drawn to a Watson + Cook + Cooks stack so that may move above my Burrow stack, although it might be more popular giving me less leverage on the field. Then, since I like to make lineups for other scenarios I like, I'll throw in some $4.44 entries into the Sunday Million with some of those other stacks I mentioned, something like the Baltimore RBs + DEF stack.  
QB
RB
WR
TE
DEF
Stack
Foundation
Wilson
Prescott
Allen
Drake
Elliott
Kamara
Cook
Ravens
Tournament
Mayfield
Stafford
Watson
Brees
Da. Johnson
Robinson
Beckham
Parker
Green
Cole
Thielen
Andrews
Hockenson
Hooper
Seahawks
Rams
Andrews + Ravens
Mayfield + Elliott + OBJ + Landry
Burrow + Robinson + Green
Burrow + Robinson + Green + Boyd
Burrow + Green + Cole
Watson + Cook + Fuller/Cooks
Allen + Jacobs + Beasley
Million $
Cousins
Carson
Homer
Ingram/Dobbins
Landry
Jefferson
Shenault
Reynolds
L. Thomas
Gronkowski
Sample
Chargers
Ingram + Dobbins + Ravens
Hail Mary
Haskins
Ford
Higgins
Cowboys
Week 3 
Ah, the injuries. It happens. It's always tough when one of your DFS players gets hurt in the 1st Quarter, even tougher when it's a core piece on your biggest lineups, as was the case with Saquon Barkley. He found his way into my lineups, based on the same reasoning for Aaron Jones and Dalvin Cook – whenever you have two players like Derrick Henry and Jonathan Taylor expected to be so heavily owned, it's a great idea to pivot to a player who has an equal chance of performing well but is being ignored.  
Aaron Jones call was great. Fading Derrick Henry call was great. Fading Jonathan Taylor was not great, but didn't really hurt us too much as, outside of Aaron Jones, the RB position as a whole missed value. Our second RB – McCaffrey – didn't hit his value but still ended up as the third-ranked RB despite leaving with his own injury in the 4th Quarter. He's not getting the usage he had last year, but he'll be back some time and his monster week will come… I'll be there, at a deflated price and ownership level, when it does.  
Our Brady + Evans core was great with Evans, but Brady didn't really produce what we needed. Hopefully you had a lineup with our second QB – Prescott – and hopefully you hit on the right pieces of overstacking that game. I ended up on Hurst, who did fine, but was not the Falcons piece we needed. And I ended up on Gallup on the Cowboys side, who was a disappointment (might have to go back to him this week!)   
We saw the overstack build win a million dollars in Week 1. And it was the same in Week 2. 
A QB + RB + WR + Opposing WR stack won the day. That winning lineup (below) had Prescott and Elliott who we mentioned as a viable QB + RB stack in a high-scoring game. It also had another one of our favorite stacks – RB + DEF with Jones and Green Bay. With Jones and Evans – our top RB and WR picks – paired with the right Prescott stack, you might have made a lot of money last week. Hopefully you did!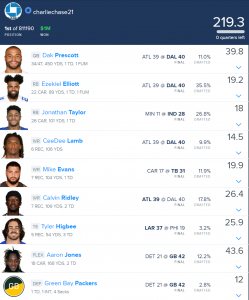 You've heard it from me before but focusing on these mini-stacks is the way to make your lineup safer and give it more upside! And it doesn't take a game hitting 79 points to pay off! And you don't have to totally avoid the chalk… as long as you find a way to differentiate your lineups by overstacking and/or picking a good (but underrated) player or two you can win the big one! 
On to Week 3.  
I told you on Sunday I was starting to like a Big Ben + Juju stack. That didn't pan out, but ownership was ridiculously low on them, which made them a great play, despite the result. Their ownership will surely be higher this week in a potential shootout with Houston, but they still seem to be going overlooked. I'm likely to go back to Big Ben, but because of the expected ownership levels, will likely use an overstack, perhaps going Big Ben, Juju, Diontae Johnson, and coming back with Will Fuller on the other side. Again, overstacking a game is a great way to capture upside in a high-scoring game, but it's also a great way to build some differentiation to offset the high ownership levels of individual players.  
I told you last week that Jones and Cook (rather than Henry and Taylor) could be a dream situation. Well, with Aaron Jones it was. Cook finished 11th, not terrible and better than Henry for sure. That dream situation leads us to a new dream situation this week… we're going right back to Henry! After his stinker last week, he'll be lower-owned than he should be and we can bring it back with Thielen who always has a chance to score two TDs. Another mini-stack! This dream situation would be even better if the Packers were playing on the main slate so we could also fade Jones this week at what would have been absurb ownership levels.  
We can also get some leverage off of the Dallas and Seattle game this week, which might have record ownership levels as Prescott and Wilson have been putting up ridiculous numbers. We'll definitely have some lineups that stack up the Cowboys side and the Seahawks side, but forgotten in this is Matt Ryan. An 0-2 start, going against a solid defense in Chicago, and outshadowed by Prescott and Wilson makes Ryan a great tournament start this week. And, Ridley will likely have higher ownership levels than Julio Jones, so we'll take the classic pairing of Ryan + Julio instead. And, of course, we need our mini-stack… hello Allen Robinson! You might have forgotten he's even playing this year; that's exactly the situation we want to target for leverage this week! Note, keep an eye on Julio's status. He's a game-time decision and, even if he starts, could leave with an injury at any moment. If you want to avoid that risk move to Ridley instead, even if he'll be more popular. If you're comfortable knowing Julio may get you a zero, he'll be much lower owned given his status – a great situation if he does indeed play and puts up a big score.  
Specific to moving away from Dallas and Seattle… people forget Week 1 where the Rams beat the Cowboys. And people forget the reason there was so much work for Prescott was because the Cowboys had a giant hole to climb out of. Both these teams want to run the ball to set up the pass – it would not surprise me if this game is the "Derrick Henry" of the week and finishes lower than expected. Of course, it could easily be another 80-point game, but I'm willing to fade it in my primary lineups (understanding there is risk in doing that). Will still have some smaller ones sprinkled in that feature this game, but I'll be mostly contrarian again this week. If you're playing cash games, don't have to get cute, you can play the chalk from this game.  
Where I'll really be looking in this game is to Chris Carson. We saw it with Aaron Jones a couple times last year and again last week – when the focus is so heavily on the passing game, you can get a player like Carson at much lower ownership than he should be, although people seem to be coming around to him as the week goes on. If you really want to go contrarian, throw in a Carson + Seattle DEF lineup. Remember the concepts of regression and recency bias. Could these teams put up another monster week, sure, but could they also regress to the mean and end up with a much lower scoring game than expected, absolutely. As E-Sports told you in one of the showdown slates, to win a big tournament you have to get a little uncomfortable – not trying to make the correct picks, trying to make the correct picks if the most popular picks fail.  
I also like Kyler Murray if you want to move away from Prescott and Wilson, but he'll be popular too. Trubisky may pick up ownership as well, given Prescott's performance against Atlanta. He may even be higher owned than Matt Ryan; I'll stick with Matt Ryan or Big Ben. 
I liked Ekeler last week, but he's stuck in that timeshare and his price is too high. I might jump on Miles Sanders before he gets too popular in future weeks, although it's sounding like he's going to be pretty popular this week already, so I might fade him now. He had a great week last week and has a great matchup, but I'll wait to see a couple weeks in a row first.  
I mentioned I might go back to Gallup this week as he'll surely be the lowest-owned of the Cowboys skill players this week, giving us a more unique lineup in a popular game. TY Hilton could be a good option this week without Campbell now and with people perhaps focusing their attention on Jonathan Taylor. Taylor is a good option this week but he could be popular again. If you go that route pair him with Indy D to offset the high ownership of each of them individually.  
Also on the Defense front, the Chargers are going overlooked. They're priced at the top so that may be causing people to shy away, perhaps it's their injuries. But one week after Tampa was the most popular defense going against Carolina with McCaffrey, we can now get the Chargers going against Carolina without McCaffrey. Sign me up. An Ekeler + Kelly + LAC stack would be a nice hail-mary stack in a larger GPP. 
QB
RB
WR
TE
DEF
Stack
Foundation
Henry
Indy
LA Chargers
Tournament
Ryan
Roethlisberger
Murray
Taylor
Cook
Sanders
Carson
J. Jones
Thielen
A. Robinson
Smith-Schuster
D. Johnson
L. Thomas
Hockenson
Sample
Cleveland
Tampa Bay
Taylor + Indy
Henry + Thielen
Ryan + Jones + Robinson
Murray + Hopkins + Hockenson
Million $
Trubisky
McKinnon
Montgomery
Fournette
Gallup
Fuller
Miller
Gage
Hooper
Hurst
Schultz
NY Jets
Pittsburgh
Roethlisberger + Schuster + Johnson + Fuller
Trubisky + Robinson + Miller + Jones
Roethlisberger + Schuster + Johnson + Pittsburgh
Hail Mary
D. Lewis
Graham
NY Giants
Carolina
Tennessee
Seattle
Henry + Tennessee
Carson + Seattle
Ekeler + Kelly + Chargers
Fading
Afraid of Not Having
Prescott
Wilson
Ridley
Cooper
Lamb
Lockett
Metcalf
Week 2:
Sunday Morning Update: 
Starting to like Big Ben and Juju especially since Evans has picked up ownership with Godwin out.
Taking some fliers on Antonio Gibson in the afternoon slate. And maybe even Chris Thompson as a hail-mary play if you need salary savings somewhere.
Ending up with a lot of Derrick Henry because he's too cheap and the situation is too good. Fading him, from a game theory perspective, is still okay. In these situations I really like to have two main lineups, one with Henry and one without.
——————————————–
We had some nice calls last week – not stacking Russell Wilson and hoping he threw one to Carson and otherwise spread the ball around worked out really well, as he finished the week as the 2nd best QB. Carson actually caught too many TDs though (since we didn't have him in our lineup!) Would have been nice stacking him with Wilson – a QB/RB isn't a popular stack but it can pay off in a high-scoring game and give you some leverage on the field. (Rodgers+Jones, Prescott+Elliott are always good candidates.) 
We were iffy on Boston Scott – and really didn't want to start him – but in the end, we did, which allowed us to move up to Davante Adams, which worked out, but Scott was certainly a disappointment. If you wanted to fade Scott, we recommended taking a flyer on min-priced James Robinson, who finished 31st. Nothing to write home about, but he did finish ahead of Austin Ekeler, Joe Mixon, Nick Chubb, and, of course, Boston Scott.  
Edwards was a bust but taking a rookie WR in his first game is always a bit of a gamble. And it looks like the underrated defenses we picked are going to continue to be underrated (or just be bad).  
Week 2 is the first week where we can start leveraging regression. The public likes to chase points, but you're Blueprint people, you'll be looking for spots where a good player underwhelmed in Week 1 and can bounce back in Week 2.  
You can expect Aaron Rodgers and Davante Adams (one of our favorite stacks to target last year when they were being overlooked) to be heavily owned this week. And they have the soft matchup to meet their lofty ownership expectations. Could definitely be another Rodgers + Adams day. Won't blame if you want to go back to that, but pivoting to Aaron Jones at low ownership could be really nice. 
We're going to a different overlooked QB this week… Tom Brady. Maybe he's starting to get old, maybe he doesn't have enough chemistry with his new team yet, maybe he went out with Gronk before the game last week, who knows, but he still finished 9th at the QB position against what turned out to be the best defense of the week. This week he gets Carolina, who was, uh, not the top defense. #analysis  
And we'll be stacking Brady with Mike Evans. Is he hurt, yes. But he was hurt before the game last week and still salvaged his day with a TD, despite being blanketed by Lattimore all day. This week he has a big size advantage and could easily grab two cheap TDs.  
By the way, did you hear what Belichick said about Russell Wilson, "Honestly I think he's in a way underrated by the media or the fans, I don't know. But I don't really see anybody better than this player." Was he just trying to compliment Russell Wilson, probably. But seems a little strange to say that when the "GOAT" is still playing. Maybe it's nothing, but maybe Tom Brady doesn't think it's nothing. And maybe he leans on his 6'5" end–zone target, Mike Evans, and maybe he throws four TDs.  
If you read our DFS eBook you know one of the fundamentals of lineup construction is leveraging correlation. Not just pairing a QB and WR, but also taking a player from the opposing team. We're going right back to Christian McCaffrey who had a fine day. At $10,000 salary, he got more than 2.5 times his value, which is all you need at those higher-end salaries. But he didn't have one of his monster 2019 days, so he's going very overlooked this week. And his price only went up to $10,500 which still seems cheaper than he was most of last year. People may be scared off by his performances against Tampa Bay last year, but he has the talent to be a tournament-winner any week. 
One of the more advanced topics we talk about is anticorrelation. If a WR gets a TD that means the RB didn't get a TD, so they're anticorrelated – one does good, the other does bad (or at least doesn't get more points). It also works at the same position, like WR. If Chris Godwin scores a TD that means Mike Evans did not score a TD, so they're anticorrelated. We have a potential situation for that this week in Alan Lazard. All the attention will be on Davante Adams, leaving Alan Lazard very under-owned. If a low-owned Lazard gets two TDs this week and Adams only gets one, we can get a big advantage over the field. Same concept with Aaron Jones. Taking advantage of these anticorrelation spots is how you leapfrog your way up the leaderboard. Always be thinking about this… if player x is very popular what happens if he's a bust? What other player can I target that might be in position to be on the positive end of player x busting? If Adams is a bust, it could be because Lazard boomed. Or because Jones got all the TDs  – I'll have to check the archives, but I believe Jones did that very thing one week last year when we highlighted this same concept.  
Some other thoughts… 
At QB, Prescott will be pretty popular. Elliott will be pretty popular. This is ripe for an overstack. Might play Prescott + Elliott + Jones/Ridley/Hurst. Might Play Prescott+Lamb+Gallup+Jones/Ridley/Hurst. Lot of different ways you can attack this game, but with such high ownership on individual players, the way to gain leverage is by overstacking the game. You'll end up with a unique lineup and, just like the guy that won $1 million last week with Rodgers + Adams + Lazard + Thielen, will put yourself in a great spot if the game is as high scoring as expected. Our main lineup will be more in line with our thoughts above, but where we have multiple lineups we'll have some exposure to some of these overstacks.  
Josh Allen seems to be underowned every week. His rushing floor makes him a safe play most weeks and gives him a lot of upside as well.  
At RB, Henry will be very popular – for good reason. He's catching more passes and the Jags just gave up a ton of passes to Hines/Taylor. And if he doesn't catch any passes he can still run right down the middle for 100 yards and two TDs. We'll probably avoid him because his ownership could be sky high, making it the right game theory play to fade him, but we'll definitely be afraid of not having him. AJ Brown will be out so maybe the Jags can focus on trying to stop Henry. If you want to play Henry, similar to above, perhaps pair him with Tannehill and maybe even Corey Davis, if you can stomach it, although he'll be surprisingly highly owned since Brown is hurt. I'm most likely to avoid this game all together or go to Jonnu Smith at TE.  
Jonathan Taylor should be pretty heavily owned. I'm more likely to go back to Hines. He was involved in all aspects of the game, not just receiving. It's likely he still sees enough work to hurt Taylor's value and has enough upside to be a great value again this week. I'll probably just avoid both guys though. I mean, there is a chance McCaffrey will be less owned than Taylor – I'll take the low-owned talent, please. 
Dalvin Cook is in the "being ignored" category this week. The Colts have an improved run defense, but James Robinson still had a respectable enough day against them. With Henry and Elliott expected to be very popular, Aaron Jones and Dalvin Cook at low ownership seems like a dream scenario. 
Austin Ekeler was a bust that you saw coming if you listened to Jonny Danger's waiver talks! But, this week, they may be behind enough that he gets a lot more receiving work. Kelly could still vulture TDs, but might be enough work for Ekeler to pay off this week.  
When we talked about using mini-stacks to make player selection easier, one good correlated play is RB + DEF. If you expect a defense to do well, can pair with the RB who will likely be running out the clock. Can take a chance on Dobbins + Baltimore this week. 
At WR, we talked about a few plays we like already. If we go to a Dalvin Cook lineup we might come back with a Parris Campbell or TY Hilton stack. Winning RB + Losing WR is a great mini-stack. Not a lot more that really stands out. Perhaps a Robinson + Slayton stack.  
At TE, we like Hurst as leverage against the surely high ownership levels of Jones and Ridley. Dallas' defense has changed this year but it's hard not to remember them getting torn up by TEs last year.  
With Godwin likely out with a concussion, that may drive Evans' ownership up higher than we want. If that's the case, might kick it old school with a Brady + Gronkowski stack instead, particularly if we're using our salary to go with Jones and Cook at RB. Everything we said about Brady and Evans above also applies to Brady and Gronk. Or OJ Howard. But Brady + Gronk just feels right this week.  
Jonnu Smith could be a nice play with Brown out.  
At DEF, I like Baltimore and the Rams. People will be scared off of Baltimore because of the Deshaun Watson factor, but this is more like Baltimore vs Bill O'Brien for me. Baltimore's defense is too talented to go so low-owned; I think this is the week the Texans start regretting the Hopkins trade. The Eagles could bounce back, but I think they have enough mistakes in them still to make the Rams a good value at lower ownership. 
Last week, I ended up with a much chalkier (popular picks) lineup than I like to have. This week I'll be on the other side and have a very contrarian (unpopular picks) lineup – I could get last place, but I may get first.  
QB
RB
WR
TE
DEF
Stack
Foundation
McCaffrey
A. Jones
Cook
Tournament
Brady
Prescott
Allen
Hines
Gurley
Evans
Gallup
Campbell
Hurst
Smith
Baltimore
LA Rams
Rodgers+Jones+Lazard
Prescott+Gallup
Million $
Tannehill
R. Jones
Ekeler
Dobbins
Lazard
Robinson
Slayton
Gronkowski
Prescott+Elliott+Gallup / Prescott+Gallup+Lamb
Baltimore + Dobbins
Tannehill+Henry
Hail Mary
Fournette
Fading
Afraid of Not Having
Rodgers
Henry
Adams
Week 1:
A bit behind for Week 1 given all the season-long drafts finishing up and the uncertainty around player status due to no preseason, COVID, etc. But here's the first installment of 2020's FanDuel Building Blocks.
Let's start with a quick strategy primer. If you followed along last year this shouldn't be new to you, but it's always a good reminder…
Want to make your lineups safer and give them more upside?
Use a combination of mini-stacks… people tend to either load up on one game or spread their players across a bunch of games. You don't (sometimes you do) want to put all your eggs in one basket, but you also don't want to put your eggs in nine different baskets!
When you take a player from each game, that's nine scenarios you have to get right… when you take mini-stacks from three games, that's only three scenarios you have to get right! Much more likely to predict the game flow of only three games.
Yes, you have to pick the right players in those games but using correlation principles makes it much easier.
Example…
Game with highest over/under… take QB and WR from one team (could add TE).
Game with biggest blowout potential… take RB and DEF from favored team (could add WR from other team).
Game with second-highest over/under… take TE from one team and WR from the other team.
You've got 6 to 8 players in the best situations and still have a unique lineup structure. Add a sleeper WR or another stud RB and you've got a potential tournament winner, but you also have a really strong cash lineup!
Now back to Week 1.
I think the public ownership on Brees and Brady is going to be higher than people think, so I'll likely pay up for Russell Wilson instead. Tampa Bay's defense is still underrated, so I'll shy away from this game. That said, it certainly could turn into a shootout so if you're playing multiple lineups in some cheap GPPs it's worth throwing in some Saints stacks, Bucs stacks, and full game stacks there. I will have Chris Godwin as a foundation WR though, with Evans hurt and Brady's propensity to throw to the slot. In large GPPs I may take a shot on a Brady + Gronkowski stack.
Normally we want to stack our QB with a WR but I'll be playing Wilson naked, hoping he runs one in and maybe throws one to Carson or Hyde or even Greg Olsen. If you want to stack him though preferred option is Tyler Lockett as DK Metcalf seems to be getting more public attention. With the highest over/under and a close spread, this game will draw attention from both sides, so to get some contrarian stacks we'll take Hayden Hurst on the other side and may have some lineups with Gurley also. Feel free to grab some Matt Ryan stacks as well, perhaps stick to Ryan and Hurst as people will be loading up on Ryan and Jones/Ridley.
At Running Back we have Christian McCaffrey who seems be priced lower than he was most weeks last year. I'll take the discount while I can. Teddy Bridgewater is an upgrade at QB and just spent a year watching Drew Brees dump passes off to Alvin Kamara. I see no reason McCaffrey won't continue his run and see no reason to believe the Raiders can stop him.
The only other possible foundation/dilemma RB is Boston Scott. He'll be highly owned, perhaps even more than McCaffrey. At the end of last season, in a similar situation, we faded Scott due to the high ownership and it, uh, did not work out. If you're playing cash lineups just throw him in there. In tournaments he's probably too cheap to pass up on, but I'll at least have some lineups fading him. As good as he was in spot starts last year, there is still a reason he's not the full-time starter. And with the Eagles most likely playing with a lead, they may go to some of the other backs as well.
We'll be taking some tourney shots on Cam Newton as well. We called this marriage in March, even though it took them courting all the way to the end of June to realize they were meant for each other.
Belichick needs to show he can win without Brady and Cam certainly has a chip on his shoulder too. I think they come out in Week 1 and try to make a statement. For extra statement-making impact they may even throw to the TE, whoever that is.
At defense, throw in Indianapolis and don't look back. They'll be the highest owned, but they come at a great price for the matchup. Indy has an underrated defense this year. It's actually a shame they're starting against Jacksonville and are so popular. Had they started against a better team, we could have had a nice value pick with Indy D this week.
In hail-mary territory, give James Robinson a shot. If Indy D doesn't live up to what I just said, Robinson is a min-priced RB (cheaper than the two guys who will likely be playing behind him). And if Indy D doesn't work out, and Robinson does work out, that likely means Jacksonville D has a good game, so I like this a hail-mary stack. Even if you just want to move away from Boston Scott, Robinson is a nice pivot, albeit in a tougher matchup and worse game script.
QB
RB
WR
TE
DEF
Stack
Foundation
Russell Wilson
Matt Ryan
Christian McCaffrey
Chris Godwin
Indianapolis
Tournament
Lamar Jackson
Cam Newton
Boston Scott
Austin Ekeler
Joe Mixon
Todd Gurley
Bryan Edwards
Allen Robinson
Marvin Jones
Hayden Hurst
Hunter Henry
Darren Waller
Philadelphia
Wilson + Hurst
McCaffrey + Edwards
Scott + Philadelphia
Taylor + Ekeler + Mixon + Henry
Million $
Derek Carr
Drew Brees
Tom Brady
Tarik Cohen
Rob Gronkowski
Tampa Bay
Carr + Waller
Carr + Edwards + McCaffrey
Hail Mary
James Robinson
Jacksonville
Robinson + Jacksonville
2019 Archive
Conference: Well, we made it to the end. We had a lot of great weeks this year and a lot of great individual player picks. Hopefully you made a nice profit along the way!
This week has two main themes: to play Derrick Henry or not and to play Travis Kelce or not. Can Derrick Henry really put together another monster performance? Last season everyone kept asking this question and everyone kept answering "no" and he continued to prove everyone wrong. This season, same thing. So, can he do it again… maybe. In Week 10, he had 32 FD points against KC. We'll be making a few lineups and we'll have half with Henry and half without. We'll let game scripts drive the rest of our lineups.
The other starting point, Travis Kelce. When a player scores three TDs in a normal week, he's probably going to be the highest owned player the next week. On just a two-game slate, he's definitely going to be the highest owned player. So we'll have exposure, but our main strategy will be going back to Tyreek Hill and, if we can make the lineup work, using George Kittle at TE who is coming off a bust last week.
For our chalk lineups, this is how we'll be stacking things up by preference:
Mahomes + Williams + Hill
Mahomes + Williams + Hill + Brown
Mahomes + Williams + Kelce
Mahomes + Henry + Hill + Kelce
Mahomes will certainly be the most popular QB so we'll need to find some differentiation in our other roster spots. Similar to last week, when everyone was playing Mostert, but Coleman had the big day, starting a secondary player is a good strategy. Could start Davis or Sharpe instead of Brown. Lazard instead of Adams. Could go back to Mostert instead of Coleman. Could start Williams instead of Jones. Play around with your lineups and see what you like with these secondary pieces. And remember, you don't have to use all your salary. Most people will see that they have extra salary and move up to a chalkier player. A good way to differentiate on these small slates is by leaving some salary on the table.
As always, we'll have some contrarian lineups. Like above, you can go contrarian simply by not starting some of the more popular players. Fading any of Derrick Henry, Travis Kelce, George Kittle, Tyreek Hill, and AJ Brown will automatically give you more differentiation than half the field. If you want to go extra contrarian, stack one of the alternatives up. For example, Tannehill + Jonnu Smith (instead of playing Kelce and Kittle). It's not likely that both Kelce and Kittle are busts, but if they are you have a big advantage. It wasn't likely that Baltimore would bust last week, but they did, and we had a big advantage over the field. And, if you want to go super contrarian, can build a Packers stack. We're currently living in a world where all main Tennessee players are going to be more popular than all main Green Bay players. A Rodgers + Jones + Adams stack could win you a lot of money.
For our contrarian lineups, this is our preference:
Tannehill + Williams + Smith
Tannehill + Williams + Brown
Rodgers + Jones + Adams + Kittle
Rodgers + Jones + Lazard + Kittle
Garoppolo + Jamaal Williams + Kittle
Mahomes + Hill + Jonnu Smith + Jones + Green Bay
Rodgers + Jones + Adams + Kittle + Green Bay
Whichever way you go, remember to let the game scripts guide you. Good luck and see you next season!
Divisional:
SATURDAY AND SUNDAY: We'll be playing DraftKings and FanDuel again this week. Our path to being contrarian this week is to build stars-and-scrubs lineups, focusing on a couple games. So, on the full weekend slates we'll be playing as many studs from Green Bay and Kansas City as we can. On these small slates, you have to pick a game script and run with it and hope you get lucky. We saw the value of contrarian lineups last week when a lot of the chalk busted, putting our Kirk Cousins lineup near the top.
We suspect the majority of the public will be focusing on Lamar Jackson, Pat Mahomes, and Deshaun Watson at QB. We'll be almost completely fading Houston, banking on the Chiefs defense shutting them down. So we're off of Watson. And since Mahomes will be a popular pick, we'll instead be focusing our QB picks on Aaron Rodgers and, to a smaller degree, Russell Wilson.
At RB, Damien Williams and Aaron Jones will probably be the two most popular picks. Depending on what happens with Mark Ingram, Gus Edwards could jump into the top spot. In this case, we'll be rolling with the chalk and adding both Williams and Jones to our lineups. Again, we'll attempt to differentiate ourselves by over-stacking Green Bay and Kansas City and by stacking Williams with the Kansas City defense. On the scrub end, we like Duke Johnson, Dion Lewis, and could throw a deep dart on Kyle Juszczyk.
To keep our stacks going we'll be adding Davante Adams and Tyreek Hill everywhere we can. And, it's nearly impossible, but we'll try to come back with Tyler Lockett if we can. Like Williams and Jones, Adams and Hill might be the two most popular picks this week so with chalk at our top RB and WR spots, we'll need our scrub picks to hit. If going away from the chalk picks, a good strategy is targeting other players at the same position on the same team. Mecole Hardman tops our list as he's the type of player that Houston gets beat by and he only needs one big play to pay off. Alan Lazard is likely to be more popular than Hardman, but would be a good pivot away from Adams.
Since we're taking studs at RB and WR we're forced to go bargain shopping at TE. We like Jonnu Smith, Darren Fells, and, really deep, MyCole Pruitt could luck his way into a TD. On the same team, Firsker will be more popular, but Pruitt has just as good a chance to score.
For Defense, we already said we're stacking up Kansas City with Williams. If not going there, we like San Francisco, banking on Minnesota having a let-down game. If the rest of your lineup is chalk and you're stuck with a cheap defense, we don't mind taking a shot on Minnesota or Tennessee, especially with windy conditions in Baltimore.
Because we'll be so invested in Green Bay, we'll also build at least one hedge lineup with the Seattle defense. If Green Bay does poorly, it's likely the Seattle defense did well, so we might as well have a super contrarian lineup in the event our main lineups fail.
And with so much concentrated ownership on the top two RBs and WRs you could build a contrarian stack by making a balanced lineup. A Carlos Hyde + Mecole Hardman + Alan Lazard + AJ Brown lineup would be a good mix of balanced, leverage plays. Going this route would allow you to add a chalk stack like Lamar Jackson + Mark Andrews.
SATURDAY ONLY: It feels weird to say it, but the way to go contrarian on this slate is to play Derrick Henry. We started last week wanting to play Derrick Henry (because we didn't believe in New England) and he wasn't extremely popular, but, like most people, we talked ourselves out of him thinking New England would focus on stopping him, which brings up a good point – there is a difference between trying to stop him and stopping him.
So, we'll be focusing on fading Baltimore in this one. We might get last, but if Baltimore busts, we might get first. We'll have a Henry lineup, probably with a Jimmy Garoppolo + George Kittle stack. Could roll this lineup with or without the Tennessee defense. We'll also have a Tannehill + AJ Brown lineup. If you really want to play a Ravens stack, you can try to be more contrarian by coming back with someone like Dion Lewis. Like the full weekend slate, you could also go completely off the radar and play someone like MyCole Pruitt.
SUNDAY ONLY: The games on this slate are where most of our full-weekend interest is, so we'll be playing it very similar to how we described above, focusing on Rodgers + Jones + Adams. We'll have at least one Wilson + Lockett lineup as well.
We'll probably have a few more Seattle stacks on this slate so we get plenty of contrarian exposure. A Wilson + Lynch + Lockett + Seattle stack would be very low owned, allowing you to fill out your roster with some chalk from the HOU/KC game.
Wild Card: Shifting play to DraftKings this week where the $25 entry, million-dollar prize tournament is available. During the season we prefer the FanDuel $9 entry because we can enter twice as many lineups, but when playing on a small slate where you need a low-probability, unique lineup to hit you might as well try to win a million dollars, rather than 200k. We also like the DK tournament this week because it includes both Saturday and Sunday, whereas FanDuel split the weekend into two separate slates. Like most small-slate tournaments, odds are we're just going to lose our $9 or $25, so we'll take the larger upside in case we do hit the right lineup.
We'll probably play the FD slates too, but, again, knowing we're targeting one unique lineup that is not likely to win but gives us a chance if the popular plays bust, we won't go overboard and use too much of our bankroll. FD does have a full weekend slate, but the main contests aren't available for those.
SATURDAY ONLY: Watson and Allen will probably be very popular at QB. We'll probably have an Allen + John Brown stack in our chalk lineup and a Tannehill + AJ Brown lineup in our contrarian, play-to-win lineup. We might fade Derrick Henry in both but will definitely fade him in the Tannehill lineup. If our chalk lineup does well, we might turn $9 into $18. If the Patriots try to focus on stopping Henry though, and he busts, then it's likely that our Tannehill + Brown lineup will do well. If it does really well, we could turn $9 into 200k. That's how these small slates work – the risk/reward favors going contrarian. To be a bit more contrarian on our chalk lineup, we'll probably go with a full Bills stack – Allen + Singletary + Brown + Bills D and instead of Henry we might opt for James White. In these situations, we like to build one with Henry and one without. So we'll have the two Bills lineups and one Tannehill lineup. We like N'Keal Harry and Jonnu Smith as value options to round out our lineups.
SUNDAY ONLY: Brees will probably be the most popular QB, by a wide margin. You can build a balanced, chalk lineup with Brees, Thomas, Dalvin Cook, and some others. We've got two ways to go contrarian here: 1) Overstack the Saints. 2) Fade the Saints. We'll probably do both, giving us three lineup builds on this slate. Brees and Thomas chalk lineup. Overstack with Brees, Kamara, Taysom Hill (TE on FD), Saints D (fading Thomas in this lineup). Cousins, Cooks, Thomas/Kamara. We may also go with a Russell Wilson + Lockett + Metcalf + Goedert stack. This one could be more popular but with the focus on the Saints and recency bias with the Eagles, it might go overlooked.
SATURDAY AND SUNDAY: With 8 QBs in action, we don't have to be as contrarian here. We still need to find some spots to differentiate our lineups, but it doesn't have to be as extreme as the two slates above.
We'll be focusing on Brees and Allen here in our core lineups and will still have at least one Tannehill or Cousins lineup for a completely contrarian build. A Cousins + Kamara base wouldn't be a bad option if you think the Saints jump out to a lead and Cousins can keep it close and/or get garbage time. Our two lineup cores will be Brees + Thomas and then Allen + Kamara + John Brown.
On the full weekend slate, Kamara and Cook will probably get more attention than Henry. If you can jam in Kamara, Cook, and Henry it will likely be a more contrarian build and a potential tourney-winner if you can hit on some cheap WRs. Our main lineup will probably fade Henry though, opting for an Allen + Kamara + Singletary + John Brown lineup with some cheap WR and Flex options. Singletary seems too cheap given his expected workload and matchup. And we could even swap Kamara for White or Michel in that lineup.
We can expect Michael Thomas to be the most popular WR. If you can fit him into your lineup on the full slate, where we don't have to be as contrarian, he's a good option. A Brees + Thomas + Murray + Saints D could be a good contrarian overstack. Fading Cook and Kamara in that lineup for someone like James White or Sony Michel could be a good option. If you want to get away from what will probably be massive ownership levels on Thomas, could build around some other Saints WRs, like Ginn or Smith or even Taysom Hill at TE (on FD). We'll be locking John Brown into as many lineups as we can. We also like AJ Brown; he might get overlooked because they're playing the Patriots, but we think he can beat Gilmore enough to pay off. We'll also be playing Metcalf wherever we can.
Dallas Goedert will be the most popular TE option. It's hard to fade him given the other options on the slate, but we'll probably at least fade him in a couple of our contrarian lineups. If looking elsewhere, we also like Jonnu Smith and Dawson Knox and Taysom Hill is basically the Saints second WR.
For Defense, Houston is cheap but we'd rather go with the Saints or Bills. We like the full Saints stack with the defense, counting on another Cousins disappointment. And we like the Bills to slow down an injury-plagued Texans team. For a really contrarian option, could build a stack with Cook + Minnesota defense.
That's how we're going to attack the weekend; probably two or three cheap tournament entries per slate.
Week 17 – SUNDAY MORNING UPDATE: Ryquell Armstead has picked up popularity and is now expected to be the most heavily owned RB. He actually comes at minimum salary, so only needs about 15 points to pay off. But, we're still fading him. If we look at Fournette's game log (below) we can see that he has struggled to get 15 points most weeks. What, other than "he's cheap" would make us believe Armstead can do better? When the value chalk RB busts, like Dion Lewis last week, we get a lot of leverage on the field. We're sticking to our contrarian approach this week of paying up for three stud RBs and using lower-cost WRs.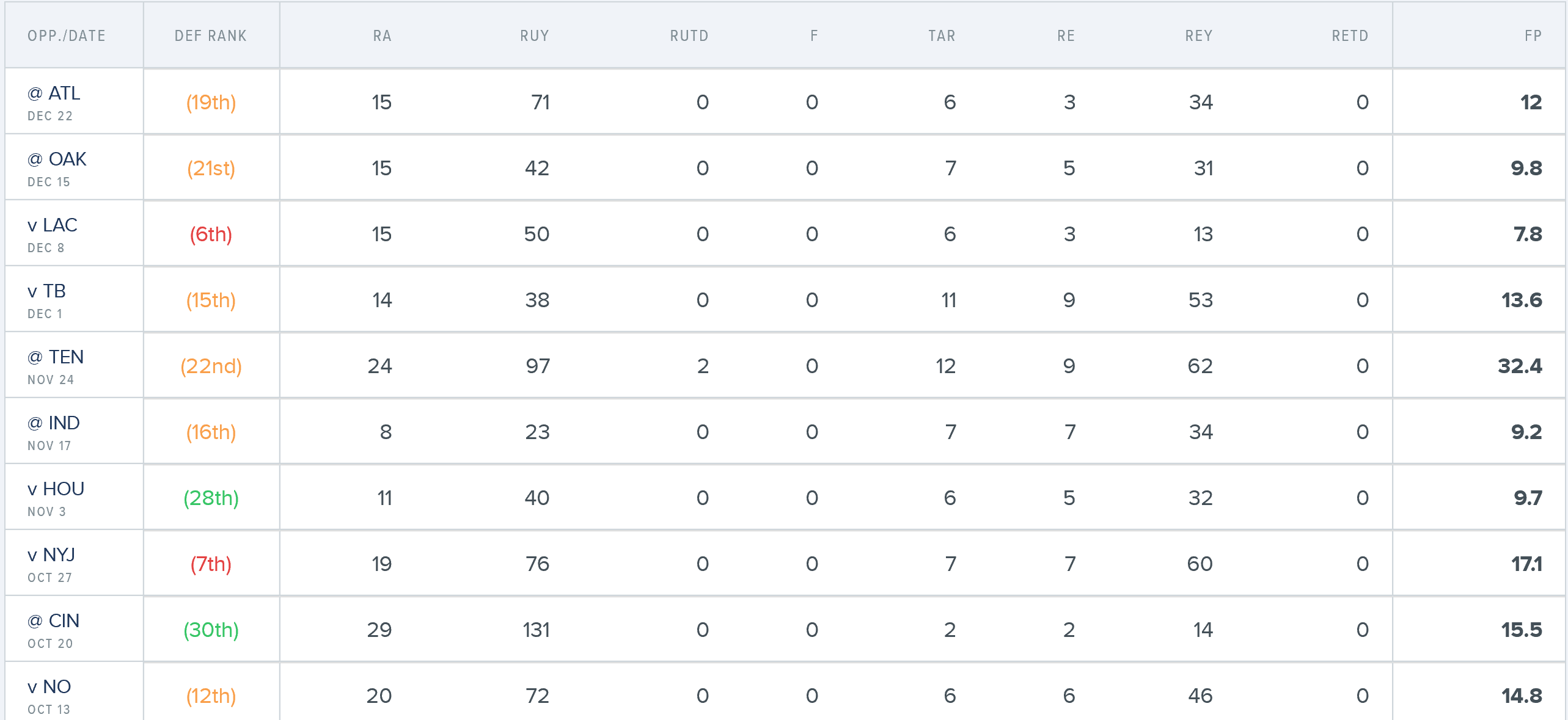 We had a big Week 16, hopefully you did too. We had a shot at taking down the Saturday slates; we thought it would be the week Winston imploded and it was. So our lineup that focused on Houston D and faded the most popular game, opting instead for a Rams stack put us in position to compete for the top spot. Fading the most popular plays and going more contrarian is almost always the best way to play small slates. We'll see more opportunities for this during the playoff slates.
We also crushed the Sunday slate with many of our top players hitting, like Fitzpatrick + Parker, Michael Thomas, and Devonta Freeman. Ultimately, our top lineup featured Saquon Barkley, a player we were fading. So how'd he end up in our lineup? We had a Fitzpatrick + Mixon + Parker stack as our main lineup, but Sunday morning things changed. Mixon was sick – and the Bengals had nothing to play for, so no real motivation for Mixon – and Derrick Henry was out, meaning Dion Lewis became chalk. So that meant the top two RB plays were DeAndre Washington and Dion Lewis, which dropped ownership on Barkley a lot. We were fading Barkley when we thought he'd be 25% owned, but once the Lewis news hit, Barkley's expected ownership dropped a lot, ultimately landing at 10%. A 41-pt game at 10% ownership, along with our other core plays hitting, made for a strong week. We post our plays on Saturday, but you always have to monitor things on Sunday to see how news might change your lineups.
This week, we need to focus on teams with something to play for, meaning we're going to ignore the middle column below. Most teams in the first and third columns will have players we can target. Be careful with the third column though as some of those teams with nothing to play for may also sit some of their banged-up starters.
| | | |
| --- | --- | --- |
| Something to play for | In playoffs, nothing to play for | Out of the playoffs |
| New Orleans | Buffalo | Cincinnati |
| Green Bay | Houston | Cleveland |
| Kansas City | Baltimore | Detroit |
| Tennessee | Minnesota | NY Jets |
| Pittsburgh | | Carolina |
| Oakland | | NY Giants |
| Philadelphia | | LA Chargers |
| Dallas | | Atlanta |
| New England | | Tampa Bay |
| | | Washington |
| | | Indianapolis |
| | | Jacksonville |
| | | LA Rams |
| | | Arizona |
| | | Chicago |
| | | Denver |
| | | Miami |
Week 17 is a week where backups are starting and some stars may only play one half. We'll be fading most of the backups and will try to avoid uncertain playing time situations. Our only foundation play this week is Ezekiel Elliott, playing in a must-win game for Dallas with Dak Prescott a bit banged up. If you look at the player pool you can see a lot of top-end RB options we like and not a lot of top WR options, so our lineups will be starting with as many stud RBs as we can fit. Christian McCaffrey is chasing the single-season yardage record and all indications from the coach say they'll try to get him the record. He needs to get the record to pay off his salary, but he's probably as safe a bet as you can find this week. We like Aaron Jones and Marlon Mack this week. Austin Ekeler could be way too low owned and should be heavily involved in the game plan against the Chiefs.
We like Aaron Jones but we also like Aaron Rodgers; feels like this could be one of his four or five touchdown games. We'll probably play three Packers lineups… a Rodgers + Adams stack, a Jones + Green Bay D stack, and a Rodgers + Jones + Adams stack. In our Jones + Green Bay D stack, we'll probably add a Tannehill + Brown/Sharpe stack. Mahomes is going under the radar this week and will probably make it into one of our main lineups, making a nice spot to come back with Ekeler.
At TE, Dallas Goedert is our top option again this week with Ertz out. Tyler Higbee has a dream matchup, but the Rams don't have anything to play for and after already having Everett get hurt may shut down their starters. If you're making multiple lineups, the matchup is good enough to take a gamble on Higbee in some.
We like several RB + DEF stacks, even going as far down as Murray + New Orleans. Green Bay, Pittsburgh, and New England are our top options, with Pittsburgh probably our number one option because of the lower salary. Hopefully most of the playing public will see the Ravens, not pay attention to the fact their starters aren't playing, and overlook Pittsburgh's D.
We mentioned we're fading most of the backups this week. Gus Edwards, Justice Hill, Mike Boone, and Malcolm Brown could all pay off their salary, but similar to last week, with so many value options we'll be contrarian by paying up for RB. Also, remember our salary expectations that we discussed when comparing DeAndre Washington and Devonta Freeman last week. There is usually a better, more proven option that isn't much more expensive than the value option. Our exception again will be DeAndre Washington as Oakland has something to play for and he's now a bit more proven after paying off his salary last week.
Lot of good options this week, pick some core players then let the correlations drive the rest of your lineup.
Good luck! See you in the playoffs!
QB
RB
WR
TE
DST
Stack
Foundation
Ezekiel Elliott
Tournament
Ryan Tannehill
Aaron Rodgers
Tom Brady
Carson Wentz
Pat Mahomes
Christian McCaffrey
Aaron Jones
Marlon Mack
Austin Ekeler
DeAndre Washington
Julio Jones
Davante Adams
John Ross III
AJ Brown
Dallas Goedert
Hunter Henry
Darren Waller
Tyler Kelce
Green Bay
Pittsburgh
New England
Tannehill + Brown
Rodgers + Adams
Rodgers + Jones + Adams
Jones + Green Bay
Million $
Baker Mayfield
Matt Ryan
Jameis Winston
Sony Michel
Derrick Henry
Alvin Kamara
Nick Chubb
Miles Sanders
Damien Williams
Greg Ward
Hunter Renfrow
Tajae Sharpe
Alan Lazard
Russell Gage
JJ Arcega-Whiteside
Allen Robinson
Mohamed Sanu
Breshad Perriman
Tyler Higbee
Austin Hooper
Dallas
New Orleans
Chicago
Tennessee
Wentz + Sanders + Goedert
Elliott + Dallas
Michel + New England
Henry + Tennessee
Kamara + New Orleans
Mahomes + Ekeler + Hill + Kelce
Ryan + Jones + Perriman
Hail Mary
Latavius Murray
Jaylen Samuels
Seth Devalve
Murray + New Orleans
Mack + Devalve
Samuels + Pittsburgh
Fading
Robert Griffin III
Gus Edwards
Justice Hill
Mike Boone
Week 16
SATURDAY:
With a three-game slate, throw a few cheap lineups in and hope your plays hit, but don't go overboard and enter too many big tourneys. We'll probably have three $9 entries on FanDuel.
This isn't as bad as a one-game slate where you want to really differentiate yourself and hope your players hit, but it's still critical to find a way to be different this week. Most people are going to be playing some type of HOU/TB game stack. We'll probably have one with a Deshaun Watson + Hopkins + Fuller + Ronald Jones stack. Our main lineup though is going to be much more contrarian and will feature a New England stack, playing Brady + White + New England defense. Might even throw Edelman in there. Most people are going to shy away from this game because of the low total and expected defensive battle. Is that most likely? Yes. But if the game goes the other way (maybe because Brady wants to get some TDs and catch up to Brees) and the HOU/TB game underwhelms, we've got a lot of leverage on the field.
Our third lineup is going to feature Houston's defense. Jameis Winston has continued to defy the odds even as he loses a new receiver each week. This week, we think the magic runs out. There is a good chance this could actually turn into a Winston disaster game.
No matter what you do, get creative, find a way to be different, and treat the Saturday slate like the lottery – you probably won't win, but it's fun anyway.
SUNDAY:
At QB this week, we'll likely see Russell Wilson as the most owned player. We like Wilson, too, but will probably go with Drew Brees, Dak Prescott, or Philip Rivers as our main tournament option. Instead of Wilson, we'll try to fit Chris Carson in. If you go the chalkier route, a Wilson + Lockett + Kirk stack is pretty nice, could even add Hollister. You could stick to the same game and build it using Murray as well, but we like Seattle's defense more than most people do this week.
At RB, DeAndre Washington is a near lock with Josh Jacobs already ruled out. He could approach 50% ownership, but he's just too cheap to fade. We should note, though, that Patrick Laird is $100 cheaper, more proven, and in a better match-up than Washington. One week removed from disappointing as chalk, he seems to be going completely overlooked. We'll have at least one lineup with Laird instead of Washington and may have one lineup with both. Devonta Freeman is also too cheap. And remember our salary expectations, Washington needs about 17 points to pay off, Freeman needs about 19. That's not much of a difference and Freeman comes at much lower ownership than Washington.
At the high end, Barkley will probably be popular, we'll pay down a bit for Carson. Joe Mixon is in a good spot but could be the second-highest owned RB. We don't really have a good reason not to play Mixon, but we'll probably fade him given the high ownership and some cheaper options. If you want to build a lineup fading Washington, could go with a Mixon + Carson + one other expensive RB lineup. With all the focus on cheap RBs this week, we'll likely have at least one Grier + McCaffrey lineup. And we like Adrian Peterson, who seems to be too cheap with Guice out. We also like a bounce-back from Philip Lindsay and will have some Lindsay + Denver stacks.
At WR, Michael Thomas is our biggest lock of the year. He's chasing Marvin Harrison's single-season reception record and we just don't see a way the Saints don't try to get it all this week. That would mean 11 receptions, which, coincidentally, is around his normal workload anyway. Pricing is pretty soft, so we may end up with a Brees + Thomas stack as one of our top three lineups. In a deeper lineup, could throw in Dion Lewis here as well, especially if Derrick Henry isn't 100%. A lot of mid-range guys on our list that we like as well.
At TE, Zach Ertz will be popular, so we'll stick to the same game and play Dallas Goedert. One of our top stacks will be a Prescott + Cooper + Goedert stack. If you want to over-stack this game, you can add Boston Scott and Michael Gallup. Austin Hooper seems too cheap if he's healthy, and he could be heavily owned, but with Freeman also being a discount this may draw some ownership away from Hooper. We wouldn't be afraid of a Freeman + Hooper lineup to get some differentiation.
QB
RB
WR
TE
DST
Stack
Foundation
Michael Thomas
Tournament
Drew Brees
Dak Prescott
Russell Wilson
DeAndre Washington
Chris Carson
Devonta Freeman
Keenan Allen
Christian Kirk
Tyler Lockett
Austin Hooper
Zach Ertz
Denver
Brees + Thomas
Carson + Kirk
Wilson + Lockett + Kirk
Million $
Ryan Fitzpatrick
Philip Rivers
Kyler Murray
Will Grier
Patrick Laird
Adrian Peterson
Joe Mixon
Philip Lindsay
DeVante Parker
Amari Cooper
Tyler Boyd
Darius Slayton
Terry McLaurin
Sterling Shepard
Russell Gage
Dallas Goedert
Jacob Hollister
Atlanta
Baltimore
Seattle
New Orleans
Fitzpatrick + Mixon + Parker
Lindsay + Denver
Rivers + Washington + Allen
Prescott + Cooper + Goedert
Dalton + Laird + Boyd
Freeman + Atlanta
Carson + Seattle
Hail Mary
Boston Scott
Dion Lewis
Jordan Wilkins
Corey Davis
Tajae Sharpe
Indianapolis
Jacksonville
Wilkins + Indianapolis
Fading
Lamar Jackson
Kenyan Drake
Saquon Barkley
Julio Jones
Week 15 – Did you get AJ Brown in your lineups last week? We had him as the top option in our million $ column and we said this, "If you want another under-the-radar stack we like Tannehill + AJ Brown with or without Derrick Henry." I hope some of you got this stack in and made a lot of money! Send us a screenshot of your lineup and winnings!
Our main lineup did have Brown and Aaron Jones and some other good pieces. And we did successfully fade Bilal Powell, but we played Sony Michel instead. Ouch. This hurt even more as we originally had Mixon rather than Michel – a swap that cost us 2nd place in the FanDuel Blitz and a 20k prize. Oh well. On to Week 15!
Last week, we said fade Derrick Henry at your own risk; this week, we're fading him. His price has finally reached Christian McCaffrey-like levels, Houston is weak against pass catching RBs, and, despite the Vegas odds saying otherwise, we think the Texans will jump out to a lead forcing Tennessee to use their pass-catching RBs more. In the same game, we almost never like chasing points, but we're going back to AJ Brown. He's still too cheap. And, if you've been paying attention, he's been on our radar for weeks. We don't expect another 30-point game, but we think 20 points is definitely in the range of outcomes again. Same for Darius Slayton – too cheap and a reasonable shot at a 20-point game.
So, our main lineup will probably be a Watson + Hopkins + Brown stack.
If we're fading Henry, who are we playing. Chris Carson is a must-start. And we like Fournette, Barkley, and Gurley as well. We like Elliott also, but could see that game becoming a passing shootout, so we may only have Elliott with a Goff + Higbee stack.
On the cheap end, we're going back to Sony Michel. Do you think the Patriots want to score 60 points this week after they've been accused of (caught) cheating again?! We do. And wouldn't it be just like the Patriots to have Sony Michel score four TDs this week?? A Michel + New England stack will make it into some of our lineups. Also on the cheap end, we like Matt Breida. He's back, was explosive last week, and is forgotten by the public. Maybe Mostert is for real; maybe he gets all the carries. Maybe Coleman gets more involved in a revenge game. We like the price on Breida though and will be stacking him with San Francisco in a few lineups. At $5,600 it won't take much for him to reach value and you'll have him at near-zero ownership. Just like we've been early on AJ Brown, we want to be early on Breida's big game.
What to do about OBJ? With him publicly reaching out to other teams will Mayfield shun him? Or, because Mayfield seemed to publicly take his side, will he pepper him with targets? We're going to have at least one lineup with a Mayfield + OBJ stack. If he goes the shunning route, we could see David Njoku tear up the Cardinals, who are notoriously bad at defending the TE. You could even do a full game stack here, with Mayfield + OBJ + Kirk + Njoku.
We like Fournette, but also Westbrook as a cheap WR option. In the same game, Tyrell Williams seems to be getting too cheap. With Josh Jacobs potentially banged up and everyone running to Deandre Washington, a Carr + Fournette + Williams stack could pay off nicely.
One thing is clear this week – Carson will be the most popular play of the day. But what if he busts? We're going to have at least one lineup that features a Wilson + Lockett stack. If Carson busts, it's likely that Wilson + Lockett is successful, giving us huge leverage on the field.
QB
RB
WR
TE
DST
Stack
Foundation
Deshaun Watson
Chris Carson
Ian Thomas
New England
Tournament
Jared Goff
Leonard Fournette
Todd Gurley
De'Andre Hopkins
Julian Edelman
AJ Brown
Kenny Golladay
Zach Ertz
George Kittle
San Francisco
Watson + Hopkins + Brown
Million $
Dak Prescott
Baker Mayfield
Eli Manning
Kyler Murray
Matt Ryan
Jimmy Garoppolo
Tom Brady
Derek Carr
Sony Michel
Matt Breida
Ezekiel Elliott
Saquon Barkley
Kareem Hunt
Ronald Jones
Kenyan Drake
Odell Beckham Jr.
Dede Westbrook
DeVante Parker
Julio Jones
Christian Kirk
Tyler Lockett
Deebo Samuel
Tyrell Williams
Randall Cobb
Tyler Higbee
David Njoku
Austin Hooper
Darren Waller
Dallas Goedert
Michel + New England
Breida + San Francisco
Garoppolo + Kittle + San Francisco
Ryan + Jones + Kittle
Brady + Edelman + New England
Carr + Fournette + Williams
Goff + Elliott + Higbee
Hail Mary
Gardner Minshew
David Blough
Andy Dalton
Dion Lewis
Duke Johnson
Peyton Barber
Rex Burkhead
Tajae Sharpe
Terry McLaurin
Danny Amendola
Andy Isabella
Blake Jarwin
Seth DeValve
Minshew + Westbrook
Goff + Gurley + Elliott + Higbee
Fading
Christian McCaffrey
Derrick Henry
Raheem Mostert
Chris Godwin
Week 14 – We finally have a week where there isn't a single game that everyone is targeting. This week, there are a number of normally terrible teams with good match-ups, giving us a lot of options to find value and still be differentiated from the crowd. If anyone stands out as a popular play, it's probably Matt Ryan and on the lower end probably Sam Darnold and Ryan Fitzpatrick, with people likely chasing points with DeVante Parker as well.
If Dalvin Cook were to sit out (he won't) then Alexander Mattison would become the most popular play of the day. It's actually better for us that Cook seems to be fully healthy and expected to play. This is going to take ownership off of Mattison, but there are still a number of ways Mattison can get involved and be a tournament winner. The Vikings could limit Cook, or Cook could get banged up again, but the most likely path is the Vikings getting out to a big lead and resting Cook. Enter Mattison. If you play Mattison you should also play the Vikings defense. You know we normally like a RB + DST stack because of the high correlation, but this situation is even more highly correlated than usual. This is not a situation where a RB is involved in the game no matter what; Mattison's involvement almost exclusively depends on the Vikings defense doing well. Pair them up.
If you play a Mattison and Vikings stack you can fit our top two RB options, Christian McCaffrey and Derrick Henry. That's going to lead you to cheaper QBs and WRs, but, good news, we have plenty to choose from. We'll probably go with a Derek Carr and Darren Waller stack to pair with Henry. Priced right around Waller is Jack Doyle and Vance McDonald, both very solid options this week. But given the similarity in pricing we'll go with the more proven Waller. On the higher end, we do like Mark Andrews this week as well.
For our other main lineup – that doesn't have a Mattison + Vikings stack – we'll probably have a Cousins + Diggs stack, bringing it back with Marvin Jones, who has historically torched the Vikings.
If you want another under-the-radar stack we like Tannehill + AJ Brown with or without Derrick Henry. Can also bring that back with Darren Waller or Tyrell Williams. As much as we like AJ Brown, we've seen this from Derrick Henry before. You can try to bank on surely-he-won't-have-another-big-game if you want, but that same logic was a tough fade several weeks in a row last year, too. If you do fade Henry, you can bank on the game script that Oakland gets out to a lead through Josh Jacobs and Tannehill is forced to pass, pairing him with AJ Brown's after-the-catch skills.
It's getting harder and harder to use multiple expensive RBs. This is one week where we can, because Kamara has been priced down. A McCaffrey, Henry, Kamara stack is doable with some of our hail-mary WRs and with the Panthers defense. In general, even though they've disappointed before, we like stacking the Panthers defense with McCaffrey. With a lot of ownership on Matt Ryan, this would give us some nice leverage on the field. DeVante Parker is coming off a monster week and should be popular. You can get some leverage by using Allen Hurns and one or two hail-mary WR options.
If you can figure out who to play, Green Bay is a good option. Could be Rodgers and Adams. Could be Jones or Williams. Could be Green Bay defense. Any combination of the above is a good option this week against Washington. A Rodgers + Jones + Adams + Green Bay stack could be a tournament winner.
QB
RB
WR
TE
DST
Stack
Foundation
Christian McCaffrey
Darren Waller
Tournament
Kirk Cousins
Ryan Fitzpatrick
Ryan Tannehill
Matt Ryan
Derrick Henry
Stefon Diggs
Jarvis Landry
DJ Moore
DeVante Parker
Marvin Jones
Mike Williams
Jack Doyle
Mark Andrews
Vance McDonald
Houston
Green Bay
Minnesota
Cousins + Diggs + Jones
Fitzpatrick + Bell + Parker
Henry + Brown
Fitzpatrick + Parker + Anderson
Ryan + McCaffrey + Ridley
Million $
Derek Carr
Sam Darnold
Carson Wentz
Jameis Winston
Gardner Minshew
Devonta Freeman
James White
Alvin Kamara
Le'Veon Bell
Nick Chubb
Sony Michel
Aaron Jones
Alexander Mattison
Kareem Hunt
AJ Brown
Alshon Jeffery
Calvin Ridley
Robby Anderson
Zach Pascal
Mecole Hardman
Emmanuel Sanders
N'Keal Harry
Allen Hurns
Ben Watson
Carolina
Darnold + Anderson + Parker
McCaffrey + Carolina
Ryan + Freeman + McCaffrey
Wentz + Jeffery
Winston + Evans + Doyle
Tannehill + Henry + Brown + Waller
Hail Mary
Adrian Peterson
Rex Burkhead
Willie Snead
Geronimo Allison
Laquon Treadwell
Kyle Rudolph
Week 13 – With all the focus on Lamar Jackson, and the Chiefs not on the main slate last week, it seems like forever since we've talked about Pat Mahomes. He tops our QB list this week and will probably be the most popular public QB as well since the Ravens are playing the 49ers. You can pair him with Travis Kelce or Tyreek Hill and can run it back with Josh Jacobs, Darren Waller, Tyrell Williams, or even Jalen Richard. In situations where our top two options are also the public's most popular options we like to over-stack the game. So our main lineup will probably have a Mahomes + Hill + Kelce + Williams stack. And you could even add Josh Jacobs to that. You can also take a contrarian approach and build a Carr + Jacobs + Williams + Hill + Kelce stack. Or a Carr + Jacobs + Hill + Waller stack. Carr will be far lower-owned than Mahomes and the non-traditional QB + RB stack will give you even more differentiation. It's easy to imagine a scenario where the Chiefs move the ball at will and the RBs get all the TDs, leaving Carr a lot of garbage time volume trying to catch up. If you're even more bold, a Carr + Richard lineup leaves you a lot of room to fit more expensive RB and WR options.
Our other top QB recommendation is Aaron Rodgers. If Mahomes draws a lot of ownership coverage we can get Rodgers – looking for a much needed bounce-back game – at lower ownership. Can stack him with one of his RBs or go expensive and stack with Davante Adams. We'll likely stack with Marquez Valdes-Scantling because we expect Adams to be pretty heavily owned. If you go with the more popular Rodgers + Adams stack we have a lot of under-the-radar WRs at the top of our Million $ list. Adding a couple of those will give you the differentiation you need if your core is more popular. This is definitely a week where you can pay up at RB and get some cheap WRs with high upside, which is usually a winning combination.
Our main contrarian stack will be Foles + Westbrook. We like DJ Chark as a core play but so will everyone else. We usually don't over-stack our contrarian lineups, but because of Chark's popularity and the great matchup we'll probably go with a Foles + Chark + Westbrook + Evans stack. Godwin is priced higher than Evans again and is coming off a monster game, so hopefully that draws people to Godwin. The lower price on Evans though might have people thinking the same way we are. If that's the case, over-stacking the game gives us the differentiation we need.
Our top RB option is Miles Sanders; it looks like Jordan Howard will be out again. Sanders will be heavily owned so we'll be pairing him with the Eagles defense. Hopefully people will be hesitant to pay up for Philadelphia's defense giving us a stack with some nice differentiation. We have two other nice RB + DST stacks this week – Bell + Jets and Gordon + Chargers. You can also take a shot with Jones or Williams + Green Bay. If you pick one of the other RB + DST stacks you can completely fade Sanders if you want, hoping to get some leverage on the field. Sanders is popular because of the match-up and price, but like we talked about before, it's not like Sanders is min-price. He's still $5,800 and needs almost 18 points to hit his value. Meanwhile, Melvin Gordon is only $7,000 and needs 21 points to hit value. And you can get him at significantly lower ownership. When considering the pairings, Gordon + Chargers is $10,900 versus $10,800 for Sanders + Philadelphia. When looking at two stacks at similar price and similar expected outcomes, it's almost always the right decision to take the one with lower ownership, driving us toward the Gordon + Chargers stack as our main RB + DST stack in tournaments.
We like Gurley this week in a pace-up game against Arizona. And we like Tyler Higbee, assuming Gerald Everett misses the game. If you want to fade the high ownership on Kelce we wouldn't be afraid of pairing Gurley and Higbee in the same lineup. Staying in that game, we like Goff and Murray. Both should be relatively low-owned. You can take a chance on picking the right Rams WR to pair with Goff if you want, but we'd be more inclined to build a non-traditional Goff + Gurley + Higbee stack.
QB
RB
WR
TE
DST
Stack
Foundation
Pat Mahomes
Miles Sanders
Travis Kelce
Philadelphia
Sanders + Eagles
Mahomes + Kelce
Tournament
Aaron Rodgers
Le'Veon Bell
Todd Gurley
Tyreek Hill
DJ Chark
Davante Adams
Darren Waller
Tyler Higbee
NY Jets
Bell + Jets
Mahomes + Hill + Kelce
Rodgers + Adams
Million $
Jared Goff
Kyler Murray
Nick Foles
Sam Darnold
Derek Carr
Josh Jacobs
Melvin Gordon
Aaron Jones
Jamaal Williams
Mark Ingram
Austin Ekeler
Dede Westbrook
Curtis Samuel
AJ Brown
Robby Anderson
Tyler Boyd
Cooper Kupp
Mike Evans
Robert Woods
Brandin Cooks
Darius Slayton
Tyrell Williams
Marquez Valdes-Scantling
Geronimo Allison
Ryan Griffin
Dallas Goedert
Greg Olsen
Nick O'Leary
LA Chargers
Green Bay
Washington
Carolina
Pittsburgh
Gordon + Chargers
Mahomes + Jacobs + Hill + Kelce
Mahomes + Hill + Williams + Kelce
Foles + Chark
Foles + Westbrook
Foles + Westbrook + Chark
Foles + Westbrook + Chark + Evans
Goff + Higbee
Carr + Jacobs + Kelce
Carr + Jacobs + Hill + Kelce
Carr + Jacobs + Williams + Hill + Kelce
Goff + Gurley
Goff + Higbee
Murray + Gurley + Higbee
Darnold + Bell + Boyd
Williams/Jones + Green Bay
Hail Mary
Ryan Fitzpatrick
Jalen Richard
Jordan Wilkins
Ty Montgomery
JJ Arcega-Whiteside
Fading
Jameis Winston
Christian McCaffrey
DJ Moore
Afraid of Not Having
Derrick Henry
Week 12 – We've talked a lot about using correlations to drive our lineups and we've talked a lot about building some contrarian lineups, usually targeting a low-owned QB. Let's take this a step further this week and create a lineup checklist. Use the checklist, make sure you have each piece, then see how it looks. Note: this strategy, while valuable in any contest type, is geared to large-field tournaments where you're trying to beat thousands of people.
Your tournament entry should include all these:
Low-owned QB + WR + opposing RB or WR stack
RB + DST stack
RB + opposing WR stack
This is all part of the process of moving through the player pool. It doesn't matter as much whether you like QB X more than QB Y, it matters whether you like QB X + WR X more than QB Y + WR Y. For example, this week we like Carson Wentz and Baker Mayfield as low-owned QB options (although both are starting to gain popularity). Do you like Wentz + Ertz or Mayfield + Beckham? That's the way you need to think about it. Then, going a step further, you can see that we also like Nick Chubb, so that might prompt you to go with Wentz + Ertz, rather than Mayfield + Beckham. You can always add Chubb + Cleveland as your RB + DST stack. Or, you know we like full-game stacks as a lineup build also, so you could use a Mayfield + Chubb + Beckham stack. With Kareem Hunt getting attention in the passing game, drawing some ownership off of Chubb, the Mayfield + Chubb + Beckham could be a stack that gives you some nice differentiation.
So what do we like this week?
We like Wentz as our low-owned, contrarian QB option this week. And you might go back to a Trubisky stack if you have a strong stomach. We like Brees and wouldn't be afraid of stacking him with Kamara and possibly even with the Saints DEF if you want to build a larger game stack. You'll see below we like Mike Evans, so we might build some Ryan + Jones + Evans stacks, which might be a more popular stack this week. Because a Matt Ryan + Julio stack might be the most popular stack of the week, if we play it, we'll likely over-stack this game perhaps adding Ridley and/or Godwin to our Ryan + Jones + Evans stack. But, it's more likely that Jones will be the only piece of this game we have, thinking there is a good chance this game goes under the expected total if Atlanta's defense is as good as it has been recently. You could even go with a non-traditional, Ryan + Jones + Atlanta stack.
After another relative disappointment for Ezekiel Elliott (thankfully he had a receiving TD) we like him to bounce back, particularly after watching the Patriots seem to struggle stopping the Eagles RBs. And with Dak Prescott having such a strong game last week, we think that will draw the Patriots' (and the public's) focus this week. Similarly, after watching the Colts RBs run all over Jacksonville last week, we expect Derrick Henry to have another strong game – this might be a more popular play.
We would have expected high ownership for Atlanta's defense considering Jameis Winston's tendency to throw interceptions, the Falcons dominating defensive performance against New Orleans and Carolina, and Atlanta's price being much lower than other top DEF options. But, with all the attention on Matt Ryan and Julio Jones and the game's projected point total, Atlanta might go overlooked. We'll probably find a way to get Atlanta's defense into a lot of our lineups. If we don't, we'll pay up for a top option like Pittsburgh or Chicago. Going back to our correlations and our player pool, you can see we like David Montgomery and Tarik Cohen, so we'll probably lean toward one of those stacked with Chicago DEF. If we go RB heavy with an Elliott + Kamara + Henry lineup, we might go Pittsburgh instead.
QB
RB
WR
TE
DST
Stack
Foundation
Julio Jones
Pittsburgh
Tournament
Drew Brees
Russell Wilson
Carson Wentz
Matt Ryan
Baker Mayfield
Ezekiel Elliott
Alvin Kamara
Derrick Henry
Nick Chubb
Odell Beckham Jr.
Tyler Lockett
Mike Evans
Allen Robinson
Darren Waller
Zach Ertz
New Orleans
Chicago
Wilson + Lockett
Chubb + Cleveland
Wentz + Ertz
Ryan + Jones
Ryan + Jones + Evans
Kamara + New Orleans
Million $
Derek Carr
Jeff Driskel
Mitch Trubisky
Leonard Fournette
Josh Jacobs
David Montgomery
Tarik Cohen
Latavius Murray
Bo Scarbrough
DK Metcalf
Nelson Agholor
Anthony Miller
Tyrell Williams
Jarvis Landry
Curtis Samuel
Taylor Gabriel
Cole Beasley
Allen Hurns
Marvin Jones
Ben Watson
Vance McDonald
Ryan Griffin
Cleveland
Atlanta
Detroit
Jacksonville
Wilson + Metcalf + Agholor
Wentz + Agholor + Metcalf/Lockett
Wentz + Agholor + Ertz
Montgomery + Chicago
Cohen + Chicago
Fournette + Jacksonville
Mayfield + Beckham + Hurns
Mayfield + Chubb + Beckham + Cleveland
Trubisky + Cohen + Robinson
Murray + New Orleans
Driskel + Jones
Trubisky + Miller
Hail Mary
Dwayne Haskins
Ronald Jones
Trey Quinn
Driskel + Jones + Detroit
Trubisky + Montgomery + Robinson+Chicago
Wentz + Agholor + Ertz + Metcalf/Lockett
Wilson + Metcalf + Lockett + Agholor+Ertz
Fading
Christian McCaffrey
Week 11 – In Week 9 we talked about using lineup construction to drive which players you select. Start with a larger player pool, pick a strategy – want chalk players, want low-owned players, want to target a specific game, etc. – then select your core players based on that strategy and you'll have a narrower range of players to select from as you consider your remaining salary. Following that guidance, our goal isn't to just give you a nine-player pool to pick from, we want to give you some options that we like at a bunch of different salary levels to help you decide who to pick when filling out the last spots on your roster. That week, we showed you how this worked by building some mock lineups. This week, we'll revisit the same concept using our actual lineups from Week 10.
Last week we told you our chalk lineup would likely be a Kyler Murray lineup and our contrarian lineup would be an Aaron Rodgers lineup. We also mentioned an alternative contrarian lineup, a Mahomes + Hill stack, probably bringing it back with Derrick Henry. I hope some of you used that stack!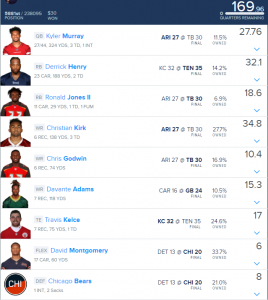 When making a chalk lineup, we told you our preference was to over-stack the game, meaning we wouldn't just have the traditional QB + WR + opposing WR/RB stack, but we'd add in another piece or two from the same game. In this case, you can see our core stack was Murray + Kirk + Godwin but we also added Jones, who was a great value in general last week. We rounded out our lineup with a mini-stack from KC/TEN. We liked Kelce as our top TE so we correlated it by adding Derrick Henry. And, by now you know we like correlated lineups, so we added Montgomery + Chicago. Montgomery was the most popular RB last week and turned out to be a disappointment, but a third of the field was equally disappointed so it didn't hurt us too much. Now we were left with one WR spot to fill, seeing how much money we had left it was easy to land on Davante Adams, since we liked him as a stud player who was likely to be lower owned than he should be. Hopefully that shows how easy it is to build your lineups when you let the correlations guide you.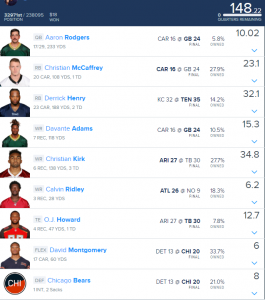 Our contrarian lineup was a Rodgers + Adams stack, bringing it back with McCaffrey at a lower ownership level than he usually sees. All three didn't quite get the points-per-dollar that we needed, but the rest of our lineup performed well enough to still produce a tournament cash. We again used our Montgomery + Chicago stack. And we used a mini-stack from ARI/TB, Kirk + Howard. We then wanted to get a piece of the ATL/NO game, so we grabbed Ridley from our player pool. That left us with an open spot and just enough money to grab Henry for our other RB spot. Again, our main decision to use Rodgers + Adams + McCaffrey determined what type of salary we had left, than we used our correlations and player pool to fill out the rest of our lineup.
We made a third main lineup, also featuring an over-stack of a game. In this case, we used a Jackson + Ingram + Brown + Baltimore stack. It wasn't a game stack, but a team stack because we felt there would be enough points to go around for Baltimore's offense and Baltimore's defense would be good enough that it wouldn't be good to bring back a correlation play from Cincinnati. This stack turned out be a tournament winner… almost. We had a lineup that would've won $100k in the NFL Monster on FanDuel, but about ten minutes before kickoff we tweaked it. We'll show you both and use it to talk about a few concepts we haven't discussed before.
First, the lineup we had before our last-minute tweaks; too bad the internet didn't crash.
Lamar Jackson                 33.42 (1st QB)
Derrick Henry                   32.1 (1st RB)
Aaron Jones                     27.3 (2nd RB)
Christian Kirk                    34.8 (1st WR)
Marquise Brown             16 (10th WR)
Robby Anderson             1.6 (not enough fingers and toes to count)
Travis Kelce                      17 (2nd TE)
Mark Ingram                    9.4 (14th RB)
Baltimore                         24 (2nd DEF)
TOTAL                               195.62
Let's talk about this lineup. We won't go through the correlations and how we built most of the lineup, it's pretty similar to our earlier discussions. But, there is a new concept here. You may be thinking, "But Aaron Jones wasn't even in your player pool?!" That's true. So how'd he end up here? First, when left with the last RB spot to fill, our available salary led us to Jones as one of the best options available, even though we didn't have him in our overall player pool (we probably should have, for the same reasons we liked Rodgers and Adams). Besides available salary, why else did we pick Jones? It has to do with hedging with multiple lineups. Our second main lineup featured a Rodgers + Adams stack. So, if that lineup were to come up short (it did) what are the scenarios where that would happen. 1) Green Bay gets blown out and no one from the team does well. 2) The scoring goes through the RB position. So we picked Jones as a hedge against our Rodgers + Adams lineup. If the passing attack for Green Bay didn't perform well, and that lineup was a bust, we thought there was a good chance the running game would do well, making this lineup successful. But, like we said, we didn't use this lineup… here's what we ended up with.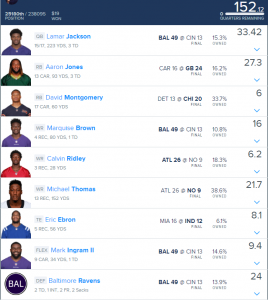 We wanted to get some exposure to Michael Thomas. He was in our player pool, but, to this point, we were willing to miss out on him because he was going to be the most highly owned WR of the day and we generally prefer going against the grain. But, in the end, we believed he was good chalk and we wanted to be part of the 38% of the people that had him. To fit him in, we lost Derrick Henry and instead went down to David Montgomery. Ouch. Then, because we had Thomas we wanted the game correlation so we swapped Kirk for Ridley. Ouch. We also had to drop from Kelce to Ebron. That wasn't so bad. Ultimately, Michael Thomas didn't score but he didn't really hurt us, finishing with 21 fantasy points. But our other replacements really hurt. Again, you can see how the decision to make a certain player a core part of our lineup and building correlations drove us to this new lineup. Correlations giveth and correlations taketh away. Moral of the story, trust your player pool and your process. Outside of major news breaking, don't tweak your lineups much once you've settled on them. There is a reason you ended up where you did.
Oh well, on to Week 11!
This is another week where we need to decide to jam in some chalk options or take a more balanced approach.
Derek Carr and Drew Brees will be popular at QB. We like both, and expect a bounce back from Brees, but he's expensive, making it hard to stack him with Thomas and Evans/Godwin. This becomes even more difficult if you want to play Christian McCaffrey also. On the cheaper, lower-owned end we like Josh Allen and Tom Brady. An Allen + Brown stack will make its way into one of our main, balanced lineups. And a Brady + Edelman (and maybe even Sanu or Dorsett, too) stack will be our main contrarian lineup. Just like Rodgers last week, anytime we can get Brady at 2 to 3% ownership, we'll take it. Like we've done a few times this week, we'll probably have a chalk lineup featuring a NO/TB stack, but we'll take the approach of over-stacking the game, with something like a Brees + Cook + Smith + Evans or a Brees + Thomas + Smith + Evans lineup. For what it's worth, with some other really good QB options this week, Lamar Jackson and Deshaun Watson should be lower owned than they normally would be. A Watson + Hopkins + Andrews (or Marquise Brown, if healthy) lineup would be a nice contrarian build.
McCaffrey should be the second highest owned RB. And he's so expensive that nearly everyone that plays McCaffrey will also be playing Brian Hill to save salary. This is the rare week that there will be a very clear two-RB-combo in 30% of lineups. So, what do we do? We can actually get leverage on the field by just playing one of them or by not playing either. We'll have McCaffrey in some of our core lineups and we'll be stacking him with the Carolina defense to differentiate ourselves and gain leverage on the Hill ownership. With Freeman and Hooper out, and Atlanta coming off a big win, it's easy to see a let-down game coming, so we're going to bank on the game script of Carolina defense keeping Atlanta, and Brian Hill, in check. Hill is the clear value play of the week, but this isn't like the old days where you can get a backup RB who is thrust into a starting role for $4,500. He's $5,900. Last week, David Montgomery disappointed everyone at $6,300. Hill still needs 100 yards and a TD to come through. Add in passing work and he has a good chance, but he's definitely not a lock. We may take the approach of multiple lineups, still having a few with Hill, but if making one lineup we'd make a stand against him.
For our lineups that don't have McCaffrey, we think Elliott is going overlooked this week and we also like the more popular Josh Jacobs. Elliot isn't cheap so we'll probably correlate with TJ Hockenson at TE to save money. We're also – like everyone else – waiting for the Fournette positive TD regression to come. I hope it's this week when most of the field will be playing McCaffrey and Hill and won't be able to also afford Fournette. We'll have plenty of Fournette + Jaguars as our secondary RB + DEF stack.
We gave you a lot of WR options this week, because when you're trying to fit in some of those RBs and some pieces from NO/TB you're going to need some cheap WR options. Choose your core players, build your correlations, and let available salary drive you to one or two of the cheaper WRs.
Finally, pay attention to George Kittle news. If he's out, Ross Dwelley is a great, cheap option against Arizona. Even if Kittle plays, Dwelley is a nice a hail-mary pick.
Good luck!
QB
RB
WR
TE
DST
Stack
Foundation
Drew Brees
Ezekiel Elliott
Darren Waller
Carolina
Tournament
Josh Allen
Tom Brady
Derek Carr
Dak Prescott
Christian McCaffrey
Josh Jacobs
Joe Mixon
Leonard Fournette
Michael Thomas
Mike Evans
Julian Edelman
Tyler Boyd
Mark Andrews
Ross Dwelley
San Francisco
Buffalo
McCaffrey + Carolina
Brady + Edelman
Carr + Waller
Carr + Jacobs + Waller
Prescott + Cooper/Gallup
Million $
Jameis Winston
Deshaun Watson
Lamar Jackson
Sam Darnold
Mark Ingram
Tevin Coleman
Alvin Kamara
Brian Hill
John Brown
De'Andre Hopkins
Philip Dorsett
Tre'Quan Smith
Terry McLaurin
Robby Anderson
Mohamed Sanu
Hunter Renfrow
Marquise Brown (if healthy)
TJ Hockenson
Jared Cook
OJ Howard
Jacksonville
Oakland
Allen + Brown
Jackson + Ingram
Jackson + Andrews
Fournette + Jacksonville
Winston + Kamara + Evans
Brady + Dorsett + Edelman
Brady + Dorsett + Sanu
Watson + Hopkins + Brown (if playing)
Carr + Williams + Waller
Carr + Williams + Boyd + Waller
Carr + Jacobs + Boyd + Waller
Carr + Jacobs + Mixon + Waller
Hail Mary
Nick Foles
Ryan Finley
Dwayne Haskins
Rex Burkhead
Danny Amendola
Willie Snead
Auden Tate
Tedd Ginn
Paul Richardson
Cameron Brate
Haskins + McLaurin + Anderson
Finley + Jacobs + Mixon + Boyd
Week 10 – Week 9 was pretty successful with Russell Wilson, Tyler Lockett, and Zach Ertz among our top plays. Hopefully you were able to mix in the right secondary players and get some nice wins.
There are a number of stackable games this week; our player pool is a bit larger than usual to not only target the high-scoring games, but to provide a few more contrarian options. This is definitely a week where you want to make more than one lineup. You can stack ARI/TB or NO/ATL or BAL for one lineup. And you can go contrarian with another lineup with Aaron Rodgers, Pat Mahomes, or even a NYJ/NYG stack. We'll have at least one Darnold + Barkley + Anderson lineup. YOLO!
As far as our main lineups, we'll probably land on a Murray + Kirk + Godwin stack as our chalk lineup. And we may even add more players. One of our favorite lineup builds is over-stacking a popular game. If we think a lot of people will be playing Murray, Kirk, and Godwin (we do) then we might also add Ronald Jones and could even add David Johnson, Mike Evans, or OJ Howard.
For our contrarian lineup, we'll probably have a Rodgers + McCaffrey + Adams stack. It's a bit more expensive, but we have plenty of cheap players in our player pool we can add. It's rare to get Aaron Rodgers at less than 5% ownership. The last time he was expected to be this low owned, he threw for 6 touchdowns. One of our other favorite lineup builds is finding stud players who are going under the radar. With all the attention on ARI/TB and NO/ATL, Rodgers is definitely off people's radar this week. Does anyone think a game with Rodgers and McCaffrey could turn into a shootout, especially with the Packers coming home off an embarrassing loss? We do.
Another under-the-radar player this week? Pat Mahomes. A Mahomes + Hill lineup could be surprisingly low owned. Could bring it back with Derrick Henry and even add Travis Kelce or Sammy Watkins if you want a full game stack.
In our million $ section, you'll also see some players that illustrate another lineup build we like. If you want exposure to the games that are projected to be high-scoring, but want to differentiate yourself, you can target secondary players from those teams. Players like Larry Fitzgerald, Calvin Ridley, and Ted Ginn. And, if you're not playing McCaffrey, you can target someone like Greg Olsen instead. Remember those cheap players we mentioned we'd need in a Rodgers + McCaffrey + Adams stack? Some of those secondary players can get you exposure to the popular games while saving you salary.
Reminder, as you're filling out your lineups, trying to find those last few players, you can use our value rankings as a tie-breaker. This list of rankings takes into account our projections and player cost to help you find players who will give you the most bang for your buck.
QB
RB
WR
TE
DST
Stack
Foundation
Christian McCaffrey
Alvin Kamara
Saquon Barkley
Baltimore
Tournament
Aaron Rodgers
Kyler Murray
Jameis Winston
Pat Mahomes
Lamar Jackson
Mark Ingram
Derrick Henry
Marlon Mack
Ronald Jones
David Montgomery
Davante Adams
Chris Godwin
Tyreek Hill
Michael Thomas
Christian Kirk
Marquise Brown
Travis Kelce
Austin Hooper
Jack Doyle
Indianapolis
Chicago
Cleveland
Rodgers + McCaffrey + Adams
Murray + Jones + Kirk
Murray + Jones + Kirk + Godwin
Montgomery + Bears
Jackson + Brown
Jackson + Ingram + Brown
Mahomes + Hill + Kelce
Million $
Daniel Jones
David Johnson
Jaylen Samuels
Tarik Cohen
Calvin Ridley
Larry Fitzgerald
Robby Anderson
Josh Reynolds
Tedd Ginn
Mike Gesicki
Greg Olsen
OJ Howard
Cameron Brate
Green Bay
Murray + Johnson
Barkley + Anderson
Kamara + Ridley
Jackson + Ingram + Brown + Ravens
Hail Mary
Sam Darnold
Brian Hoyer
Mitchell Trubisky
Ryan Finley
Ty Johnson
Kalen Ballage
Dare Ogunbowale
KeeSean Johnson
Cody Latimer
Eric Ebron
Chris Herndon
Miami
Atlanta
Hoyer + Ebron
Darnold + Barkley + Anderson
Winston + Ogunbowale + Godwin + Kirk
Fading
Matt Ryan
Afraid of Not Having
Drew Brees
Week 9 – We're posting early this week so we can spend some more time talking about lineup construction. We don't just want to provide player recommendations, we want to teach you how to make better lineups. After all, each week there are multiple players at each position who would be good picks, it's your lineup construction that guides you to individual ones.
Winning DFS tournaments takes a combination of skill and luck. It takes skill to narrow down your player pool, consider expected ownership, game theory, expected game scripts, etc. (We do all that for you!) It takes luck to have the individual players you pick from your larger player pool all perform well. For example, last week we narrowed our main WR pool to 10 players, which included the top three scoring WRs of the week – Mike Evans, Cooper Kupp, and Kenny Golladay. Both Kupp and Golladay were in our top five recommendations, giving you a great shot at having both in your lineup. And if you picked one of our million $ QBs – Ryan Tannehill – you might have decided to also play Mike Evans, knowing it's best to build lineups with positive correlation.
We can't afford to get the most expensive players at each position, so each week we need to make tough decisions about how we want to build our lineups. One of the most common decisions each week is whether we want to spend our money on top RBs or top WRs or a mix. Going back to last week, you may have decided there were a lot of value RBs like Latavius Murray and Ty Johnson, so you spent your money on expensive WRs, leading you to Kupp, Golladay, and Evans. If, instead, you opted for expensive RBs, you may have only ended up with Golladay in your lineups. In both cases, your lineup construction might have been optimal given where you decided to spend your money, but luck determined that the expensive WR lineup was best last week. It takes skill and luck. Our job is to make sure your player pool is strong to enough to put the odds in your favor.
Using our Week 9 player pool (posted below) let's look at how this works in practice. The question of expensive RBs or expensive WRs always starts with Christian McCaffrey (and now Dalvin Cook). He has a very high floor and a very high ceiling, making him a strong pick every week. But, when you consider his price, his expected ownership levels, and what other players you're able to fit in, you may decide to fade him, opting for other expensive RBs or cheaper value RBs.
As a general rule, in tournaments an expensive player needs to score 2.5 to 3 times his salary to be worth it. This week McCaffrey is $9,700 so he needs to score 24 to 29 points to justify his salary. He's been in that range 3 times this year, above it 2 times, and below it 2 times. This makes him a safe bet to be worth his salary, but recognizing that you're sacrificing salary at other positions, you may opt for a RB who you feel has an equal chance of justifying his salary. For example, this week Le'Veon Bell is $7,000 meaning he needs to score 17 to 21 points to justify his salary. He's hit that range only once this year and has been below it 6 times. But we're only interested in this week, so we have to ask ourselves if we think McCaffrey is more likely to hit 29 points or is Bell more likely to hit 21 points? If we think they're equally likely to hit those numbers (this week), we'd likely lean toward Bell, who should be lower-owned and who saves us $2,700 that we can use to spend on other positions.
We don't typically provide full lineups, but let's see two sample Week 9 lineups that illustrate this difference.

The top lineup has two expensive RBs – McCaffrey and Cook – but also has a cheaper RB – Singletary – and cheaper WRs – Davis, Gabriel.
The bottom lineup bypasses McCaffrey and Cook, instead opting for Bell and Jones. As the tradeoff, the bottom lineup is now able to fit Chubb, Williams, and Robinson.
As you can see, it's not as simple as deciding whether you want to play McCaffrey or not (or Cook). You need to experiment with multiple lineups to see which you prefer. Both lineups give us ownership advantages at certain positions and both feature positive correlations to increase our variance (increasing our ceiling).
It's not simply a decision of McCaffrey vs Bell. It's really a decision of McCaffrey and Gabriel vs Bell and Robinson.
Start with the player pool, but eventually you have to take a stand and choose which individual players and which individual lineup builds you prefer. As long as you built both lineups using our lineup construction tips, like QB + WR + opposing WR correlation, feel comfortable that you built a good lineup that puts the odds in your favor, then wait to see what lady luck brings your way on Sunday.
Typically, if you're on the fence about RBs or WRs, you should play the expensive RBs because WR production is more variable, meaning you have a greater chance of a cheap WR producing well than you do a cheap RB. If you can load your lineup with the top three RBs and you have two or three cheap WRs (or TEs) that all do well (and probably aren't very highly owned) you'll climb the leaderboard quickly! This is how you get a lineup with a high floor and a high ceiling, making it good for both cash and tournament lineups. Again, let's look at Week 9 to see what this would look like.
Let's assume we want to fit McCaffrey, Cook, and Jones into our lineup, no matter what. SIDE NOTE: We absolutely hate playing Aaron Jones this week because we typically don't like to pick a player after he had a monster week, but his match-up is good and his passing game involvement is so good right now, that we're willing to go back to him, despite his likely high ownership.
So back to McCaffrey, Cook, and Jones…

We have them jammed into our lineup and we're able to fit the top Defense in, but it means we have to (get to!) play Mitchell Trubisky. Trubisky at $6500 needs to score about 20 points to be worth his salary. He's had four terrible weeks this year, but also two weeks (against GB and NO) where he's hit 20 points. This week, facing the Eagles, he's not only likely to be playing from behind, but the way to beat the Eagles is through the air, so we're likely to see plenty of passing volume from Trubisky. If he can connect with Miller for a score, then our QB+WR lineup should pay off nicely. The real key here, and the reason Trubisky is a million $ pick, is that he's extremely unpopular. You might get him under 1% ownership giving you a huge advantage over the field if he hits.
We also had to sacrifice at TE, dropping down to TJ Hockenson. To get some correlation, we added Tyrell Williams. If one has a really good game, it's likely the other will get some extra volume as well. And to add some correlation to our Aaron Jones pick we added Mike Williams.
Pretty good lineup for tournaments, but we lost our main correlation… QB + WR + opposing pass catcher. So let's see if we can improve on this lineup.

We keep McCaffrey, Cook, and Jones and our top Defense. And we added Ertz back in at TE, giving us our main correlation QB+WR+opposing pass catcher and putting all our eggs in the CHI/PHI basket. We might be a complete bust, but we might win a million dollars. That's the nature of DFS.
Since we don't have Hockenson anymore, we removed Tyrell Williams and instead added the cheaper Corey Davis giving us positive correlation with McCaffrey. If the Panthers get out to a lead like we expect, and McCaffrey is a big part of that like we expect, than we can expect the Titans to be passing more to keep up (or catch up) and hopefully Davis finally cashes in on some red zone targets.
It's impossible to get every player you like into your lineups, so you have to pick and choose, build a positively correlated lineup, and hope those games turn into shootouts. AND hope the players you don't have are part of low-scoring games. If we use this lineup this week that means we don't have any exposure to the SEA/TB game. Godwin and Lockett might be the two most popular WRs this week (and are top on our board as well). This lineup fades the high ownership of that game and instead goes with the three top RBs, giving us a pretty unique lineup. It will be hard for people (probably impossible) to play Godwin, Lockett, and the three top RBs. Even substituting a cheaper RB for one makes it difficult. But let's see if we can do it…
We lose our top Defense, but we get Pittsburgh who has been solid and improving. So far, so good. We lose Jones, who we don't mind fading anyway because of his expected ownership levels and instead get Cohen, who we expect to be heavily involved as the Bears try to keep up with the Eagles. That also keeps the passing correlation with Trubisky. We add Taylor Gabriel giving us another extreme boom or bust correlation with Trubisky. And, to keep the opposing pass catcher correlation, we add Dallas Goedert, who has been performing better than Ertz. With Desean Jackson likely back, Goedert may not see the field as much, but he may have earned himself more playing time.
So, we got there. We added two more high-end players and our replacement players have the same risk/reward that our other CHI/PHI players had. Yes, even more risk but we were already banking on that game being a shootout, so we haven't drastically altered our lineup expectations. And although we added the two most highly-owned WRs we further differentiated ourselves by stacking Trubisky with two other CHI players and going with the lower-owned Goedert rather than Ertz.
Hopefully this gave you some insight into how we build our own lineups. No one starts the week wanting to play Mitchell Trubisky, but you can quickly see how he finds his way into a lot of our lineups. Instead of being this boom or bust, you may decide to make a more balanced lineup using some of the other players in our player pool. As long as you build a positively correlated lineup that has some points of differentiation, you'll be putting the odds in your favor.
BUT WAIT, THERE'S MORE…
Because we're doing our picks early this week, we don't have full clarity on injury situations. We don't know for sure whether James Conner will play, but there is a good chance he won't. If he doesn't, and if we think Jaylen Samuels is healthy and will slide into the starting role, he becomes a top option, throwing all our above analysis into disarray… almost.
Since we already built an extreme boom or bust lineup with a cheap RB in the flex, it's actually pretty easy to slide Samuels in.

We're not as heavy on CHI now, replacing Cohen with Samuels. And we get one of our favorite correlation plays, RB+DEF. And we can upgrade from Gabriel to Miller, who has been getting more involved.
This is certainly a path you can take this week. You might have the five most heavily owned players, but adding Pittsburgh and going with the CHI/PHI stack gives you some differentiation from the rest of the field. If we're building a lineup with chalk players, one thing we like to do is go extra chalky and get as many chalk players in as we can, filling out the rest of our lineup with boom or bust plays. This lineup definitely fits that description and gives us some differentiation by jamming in more popular players than others will get into their lineups.
See you at the top of the leader board!
Ready for more? Sign up now to get ANOTHER free week, then it's just $1 per week. Cancel anytime.
QB
RB
WR
TE
DST
Stack
Foundation
Josh Allen
Christian McCaffrey
Jaylen Samuels*
Tournament
Russell Wilson
Matt Stafford
Dalvin Cook
Aaron Jones
Chris Godwin
John Brown
Tyler Lockett
Zach Ertz
Darren Waller
Buffalo
Wilson + Lockett + Godwin
Allen + Brown
Allen + Brown + Buffalo
Million $
Jameis Winston
Philip Rivers
Derek Carr
Mitchell Trubisky
Nick Chubb
Le'Veon Bell
Tarik Cohen
Mike Evans
Tyreek Hill
Odell Beckham Jr.
Mike Williams
Marvin Jones
Tyrell Williams
Allen Robinson
Vance McDonald
TJ Hockenson
Cleveland
NY Jets
Pittsburgh
Philadelphia
Wilson + Lockett + Godwin + Evans
Winston + Godwin/Evans + Lockett
Bell + Jets
Chubb + Cleveland
Stafford + Jones + T Williams
Carr + T Williams + Jones
Trubisky + Cohen + Robinson
Hail Mary
Sam Darnold
Baker Mayfield
Devin Singletary
Ty Johnson
Jamaal Williams
Taylor Gabriel
Cole Beasley
AJ Brown
OJ Howard
Cameron Brate
Washington
Singletary + Buffalo
Stafford + Hockenson + T Williams
Carr + T Williams + Hockenson
Darnold + Bell + Jets
Gabriel + Ertz
Fading
Afraid of Not Having
Week 8 – We're going back to Josh Allen as our core QB this week. He has a solid floor due to his rushing and an even bigger upside this week as Philadelphia tends to give up big passing plays. We'll have plenty of Allen + Brown in tournaments, but wouldn't be afraid to stack them in cash lineups either. Allen/Fournette/Carson/Hopkins/New England is a pretty good core for cash lineups, with plenty of our other recommendations filling out your lineup depending on salary needs. We're fading Christian McCaffrey again; we don't want to do this too often, but we think Fournette and Carson have better match-ups with nearly as much usage so we'll take the salary savings and hope for better point-per-dollar production. 
Russell Wilson, Deshaun Watson, and Jared Goff all have great match-ups and are fine options, but they'll be popular. When considering ownership percentages, we're moving Tom Brady to the top of our tournament list. Last week saw Aaron Rodgers in a good match-up score 6 TDs at less then 3% ownership. Whenever you get a chance to get a great player at very low ownership, you should take it. This week we think that's Tom Brady. With Sony Michel scoring so much last week, Tom Brady is getting overlooked this week. If you wake up Monday morning and the Patriots beat the Browns 35 to 0, with Brady throwing for four TDs, would you be surprised? Probably not. That's what we're looking for in DFS tournaments – great players who are under-owned but have a clear path to finishing the week as the top scorer.
On the low-end, we also like Ryan Tannehill again. A Tannehill + Davis lineup gives you a lot of salary to spend at other positions.
And in our hail-mary picks we have Joe Flacco. Do we expect Flacco to be the top-scoring QB of the week? No. Has he played well or even just decent? No. Did he just lose his top WR? Yes. But, even given all that, did we expect to see him priced lower than Matt Schaub on FanDuel? No. We like DaeSean Hamilton in an expanded role as a salary-saver to fill out your lineups, so if you want to throw a tournament dart at near zero ownership a Flacco + Hamilton + Mack lineup would definitely be differentiated from the field and would allow you to play some of the more expensive chalk players.
We don't really love any TE's this week. You can keep playing Darren Waller or pay up for George Kittle, but we'll probably be playing Evan Engram where we can. Barkley should draw a lot of ownership attention and Engram is still a high-usage TE in a game that could turn into a shootout. We like him to bounce back from a disappointing Week 7.
For Defense, how do you not just pay whatever price necessary for New England each week? We won't try to talk anyone out of New England, but defensive scoring is typically high variance because it relies heavily on scoring defensive TDs. For that reason, in tournaments, it's usually best to fade a Defense that is expected to be heavily owned. We expect New England to be the most highly owned defense this week, by a good margin and for good reason. We'd play them in cash, but for tournaments we'll likely pivot to the Rams and Jaguars. We like the Rams a bit better, and they'll be lower owned than the Jaguars, but the price savings you get by picking Jacksonville is pretty substantial, so they may end up finding their way into a lot of our lineups.
QB
RB
WR
TE
DST
Stack
Foundation
Josh Allen
Leonard Fournette
Chris Carson
DeAndre Hopkins
New England
Tournament
Tom Brady
Russell Wilson
DeShaun Watson
Jared Goff
Tyler Johnson
Josh Jacobs
Latavius Murray (if Kamara out)
Chase Edmonds (if Johnson out)
John Brown
Kenny Golladay
Tyler Lockett
Cooper Kupp
Evan Engram
TJ Hockenson
LA Rams
Jacksonville
Allen + Brown
Wilson + Lockett
Goff + Kupp
Goff + Rams
Fournette + Jacksonville
Brady + New England
Million $
Ryan Tannehill
Gardner Minshew
Todd Gurley
Marlon Mack
Cory Davis
Calvin Ridley
DJ Chark
Mike Evans
Mohamed Sanu
Zach Ertz
San Francisco
Seattle
Allen + Brown + Ertz
Tannehill + Davis + Evans
Wilson + Lockett + Ridley
Wilson + Carson + Lockett
Brady + Sanu
Carson + Seattle
Wilson + Seattle
Hail Mary
Joe Flacco
Sam Darnold
Joe Mixon
Darrell Henderson
DaeSean Hamilton
Greg Olsen
Gurley + Henderson + Rams
Flacco + Hamilton
Flacco + Hamilton + Mack
Goff + Kupp + Mixon
Fading
Christian McCaffrey
Afraid of Not Having
Saquon Barkley
Week 7 – It's been a few weeks since we've seen Josh Allen in our ranks, but he's back on top as our favorite core play. If you're building a cash lineup then Allen/Fournette/Cook/Engram/Buffalo is a pretty nice core. And we have plenty of mid-range WRs (and some min-priced hail-mary plays) to fill out the rest of your lineup.
Keep an eye on the Packers' WR injuries on Sunday. If one or more of Adams/Allison/Valdez-Scantling is out, then Alan Lazard probably becomes the top value pick of the day, but we'd actually prefer Jake Kumerow. He'll be much lower owned than Lazard and has shown rapport with Rodgers for longer than Lazard. Jimmy Graham also becomes a nice value TE option.
For tournaments, this is another week with several ways you can go. If you're making a single lineup, pick your favorite stack and just commit to it. This is definitely a week where we'll be making multiple lineups though.
The most popular stack of the week is likely going to be Jared Goff + Cooper Kupp + Julio Jones.  It's the game that has the highest Vegas over/under and people are expecting a 'get right' game for the Rams, much like we saw from the Texans vs Atlanta. We'll have a few lineups featuring this game, but we're more likely to go Goff + Kupp + Ridley. And in our lineups that feature different QB/WR stacks we're likely to play Devonta Freeman + Gerald Everett as leverage against the more popular stacks from this game. We'll still get exposure to a potential shootout game but at much lower ownership. We've seen Freeman involved in the passing game and we're starting to see the Rams use Everett more.
Because we're making multiple lineups, we want to make sure we have exposure to these stacks at a minimum:
Goff + Kupp
Allen + Brown
Minshew + Chark (great leverage if you're not using Fournette, but don't be afraid of the less traditional Minshew + Fournette + Chark stack either)
Brissett + Hilton
Watson + Hopkins
About the last two stacks, Hilton is likely to be very popular as he has historically torched the Texans. We have him just outside our top three as we'd actually rather go with Hopkins and use Marlon Mack for our Colts exposure, but a Brissett + Hilton stack is a great way to use Hilton while gaining some differentiation by stacking him with Brissett. Similar to the Jaguars, we wouldn't be afraid of a larger game stack with Brissett + Mack + Hilton + Hopkins. And Watson should be surprisingly low owned this week. With so much focus on the Rams/Falcons game and people remembering what the Colts did to the Chiefs a couple weeks ago, people are sleeping on Watson. A Watson + Hopkins + Hilton/Mack stack could be a tournament winner this week.
This is a week where you're going to have make a stand on a few players. Pick your favorites and build around them, knowing you'll have to get some cheaper plays that you might not normally play if you want to fit in a few studs. We'll probably have more Minshew + Chark lineups than any other combination because that allows us to fit more of our other plays in.
One last note on fitting players in, we've listed Miami as a hail-mary defense. Obviously only try this on your non Allen/Brown stacks, but if you're trying to cram in a bunch of players, Miami is soooo cheap that it wouldn't take much for them to pay off. And if you're already banking on a lineup that doesn't feature Allen + Brown, might as well hope for an upset or, at minimum a low-scoring game with a Miami defensive TD. These kind of surprises happen every year! Now, all that said, we'd only do this in about 1% of our total lineups but if you want access to Fournette/Cook/Hopkins/Hilton/Kupp/Engram you can get them all if you're willing to start Miami and Ryan Tannehill (not the worst QB you could start).
QB
RB
WR
TE
DST
Stack
Foundation
Josh Allen
Leonard Fournette
Dalvin Cook
Cooper Kupp
Evan Engram
Buffalo
San Francisco
Allen + Buffalo
Tournament
Jared Goff
Deshaun Watson
Matt Ryan
Gardner Minshew
Marlon Mack
Chris Carson
John Brown
De'Andre Hopkins
TY Hilton
DJ Chark
Robert Woods
Tyler Boyd
Mark Andrews
Austin Hooper
LA Chargers
Chicago
Allen + Brown
Allen + Brown + Buffalo
Goff + Kupp
Watson + Hopkins + Hilton
Goff + Woods
Goff + Woods/Kupp/Cooks + Hooper
Minshew + Chark
Minshew + Chark + Boyd
Ryan + Hooper
Million $
Jacoby Brissett
Kyler Murray
Daniel Jones
Joe Mixon
Devonta Freeman
Tevin Coleman
Frank Gore
Devin Singletary
Calvin Ridley
AJ Brown
Will Fuller
Dante Pettis
Marquis Goodwin
Brandin Cooks
Cole Beasley
Jimmy Graham
Hunter Henry
Gerald Everett
Indianapolis
Goff + Kupp + Ridley
Goff + Kupp + Woods + Ridley
Brissett + Hilton + Hopkins
Mack + Indianapolis
Brissett + Mack + Hilton + Hopkins
Coleman + San Francisco
Goff + Cooks
Jones + Engram
Murray + Fitzgerald/Kirk + Engram
Hail Mary
Ryan Tannehill
Melvin Gordon
Darrell Henderson Jr.
Jake Kumerow
Alan Lazard
Miami
Tannehill + Brown
Tannehill + Gordon + Brown
Fading
Saquon Barkley
Afraid of Not Having
Lamar Jackson
Week 6 – The story of the week is injuries and uncertainty. This is definitely a week where you need to be paying attention Sunday morning, prepared to make adjustments as player news comes out.
David Johnson has a great matchup, and although practicing, is dealing with a back injury. Even if he plays, that injury is keeping us away from him. If he sits, Chase Edmonds becomes a must start and is a hail-mary pick even if Johnson plays.
Todd Gurley is doubtful and unlikely to play making Malcolm Brown the most highly-owned RB this week. We'll have some exposure to him, but we'll also want to find some ways to gain leverage on the field, so will have plenty of lineups without him. Having Brown available is going to free up salary, driving even more of the field to expensive players like Mahomes, Watson, Hopkins, Jones. So we can gain some leverage by building some lineups that go expensive at RB instead or can go with some different cheap RBs at similar prices as Brown For example, Adrian Peterson and Tevin Coleman. Similar prices as Brown, easier match-ups and probably less than three percent ownership versus fifty percent ownership, or more, for Brown.
Another great way to get leverage off of Brown is to target the Rams passing attack. A Jared Goff + Brandin Cooks + Tevin Coleman lineup is a great way to gain leverage on the field. If the Rams pass in the red zone, you'll leapfrog the half of the field that has Brown. If you really want to go contrarian, a Tevin Coleman + SF defense stack may have less than 1% ownership combined! Just imagine half the field playing a backup RB (Brown) who isn't certain to get all the work (enter Henderson) and then imagine the league's top defense (SF) shutting down the Rams who are playing without their top RB. Then imagine the RB who led the team in carries/snaps last week (Coleman) gets some short fields and finds the end zone twice. Imagine that. It's easy if you try.
In situations like these, if you're normally a one-lineup person, we recommend making two lineups. One with Brown, one without. And if making multiple lineups, toss in a Coleman + SF stack.
We have Mahomes as our top QB. The public likes to chase points each week, but you're Blueprint people, you know we're looking for good players coming off bad weeks. This week, the field is gravitating toward Deshaun Watson at a cheaper price than Mahomes. We like Watson too, but will happily pay the extra for Mahomes at home in a bounce-back game. There is a lot of uncertainty surrounding Chiefs WRs so we'll be stacking Mahomes with Travis Kelce, who is still looking for his first monster game of the season. This could be the week it happens. And it could happen with Kelce only being the fourth or fifth highest-owned TE on the slate.
If you want some exposure to that game, but want to differentiate your lineups even more, you can start Hopkins and Kelce but find some other QB/WR stacks you like. Murray and Fitzgerald. Ryan and Sanu (or Jones if you can afford it).
We like Dalvin Cook again this week. In a game against the Eagles who have a reputation of being tough against the run, the public chasing points with Thielen, and most of the field looking for cheaper RBs we'll pay the premium for Cook and will stack him with the Minnesota defense in several lineups. Cook is arguably the best RB on the main slate and may not be in the top five most owned RBs. His involvement in the passing game is enough to  make us think he still has top-scoring RB potential.
We have more players listed than we normally like to include, but there are several ways you can go if you're playing the two most popular games, HOU at KC and ATL at ARI. And several ways you can go if you opt for cheaper QBs, going all the way down to our hail-mary picks like Josh Rosen and Joe Flacco.
For our own tournament lineups, where we want to be differentiated from the field, but knowing we could end up with a big bust, we'll likely have several lineups that have Hopkins/Kelce/Peterson/Cook/Vikings mixing in a lot of other players we like below.
QB
RB
WR
TE
DST
Stack
Foundation
Pat Mahomes
Malcolm Brown (if Gurley out)
DeAndre Hopkins
Travis Kelce
Austin Hooper
Mahomes + Hopkins + Kelce
Tournament
Deshaun Watson
Lamar Jackson
Matt Ryan
Chris Carson
Dalvin Cook
Adrian Peterson
Alvin Kamara
Odell Beckham Jr.
Julio Jones
Mark Andrews
Baltimore
Watson + Hopkins + Kelce
Jackson + Baltimore
Jackson + Andrews
Ryan + Jones + Kirk/Fitzgerald
Carson + Beckham
Cook + Minnesota
Million $
Kyler Murray
Dak Prescott
Kirk Cousins
Case Keenum
Derrick Henry
Le'Veon Bell
Mark Ingram
Damien Williams
Devonta Freeman
Stefon Diggs
Mohamed Sanu
Dede Westbrook
Jamison Crowder
Brandin Cooks
Tyler Boyd
Terry McLaurin
Minnesota
New Orleans
Washington
Murray + Hooper
Murray + Jones
Jackson + Ingram
Jackson + Ingram + Baltimore
Jackson + Boyd
Jackson + Andrews + Boyd
Jackson + Ingram + Boyd
Ingram + Baltimore
Cousins + Diggs
Cousins + Cook + Diggs
Ryan + Jones + Ridley + Fitzgerald
Ryan + Edmonds + Jones + Ridley + Fitzgerald
Prescott + Bell + Gallup
Hail Mary
Joe Flacco
Josh Rosen
Baker Mayfield
Tevin Coleman
Chase Edmonds
Davante Parker
Noah Fant
San Francisco

Miami

Flacco + Fant + Henry
Rosen + Peterson + Parker
Keenum + McLaurin + Parker
Fading
Ezekiel Elliott
David Johnson
DJ Chark
Afraid of Not Having
David Johnson
Week 5 – We're generally fading the Tampa Bay offense and won't be playing Winston and Evans. We do have Godwin listed as a Million $ WR because he should get the best matchup and could still put in a solid performance. And, if you're making  multiple lineups, because we're high on Kamara it's worth throwing in a Winston + Kamara + Godwin stack in one in case that game does turn into a shootout.
Watson is likely to be the most highly owned QB, for good reason. Lots of people are banking on a 'get right' game against the Falcons, including us. To offset the high ownership, you can overstack the game by pairing him with Hopkins and Fuller and either Jones or Hooper from the Falcons. Because of the expected ownership levels on Watson, Brady jumps to our top QB recommendation and, in tournaments, we'll likely have more Dalton lineups than Watson lineups, throwing in Fuller as leverage against all the Watson/Hopkins lineups. But, as you can see, there are lots of different HOU/ATL stacks we like, even getting some exposure to Carlos Hyde. We'll definitely have a few Watson lineups ourselves.
Cook should be the most heavily owned RB. We like Cook + Minnesota as a secondary stack in our foundation picks. In tournaments though, if you want to gain some leverage (and think they pass more to satisfy Thielen) then you can pivot to some of our other top options. It's pretty easy to go heavy on RB this week. If passing on Cook, you can easily build a Brady + New England stack, with Elliott, Kamara, and Johnson, then plenty of room for some of the value WR options.
QB
RB
WR
TE
DST
Stack
Foundation
Tom Brady
Dalvin Cook
David Johnson
Josh Gordon
New England
Minnesota
Brady + New England
Cook + Minnesota
Brady + Gordon
Tournament
Deshaun Watson
Matt Ryan
Ezekiel Elliott Alvin Kamara
Carlos Hyde
DeAndre Hopkins
Tyler Boyd
Will Fuller
Jimmy Graham
Zach Ertz
Philadelphia
Chicago
Watson + Hopkins + Jones
Watson + Hopkins + Fuller
Watson + Hyde + Jones
Watson + Hopkins
Montgomery + Chicago
Elliott + Graham
Million $
Andy Dalton
Kyler Murray
David Montgomery
Chris Thompson
Sony Michel
Le'Veon Bell
Larry Fitzgerald
Julian Edelman
Chris Godwin
Auden Tate
KeeSean Johnson
Mark Andrews
Green Bay
Jacksonville
New Orleans
Dalton + Boyd
Dalton + Johnson + Boyd + Tate
Brady + Gordon + Thompson
Brady + Michel + Gordon + New England
Michel + New England
Murray + Fitzgerald


Winston + Kamara + Godwin


Dalton + Johnson + Boyd + Eiffert
Dalton + Johnson + Boyd + Fitzgerald + Eiffert
Kamara + New Orleans
Hail Mary
Joe Flacco
Gardner Minshew
Teddy Bridgewater
Austin Ekeler
Dede Westbrook
Golden Tate
Robby Anderson
Tyler Eiffert
Brady + Michel + Thompson + Gordon + New England
Minshew + Westbrook
Bridgewater + Kamara + Godwin
Fading
Daniel Jones


Jameis Winston

Wayne Gallman
Christian McCaffrey
Mike Evans
Afraid of Not Having
Lamar Jackson
Christian McCaffrey
Marquise Brown
Week 4 – Sunday morning updates… added Goff to our core; Kupp to our tournament lineups.
QB
RB
WR
TE
DST
Stack
Foundation
Pat Mahomes
Jared Goff
Christian McCaffrey
Josh Jacobs
DeAndre Hopkins
Kenny Golladay
Will Dissly
Travis Kelce
LA Rams
McCaffrey + Hopkins
Mahomes + Kelce + Golladay
Goff + Kupp
Tournament
Matt Stafford
Deshaun Watson
Adrian Peterson
Kerryon Johnson
Derrick Henry
Dalvin Cook
Sammy Watkins
Odell Beckham Jr.
Cooper Kupp
Darren Waller
Washington
Washington + Peterson
Mahomes + Johnson + Kelce + Golladay
Mahomes + Johnson + Watkins + Golladay
Stafford + Golladay + Kelce/Watkins
Stafford + Johnson + Golladay + Kelce + Watkins
Million $
Josh Allen
Lamar Jackson
Chris Carson
James White
Todd Gurley
Malcolm Brown
Cole Beasley
Marquise Brown
Paul Richardson
Jarvis Landry
TJ Hockenson
Seattle
Allen + Beasley
Jackson + Brown
Jackson + Brown + Beckham
Jackson + Brown + Landry
LA + Gurley/Brown
Seattle + Carson + Lockett
Hail Mary
Marcus Mariota
Baker Mayfield
Melvin Gordon
Davante Parker
Mariota + Henry + Ridley
Mayfield + Beckham + Brown
Mayfield + Landry + Brown
Fading
Daniel Jones
Wayne Gallman
Mike Evans
LA Chargers
Afraid of Not Having
Austin Ekeler
Keenan Allen
Week 3
QB
RB
WR
TE
DST
Stack
Foundation
Josh Allen
Ezekiel Elliott
Dalvin Cook
John Brown
Keenan Allen
Dallas
New England
Elliott + DAL
Michel + NE
Tournament
Jameis Winston
Dak Prescott
Kyler Murray
Saquon Barkley
Christian McCaffrey
Chris Carson
Sony Michel
Mike Evans
Sammy Watkins
Larry Fitzgerald
Marquise Brown
Davante Adams
Mark Andrews
Evan Engram
Zach Ertz
Minnesota
Buffalo
Winston + Evans + Barkley
Murray + Fitzgerald + McCaffrey
Rivers + Ekeler + Allen + Hopkins
Rodgers + Adams + Sanders
Carson + Seattle
Million $
Pat Mahomes
Lamar Jackson
Devante Freeman
Mark Ingram
Aaron Jones
Will Fuller
Randall Cobb
Nelson Agholor
JJ Arcega-Whiteside
O.J. Howard
Evan Engram
Green Bay
Tampa Bay
Winston + Evans + Barkley + Engram
Winston + Evans + Godwin + Barkley + Engram
Ryan + Jones and/or Ridley
Brissett + Hilton + Jones + Freeman
Prescott + Elliott + DAL
Rivers + Ekeler + Allen + Fuller
Jones + Green Bay
Hail Mary
Daniel Jones
Mason Rudolph
Tony Pollard
Le'Veon Bell
Giovoni Bernard
James Washington
Dante Pettis
Greg Olsen
Jones + Barkley + Engram (+Evans/Godwin)
Elliott + Pollard + DAL
Rudolph + Washington + Kittle
Afraid of Not Having
Travis Kelce
George Kittle
Week 2
QB
RB
WR
TE
DST
Stack
Foundation
Josh Allen
Jared Goff
Ezekiel Elliot
Alvin Kamara
Sony Michel
Giovani Bernard (if Mixon out)
John Brown
Darren Waller
New England
Allen + Brown
Michel + NE
Tournament
Ben Roethlisberger
Drew Brees
Derek Carr
Sony Michel
Kerryon Johnson
Adrian Peterson
Josh Jacobs
Keenan Allen
Cooper Kupp
Tyler Lockett
Will Fuller
Vance McDonald
Travis Kelce
Dallas
Green Bay
Brees + Kamara + Thomas + Cooks/Woods/Kupp
Allen + Brown + Barkley + Engram
Rivers + Allen + Johnson
Garoppolo + Kittle + Bernard (if Mixon out)
Carr + Jacobs + Waller
Million $
Philip Rivers
Tom Brady
Todd Gurley
LeSean McCoy
Mecole Hardman
Demarcus Robinson
Tyler Boyd
Jacksonville
Indianapolis
Roethlisberger + Conner + JuJu + Carson + Lockett + McDonald
Carr + Jacobs + Hardman + Kelce/Waller
Carr + Jacobs + McCoy + Waller
Carr + Williams + Kelce
Dalton + Boyd
Hail Mary
Gardner Minshew
Raheem Mostert
Justin Jackson
Chris Thompson
De'Anthony Thomas
New York Giants
Fading
Lamar Jackson
Austin Ekeler
Marquise Brown
Sammy Watkins
Afraid of Not Having
David Johnson
Antonio Brown
Week 1
QB
RB
WR
TE
DST
Stack
Foundation
Chris Carson
Todd Gurley
Dalvin Cook
Mike Evans
Kenny Golladay
Hunter Henry
Seattle
Carson + Seattle
Tournament
Josh Allen
Kerryon Johnson
Leonard Fournette
John Brown
Allen + Brown
Million $
Mark Ingram
Cooper Kupp
Robby Anderson
Detroit
Ingram + Baltimore
Kerryon Johnson + Detroit
Wilson + Carson + Lockett
Allen + Brown + Anderson
Hail Mary
Cole Beasley
JJ Arcega-Whiteside
Dante Pettis
Wentz + Goedert
Fading
Lamar Jackson
Austin Ekeler
Saquon Barkley
Chris Godwin
Curtis Samuel
Zach Ertz
Afraid of Not Having
Christian McCaffrey