Start Here: A Look Back at 2022
Here comes your annual reminder that you're Blueprint people. You're different. You play to win.
When we look back to 2022 at the most valuable fantasy football players, we see some familiar names and, if you've been with us for a few years, some familiar positions. That's right… DEF and K!
You already know that player value is all about how a player compares to the average starter at the same position! (If you're a new subscriber, you can read more about this here.)
So you know the column on the right is the most important stat we can possibly look at and is also how we approach our cheat sheets. It shows how many more points a player scored compared to the average starter at the same position. More above-average players, more wins, more championships.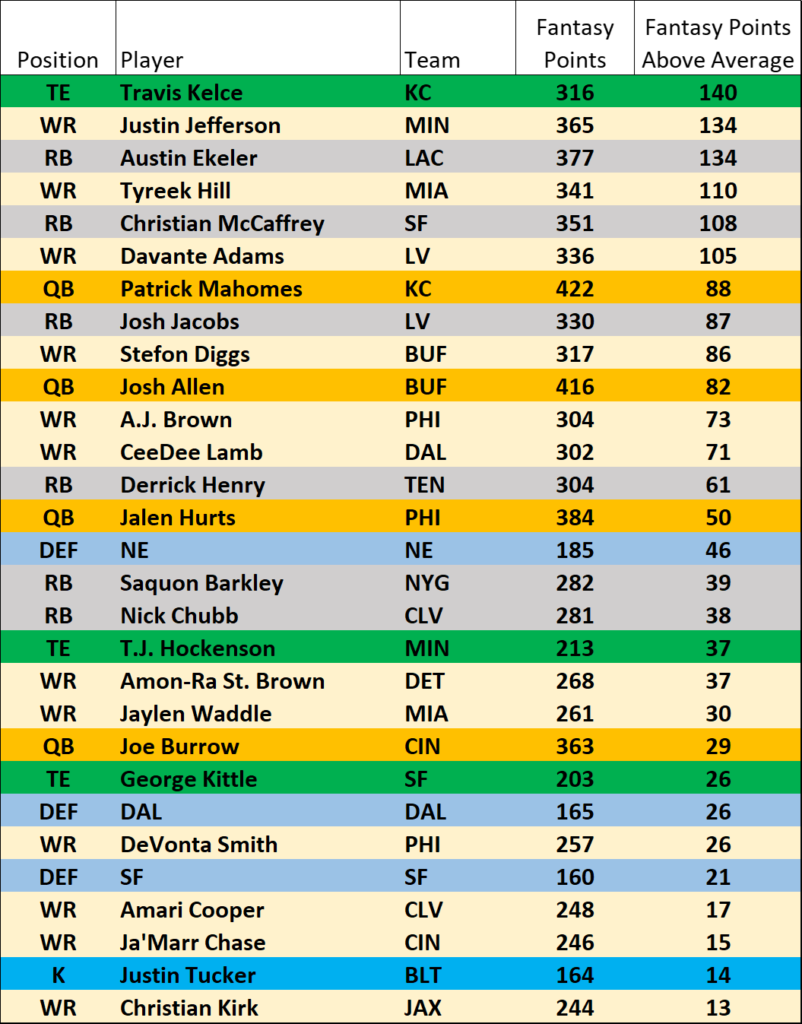 We've seen a shift toward WRs and QBs being even more valuable, where in years past RBs have dominated the top of the list. The elite RBs aren't separating themselves quite as much and teams are moving more and more to committees. But, that also means those RBs that do see a lot of work are still extremely valuable to us, noted by the number of RBs on the top half of the list above. We've just seen more WRs and QBs sprinkled in than in years past.
We also – not surprisingly to Blueprint people – see Travis Kelce as the most valuable player last year. The depth at TE is much lower than at other positions, so a top TE like Kelce is far more valuable than the top players at other positions. We've been way ahead of the crowds on this, screaming this concept to people since Gronk's heyday.
We also continue to be ahead of the crowds in the seemingly obvious concept of maximizing the value of our starting lineups. That's why we target our starting DEF and K much earlier than the crowds – and we win as a result. See this for a refresher. If we go back to that chart on top we see a few team defenses and, gasp, a kicker in the top 30 most valuable fantasy football players of 2022.
These are foundational concepts for us. It's how we separate ourselves from the crowd and win at much higher rates than everyone else in our leagues!