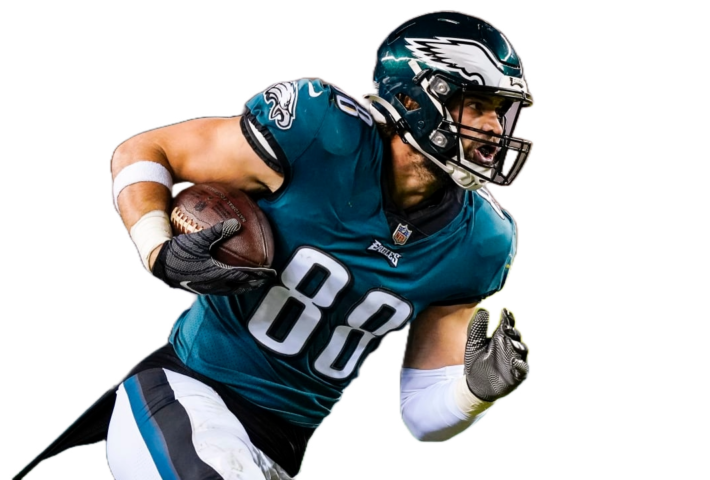 Welcome back to Fantasy Football Blueprint and thank you for taking the time to read my articles. It's time for some TE action. Drafting Kelce is ideal but only 1 team in your league will have that pleasure. So, who else could you target? Here are some TEs to consider in the categories of sure thing, a sleeper, a bust, and a breakout.
For all things fantasy football, follow me on Twitter (@FantasyHubbard).
TE
SURE THING
Travis Kelce – Kansas City Chiefs
Travis Kelce might be one of the most obvious sure thing picks in the NFL and the only TE you can rely on heavily and confidently. Kelce is entering his 10th season and has already accrued over 10000 receiving yards and 69 receiving TDs. He has exceeded 1000 receiving yards in 8 consecutive seasons and has 8 or more receiving TDs in 5 of his last 6 seasons. You could easily argue that Patrick Mahomes and Kelce have the best QB to pass catcher chemistry in the NFL. In Travis's career he has averaged 8 targets per game and in 2022 he set career highs in targets (152), receptions (110), and receiving TDs (12). The 33-year-old shows no signs of slowing down. Kelce is a must draft if available late in the 1st round and beyond.
SLEEPER
Chigoziem Okonkwo – Tennessee Titans
Okonkwo is entering his 2nd year in the NFL at TE with the Titans. He had to share time with Austin Hooper last year who is now a Raider opening up more volume for Okonkwo. He should have TE1 locked up in Tennessee and with the news that Treylon Burk is currently injured, Chigoziem will get a little more attention along with Hopkins of course. Tannehill will get his 2nd year with Okonkwo after his rookie stat line of 32 receptions for 450 receiving yards and 3 scores. He was 5th on the team in both targets and receptions last year yet was 2nd on the team to only Robert Woods in receiving yards. Well Robert Woods is now a Texan and DeAndre Hopkins has had 2 consecutive injury riddled seasons. Tannehill to Okonkwo could be more reliable than expected.
BUST
Darren Waller – New York Giants
Waller the baller has not been balling much in his last 2 seasons. He had an amazing season in 2020 where he almost hit 1200 receiving yards along with 9 TDs. Sounds great, until you look at just about any other season. Excluding 2020, Darren hasn't scored 3+ TDs in any season throughout his career. Waller had decent chemistry with David Carr in Vegas, but he now will be playing with Daniel Jones on the Giants. Darren played 9 games last season and 11 the season before. His health and his consistency are the issue, not to mention a new team to get accustomed to. I have 6 TEs that I would much rather have over Waller this season (Kelce, Andrews, Goedert, Hockenson, Pitts, Kittle).
BREAKOUT/PREDICTION
Dallas Goedert – Philadelphia Eagles
Dallas has really become a vital piece in the already good Eagles offense. Jalen Hurts is in MVP form and has AJ Brown and DeVonta Smith as his top pass catchers. That will give defenses a hard enough time, hopefully causing Goedert to fly somewhat under the radar. He has 55+ receptions and over 700 receiving yards in each of his last 2 seasons. Dallas seems to only be getting better each year and he holds himself to a high standard. He has set a personal goal of 1000 receiving yards this season and I believe he gets it. My prediction for this breakout TE is not only 1000 receiving yards but I believe he could be a top 2 leading pass catcher on the Eagles come the end of the season.