The Year of Zero-RB
We're typically fans of letting your cheat sheet drive you, but there are years where certain strategies make more sense than others.
The zero-RB strategy has been gaining steam and we've mostly pooh-pooh'ed it. Although we did highlight in this older article how your cheat sheet may guide you to it naturally.
Zero-RB is essentially loading up on WRs, and sometimes QB and TE, and taking RBs in later rounds, hoping one of them hits. The thought is that RBs are a dime a dozen, there are always ones that get hurt and find starting roles later in the season. Personally, I don't like to bank on that as a strategy, but…
This year really does present a lot more value RB options in the mid rounds. Players who are actual starters on their teams and not even in committees. Players who in years past were near the top of the RB ranks or players who are replacing someone that was perennially near the top.
Let's see how this might look drafting from the 8th spot.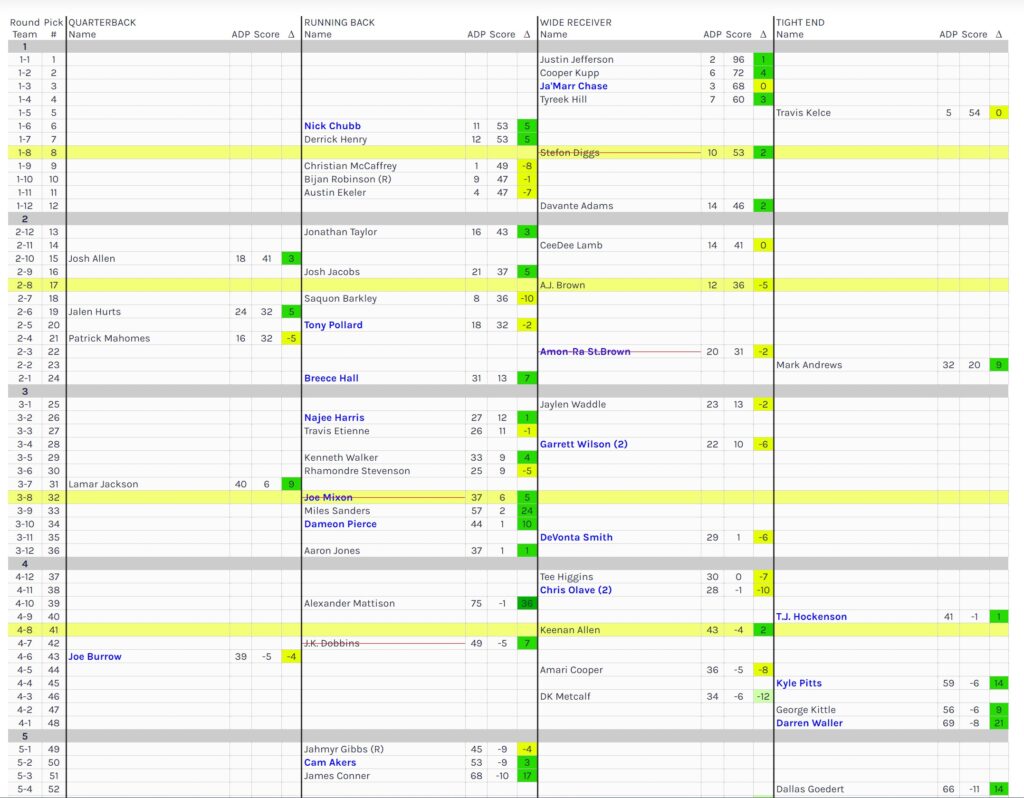 For ease of illustration, I'm using the red line to note a selected player.
We start with Diggs then we see that AJ Brown has a negative delta, meaning he's not likely to be there at that pick, so we drop down to St. Brown. Two solid WRs to start.
Then we come back with Mixon and Dobbins. But we've got our pick of a number of different RB options there if we like someone better.
Looking further down we've even got players like Akers and Conner who are likely to be available if we wanted to wait even longer to take RBs. Could be Dobbins and Akers as our top two RBs.
In that scenario, maybe you grab Hockenson with your third pick or load up at WR again with someone like Keenan Allen. Note, you can see from the negative deltas in that section of WRs that WRs are generally going off the board higher than normal, which just means even more RBs will be falling into those mid rounds.
Expected to be available even further, we've got players like Rachaad White, James Cook, Brian Robinson, and Rashaad Penny.
You know we like to zig when others zag but if there ever was a year to go zero-RB this is it.