"Seeing" Your Draft – Zero RB
We know our most optimal path is loading up on two stud RBs early, grabbing a top-tier QB and TE, then filling out our WRs. But let's look at a scenario where we go against that strategy – opting for the "zero-RB" approach.
The zero-RB strategy advocates waiting on RBs and loading up on top-tier starters at the other positions instead. It's very powerful… if you hit on the right RBs. The problem though? RB is the most scarce position and the position with the least amount of upside later in drafts, so, in most cases, you're increasing your downside without significantly increasing your upside. But it can work. And you may be forced into it.
Let's look at how things might play out from the 12th spot.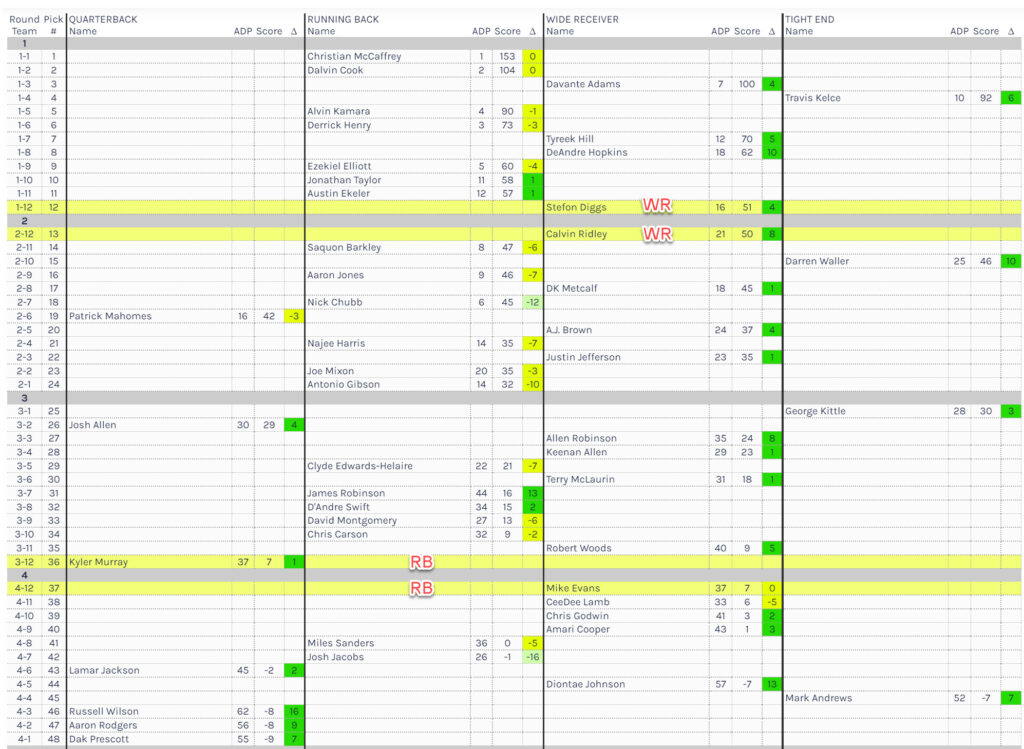 You go WR, WR with your first two picks. You see from the negative numbers in the delta column that most of your RBs ranked in the top-two rounds are going to be drafted higher than where you have them ranked. So, if you choose RB, you're looking at perhaps Mixon and Edwards-Helaire, perhaps Ekeler or Taylor. You don't love that, so you choose to load up at WR. When given the option of being last at a position (chasing position runs) or grabbing the top at another position, we almost always go with taking the top at another position – if you chase position runs, you'll just end up last at every position!
Then you get to your next two picks and probably have James Robinson available, slim chance Josh Jacobs is still there, but probably not. So you can grab James Robinson here – who is probably still being under-drafted – or you can go true zero-RB and wait until your next two picks. So you grab your QB and TE here. (Alternative route with the 12-spot is if Mahomes and Kelce both fell to you with your first two picks, then you go WR, WR with your next two picks.)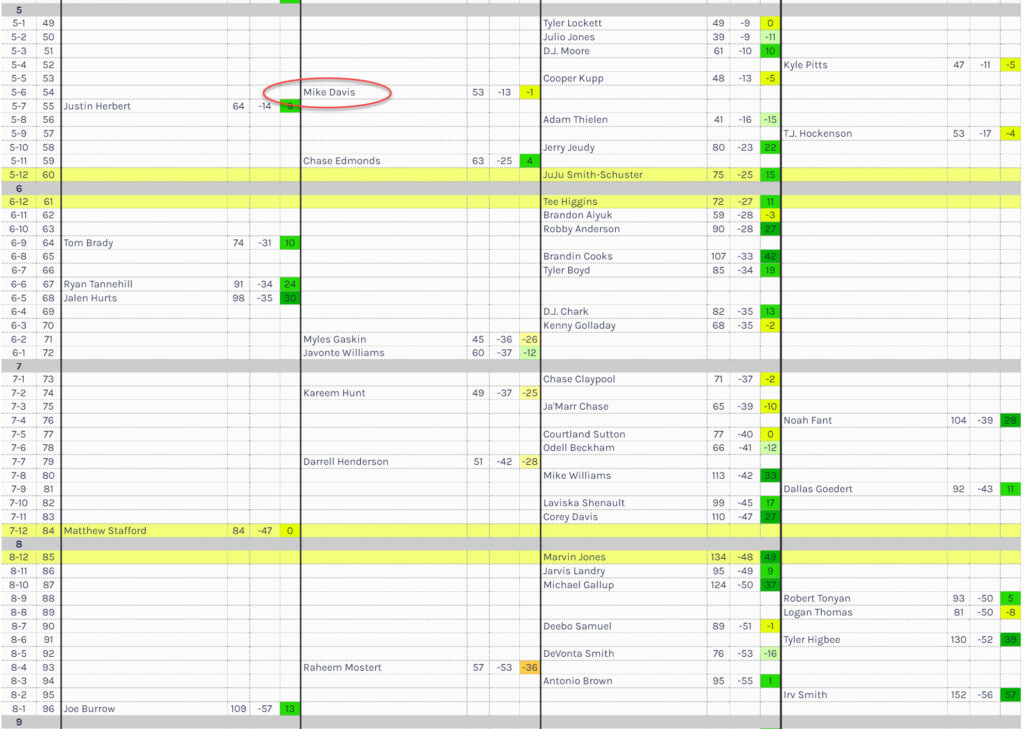 So at pick 5 and 6 you definitely need to grab some RBs. You'll be "reaching" in terms of your cheat sheet, but you have to balance true value with ADP. This is assuming you didn't just grab Robinson and Davis; you're going true zero-RB, not getting a starter until pick 5 or 6.
At this point, you've got your pick of under-drafted veterans or high-upside rookies. You're getting your first RB though, so you don't really have time to mess with guys like Trey Sermon and Javonte Williams. You're on the hunt for immediate starters.
We can look back to our Bet the Don't article to find some names of quality veterans who are being overlooked – these make great zero-RB candidates.
That puts us in the territory of guys Melvin Gordon, Ronald Jones, James White, and perhaps Gus Edwards if he hasn't already climbed too high in ADP. You can try to guess between Zach Moss and Devin Singletary or between Darrel Henderson and Sony Michel, but that's too much uncertainty for me.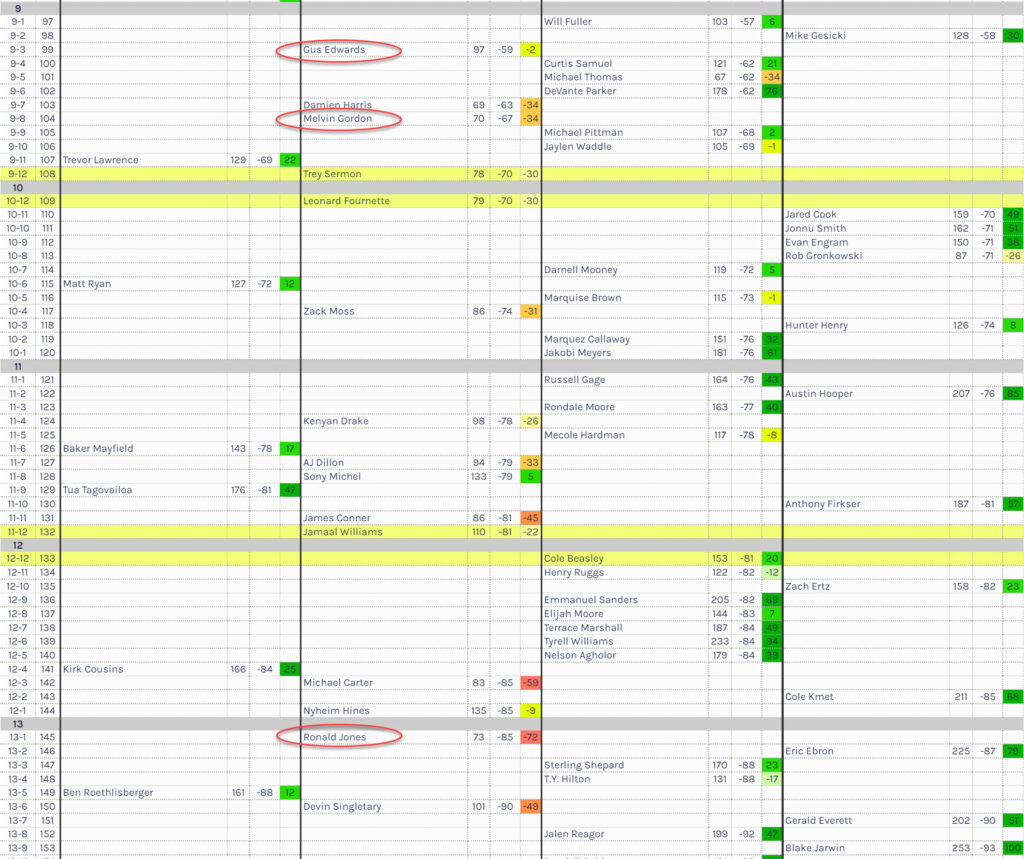 So you can see a zero-RB strategy isn't comfortable. All through those mid-rounds you have WRs you'd be perfectly happy taking, so, if at all possible, our approach is still grab two stud RBs early, but there is hope if you don't. Just make sure you understand what type of player you're selecting – an upside-only pick or a day-one starter that also has upside.
If the draft board falls a certain way you can grab two of those day-one starters then also get a couple of those high-upside players, but you may not get that chance. Guys like Trey Sermon and AJ Dillon are pretty popular this year. If you go true zero-RB and end up with Ronald Jones and Melvin Gordon as your starters and James White and Philip Lindsay as your "upside" picks, that's about as successful as you can hope for in this scenario.
So what did we learn? If you have to, you can make it work. But we'd much rather grab James Robinson in the 3rd or 4th round then fill out our roster with some of those other options.