What did we learn last year?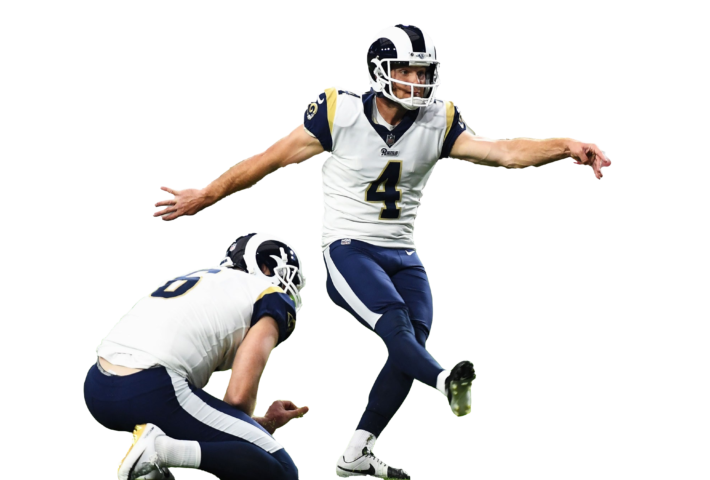 Every year is new – new sleepers, new surprises, new strategies. But, we can still learn some things by looking backward.
Let's look at the top-24 players from 2020 as ranked by points above the average starter. If you're a Blueprint subscriber you already know that's the right way to value players.
That's how we were so far ahead of the curve in Rob Gronkowski's heyday. And it's how we're ahead of the curve with kickers and defense today. Are you still holding onto "don't draft a kicker or defense until the last round"?
Let's take a look: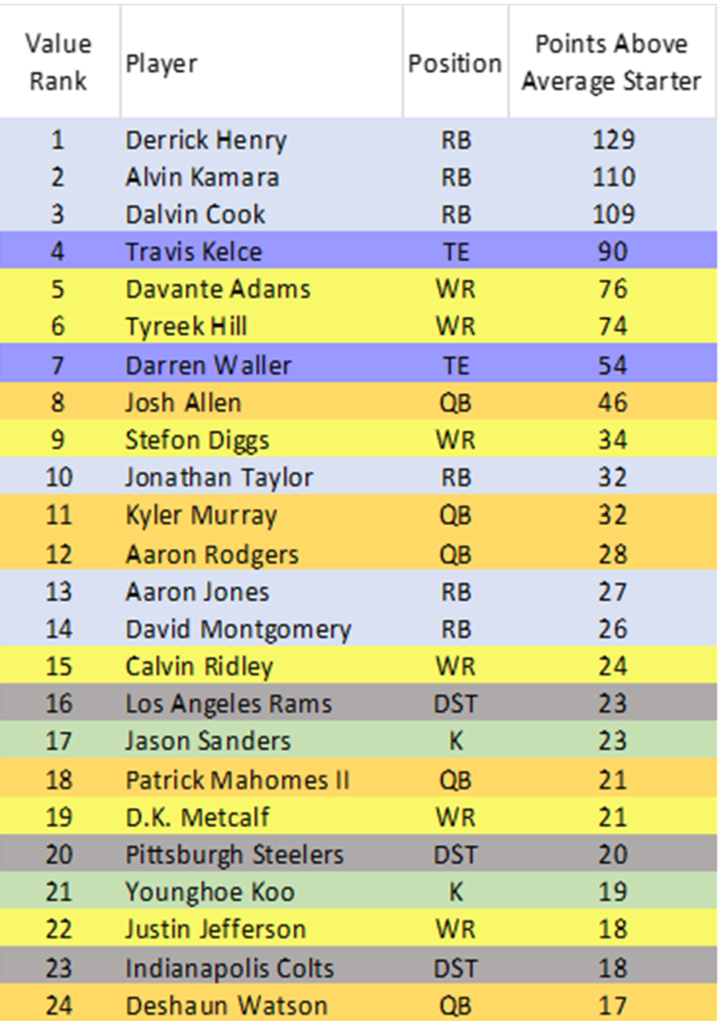 What do we learn? We once again see elite RBs at the top of the list. That makes sense – it's been known for some time that elite RBs are the most scarce position in fantasy football. Scarce meaning, if you don't get a top one, you're going to be way behind. The higher a position is on this list, the more top-heavy that position is. So what does that tell us?
Yes, get a stud RB early. But there is also still tremendous value in getting a top TE. With Kelce and Waller at 5 and 7 on the list and no other TEs showing up, they provided you a massive advantage each week over your opponent's tight end. The question for this year is whether the TE field is catching up? It's reasonable to think there are a few more high-end TEs this year, so the final 2021 ranking may not have as wide a TE gap, but you definitely need to get a top-half one still.
What else? Look at those kickers and defenses on the list. That has to be a mistake, right? Well, if you read our earlier analysis you'd know kickers and defenses are important too! Once again, last year suggests getting a top kicker and top defense is just as valuable as getting top RBs and WRs.
What about QBs? Five made it into the top-24… that's a lot. It used to be wise to wait on your QB; it didn't really matter whether you got the 5th QB or the 12th, they were pretty comparable. Well that's partly true still, the bottom half of QBs are pretty comparable, but five QBs in the top-24 means the position is getting more and more top-heavy. You may not want to wait as long as you're used to before getting your QB, which makes sense given the run-and-gun QBs we're seeing in the league now.
So what do we do with this information? Do we draft quarterbacks, kickers, and defenses forsaking all others? No. But we need to be paying attention to where the value gaps. Don't just draft another RB or WR because "you're supposed to". Find the value gaps where you can grab your QB, K, and DST.
Let's look at an example: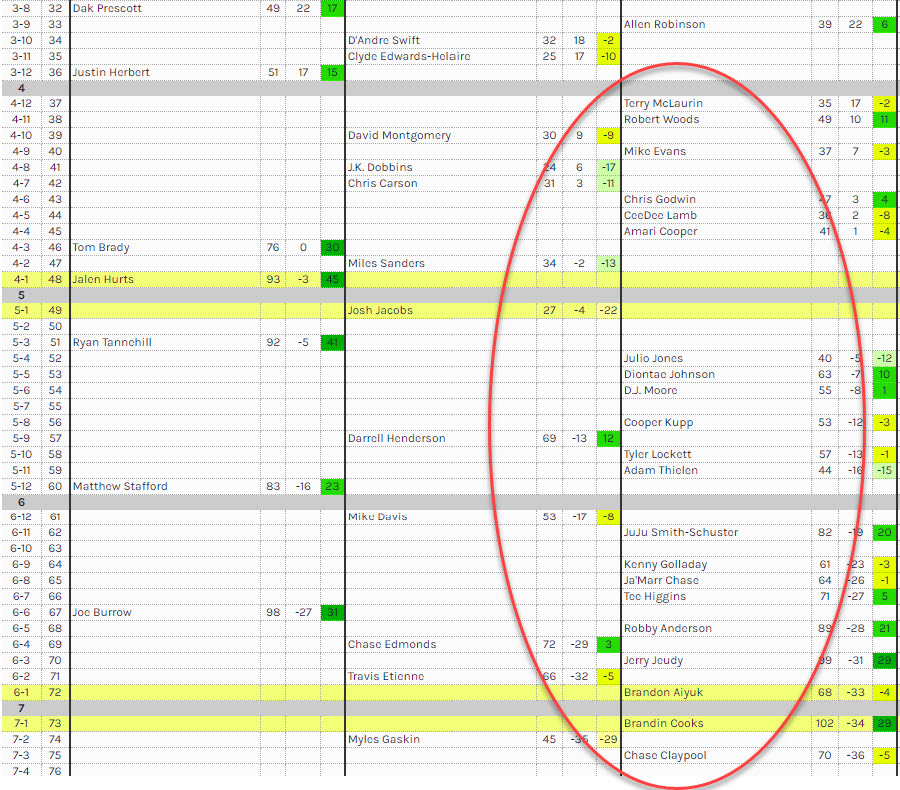 Let's say you went RB – RB – TE with your first three picks. Now you've got the range of Terry McLaurin to Amari Cooper to select a WR with your 4th pick. Now, what most people will do next is keep loading up on WRs at 5 and 6. But do you really feel so much stronger about Tyler Lockett than Kenny Golladay or Robby Anderson? Probably not. So grab your QB with your 5th pick, then go back to WR for your 6th.
That's the right way to use your cheat sheet – you can visibly "see" where the player tiers are so you can take advantage of these value gaps. The rest of your league is just going to see a list of players and keep grabbing WRs "because they only have one so far". But you're going to lock in a top-half QB because you know there is a bigger than normal drop-off and you're not going to lose much value at WR.
These value gaps are all throughout the later rounds too, making it very easy to move up and grab your K and DST. Others will point and laugh on draft night, but they'll soon realize you drafted the best team in the league.
That's how to be different on draft night. That's how you set the foundation for a championship.