User Team Analysis
Analyzing a user's recent 8-team standard draft.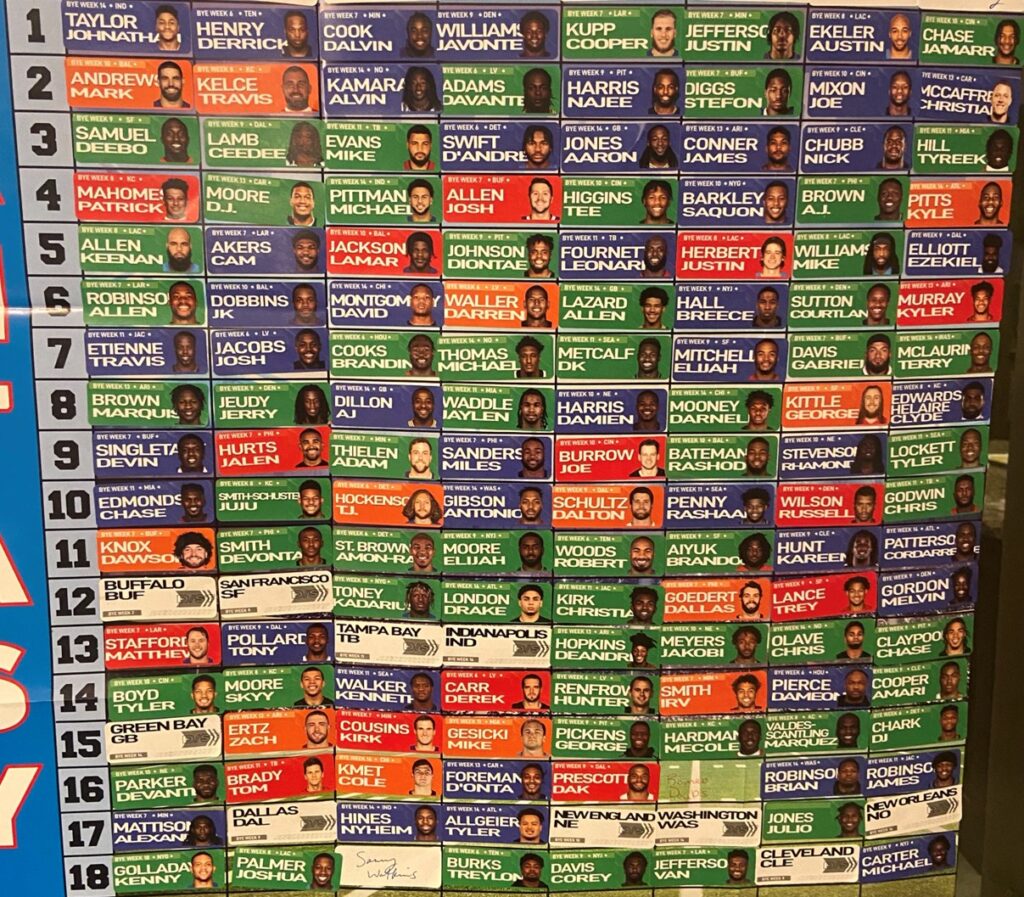 In 8-team leagues every team looks "good" but we can still find ways to differentiate ourselves. And we can find some concepts to help us with all our drafts. Let's dive in and see how this user did drafting from the two spot.
First, the team:
QB Jalen Hurts
RB Derrick Henry
RB Cam Akers
WR CeeDee Lamb
WR DJ Moore
TE Travis Kelce
FX JK Dobbins
FX Jerry Jeudy
DEF San Francisco
(no kicker league)
BE Josh Jacobs
BE JuJu Smith-Schuster
BE Devonta Smith
BE Tony Pollard
BE Skyy Moore
BE Zach Ertz
BE Tom Brady
BE Dallas DEF
BE Josh Palmer
Now, let's look at what we can learn going pick-by-pick.
Derrick Henry – Two spot, standard league. Some injury risk, but you play to win the game. Solid pick.
Travis Kelce – Get a top TE early. In 8-team leagues it often feels like everyone has studs – that makes getting the very top of positions a premium. Great grab with Kelce still on the board here.
CeeDee Lamb and DJ Moore – With a top RB and the top TE secured, time to turn to WR. Two great options. A top-10 and top-15 WR at pick 18 and pick 31. Drafted for need and for value!
Cam Akers , JK Dobbins, and Josh Jacobs – Get RBs early and often. We know mid-round RBs are worthless (barring injury to starter and complete surprise) so load up early and move on to other positions.
Jerry Jeudy – Returning to WR. Great WR with untapped potential and the best QB he's ever had. Could be a league winner. A top-25 WR at pick whatever… I've lost count, but, the point is it's a great value!
Jalen Hurts – Wait on QB. Could have waited even further, but gets our QB8 with potential for a lot more upside. All those value picks above were available because every other team was already picking their QB. Wait on QB.
JuJu Smith-Schuster and Devonta Smith – Mid rounds are the place for WRs. With Kelce on board already, four other teams got a TE in these two rounds, while our user kept loading up on WR value.
San Francisco DEF – The name of the game in any league, but especially in 8-team leagues, is get as close to the top of each position as you can. Maximize your starting lineup, which includes DEF and K. Gets a top DEF early – there's value in the option of choosing your player first!
Tony Pollard – On the surface, not as much upside in a standard league, but an impact player who has a lot of upside this year. In 8-team leagues you can get quality starters, so it's hard for your bench players to ever crack your starting lineup. So shouldn't be filling your bench with middle-of-the-road players, but players that have some path to upside.
Skyy Moore – Another late-round upside pick.
Zach Ertz – Normally we subscribe to not drafting backup players but in 8-team leagues, with all teams having quality players, not having a solid bye-week fill-in could cost you a win. TE depth is light and if Ertz explodes, could be a valuable trade asset.
Tom Brady – What. Our QB4 still available this late?? This user reports that the league is full of Colts homers, so perhaps they can't bring themselves to draft Brady after all those duels. Put your heart aside and get the best players. While Hurts has a ton of upside, he also has downside, so grabbing Brady gives a solid second option, who could end up being this player's best QB. Could be the league's best QB.
Dallas DEF – Blueprint subscribers know we like picking two top defenses, because landing a top defense gives you a significant weekly advantage. Dallas is a defense that can pile up the turnovers and fantasy points. A great second option.
Josh Palmer – A final WR pick with upside. Palmer was highlighted in our second-year WR preview as a player who could breakout. If he doesn't, no big deal, back to the waiver wire. But if he does, this pick has a lot more upside than an established average player who may be getting drafted higher.
This draft hit a ton of our sweet spots:
RB early and often
Top TE
Mid-round WRs
Late round picks with upside
Two top DEFs
Wait on QB
This user truly leveraged the Blueprint and has a great start to a championship year!
Ready to take your first steps toward a championship year? Get the Blueprint here!