The Biggest Lie in Fantasy Football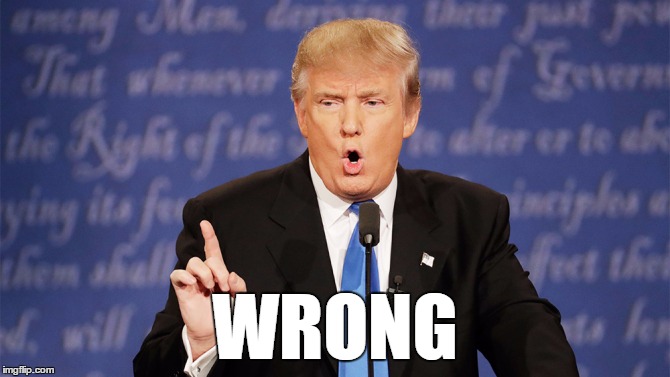 We've shined the light on a lot of lies and myths over the years, but this year brings us a new one!
I recently heard an ad for Underdog Fantasy, which features a $10 million best ball tournament. If you're not familiar with the best ball format, you draft a regular team, similar to season-long fantasy, but your roster is locked – no waivers, no free agents, no trades. Each week the site automatically scores you based on your top scoring players at each position. You usually draft more players overall, giving you more chances to land a high-scoring player each week. It follows then, that your goal in best ball is to draft players that have a chance of being the top scoring player at their position in a week. The more weeks they can do that, the better they are for your team.
So what's the lie?
The ad described drafting a best ball team as the best way to practice for your season-long drafts. Wrong.
You're Blueprint people, so you already know the best way to practice for your draft is by planning different scenarios with our innovative draft-pick overlays. But that's not why we're here today.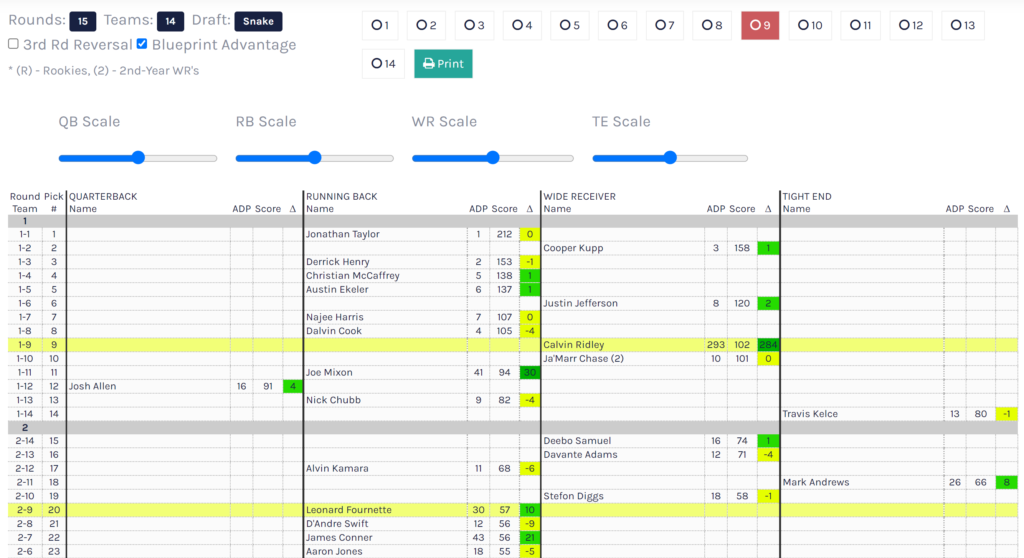 The real reason this ad is a lie, is that you're drafting an entirely different type of team than in your season-long leagues. In season-long you usually draft a mix of stability and upside, leaning toward more upside in later rounds.
In best ball you're drafting almost exclusively for upside. That slot receiver that gets you a reliable five catches a game for 50 yards – hello Keenan Allen – may never be the top WR on your team. The natural variance of the position means you're going to have other players that have boom and bust weeks, and those boom weeks are going to put them ahead of Keenan Allen on your team.
As a quick example – this is not meant to be a stats deep dive – we can look at the Chargers last five games.
Here's Keenan Allen.

Here's Mike Williams.

Keenan Allen only finished as the top WR on his own team in one of those games and he didn't have any true upside games, like the two Mike Williams had. With plenty of other WRs on your best ball bench, Keenan Allen, as reliable as he has been in his career, isn't the greatest best ball player, but he's still a really nice season-long player.
So if we can't use best ball to practice for our season-long drafts, what can we use it for?
DFS!
Read what I wrote above again and you'll realize that the players you're targeting in best ball drafts are very similar to the players you want to pick in daily leagues on FanDuel or DraftKings. You want players who have the potential to be the top scoring player at their position that week.
By looking at our best ball rankings, we can start to see who is being drafted higher in best ball than in season-long drafts, and we can start to shape our week one DFS player pool. At the beginning of the year we don't have as much knowledge about team strategy, player usage, pace, etc. But we can use our best ball rankings to start looking at what type of players we should be targeting, then as we get closer to week one, we'll be able to narrow the list.
The table below shows the player's best ball rank on the left, season-long rank on the right, followed by the gap (delta) between the two. The more negative a player is, the more their skillset (and opportunity) makes them a better best ball player than season-long.
We see players like Melvin Gordon (who we told you wasn't dead last year). Javonte Williams might start getting more of the work this year, but guess who still isn't dead? And guess who can still put up a high-scoring week?
Devin Singletary was almost a secret last year, lost in the weekly RB shuffle in Buffalo, but he really started to emerge and he has the breakaway play-making skills needed to put up a top score in best ball (and DFS!).
If we look at the bottom of the list we can see Tyreek Hill… wait, what? Tyreek Hill is one of those rare players that can put up a top-scoring week any week and is also pretty consistent, so he's ranked highly in best ball and season-long. Great option, but you know what he is in DFS… popular. We can use popular plays, but we prefer using less popular players that also have a lot of upside.
When you get into Week 1 DFS and you see Devin Singletary going way cheaper than he should be, think back to this table and lock him in. Anyone want to play Miles Sanders? Didn't think so… lock him in! You think the average player is going to be forcing Davante Adams into their lineups? You bet. Go get Josh Jacobs instead!
You get the idea. The top 100 players are shown below. But you can also check out the top 300 best ball players here and see how they compare to their season-long rank. You can go deeper, uncovering even more high-upside gems for your DFS player pool or even for your season-long late-round picks.
Next week, we'll use this same table to revisit one of the other biggest and most controversial lies in fantasy football…
Click here to get access to this and more with our early-bird special!
| | | | | | |
| --- | --- | --- | --- | --- | --- |
| Rank | Player | Team | Pos | Season-long Rank | Delta |
| 62 | Joe Burrow | CIN | QB | 81 | -19 |
| 84 | Kenneth Walker | SEA | RB | 102 | -18 |
| 90 | Matthew Stafford | LAR | QB | 105 | -15 |
| 74 | Tony Pollard | DAL | RB | 87 | -13 |
| 88 | Melvin Gordon | DEN | RB | 101 | -13 |
| 100 | James Cook | BUF | RB | 113 | -13 |
| 52 | AJ Dillon | GB | RB | 64 | -12 |
| 37 | Travis Etienne | JAC | RB | 48 | -11 |
| 61 | Miles Sanders | PHI | RB | 72 | -11 |
| 99 | Michael Carter | NYJ | RB | 110 | -11 |
| 43 | Breece Hall | NYJ | RB | 53 | -10 |
| 73 | Devin Singletary | BUF | RB | 83 | -10 |
| 80 | Dak Prescott | DAL | QB | 90 | -10 |
| 96 | Rhamondre Stevenson | NE | RB | 106 | -10 |
| 27 | Cam Akers | LAR | RB | 36 | -9 |
| 34 | Josh Jacobs | LV | RB | 43 | -9 |
| 68 | Damien Harris | NE | RB | 76 | -8 |
| 76 | Tom Brady | TB | QB | 84 | -8 |
| 18 | Javonte Williams | DEN | RB | 25 | -7 |
| 42 | J.K. Dobbins | BAL | RB | 49 | -7 |
| 59 | Clyde Edwards-Helaire | KC | RB | 66 | -7 |
| 64 | Kyler Murray | ARI | QB | 71 | -7 |
| 79 | Chase Edmonds | MIA | RB | 86 | -7 |
| 12 | Leonard Fournette | TB | RB | 18 | -6 |
| 44 | Justin Herbert | LAC | QB | 50 | -6 |
| 49 | Elijah Mitchell | SF | RB | 55 | -6 |
| 35 | Kyle Pitts | ATL | TE | 40 | -5 |
| 19 | Nick Chubb | CLE | RB | 23 | -4 |
| 23 | James Conner | ARI | RB | 27 | -4 |
| 71 | Jalen Hurts | PHI | QB | 75 | -4 |
| 51 | Courtland Sutton | DEN | WR | 54 | -3 |
| 86 | Russell Wilson | DEN | QB | 89 | -3 |
| 93 | Treylon Burks | TEN | WR | 96 | -3 |
| 5 | Najee Harris | PIT | RB | 7 | -2 |
| 9 | Joe Mixon | CIN | RB | 11 | -2 |
| 11 | D'Andre Swift | DET | RB | 13 | -2 |
| 20 | Saquon Barkley | NYG | RB | 22 | -2 |
| 36 | Antonio Gibson | WAS | RB | 38 | -2 |
| 58 | Lamar Jackson | BAL | QB | 60 | -2 |
| 75 | Cordarrelle Patterson | ATL | RB | 77 | -2 |
| 78 | Kareem Hunt | CLE | RB | 80 | -2 |
| 3 | Austin Ekeler | LAC | RB | 4 | -1 |
| 8 | Dalvin Cook | MIN | RB | 9 | -1 |
| 15 | Alvin Kamara | NO | RB | 16 | -1 |
| 28 | A.J. Brown | PHI | WR | 29 | -1 |
| 67 | Rashod Bateman | BAL | WR | 68 | -1 |
| 77 | Elijah Moore | NYJ | WR | 78 | -1 |
| 1 | Jonathan Taylor | IND | RB | 1 | 0 |
| 2 | Christian McCaffrey | CAR | RB | 2 | 0 |
| 17 | Aaron Jones | GB | RB | 17 | 0 |
| 30 | David Montgomery | CHI | RB | 30 | 0 |
| 32 | Ezekiel Elliott | DAL | RB | 32 | 0 |
| 45 | Patrick Mahomes | KC | QB | 45 | 0 |
| 4 | Cooper Kupp | LAR | WR | 3 | 1 |
| 6 | Justin Jefferson | MIN | WR | 5 | 1 |
| 7 | Derrick Henry | TEN | RB | 6 | 1 |
| 13 | Stefon Diggs | BUF | WR | 12 | 1 |
| 25 | Mike Evans | TB | WR | 24 | 1 |
| 48 | Mike Williams | LAC | WR | 47 | 1 |
| 57 | Darnell Mooney | CHI | WR | 56 | 1 |
| 66 | Gabriel Davis | BUF | WR | 65 | 1 |
| 70 | JuJu Smith-Schuster | KC | WR | 69 | 1 |
| 94 | Rashaad Penny | SEA | RB | 93 | 1 |
| 98 | Brandon Aiyuk | SF | WR | 97 | 1 |
| 10 | Ja'Marr Chase | CIN | WR | 8 | 2 |
| 16 | Travis Kelce | KC | TE | 14 | 2 |
| 33 | Josh Allen | BUF | QB | 31 | 2 |
| 53 | Amari Cooper | CLE | WR | 51 | 2 |
| 54 | Marquise Brown | ARI | WR | 52 | 2 |
| 60 | Jerry Jeudy | DEN | WR | 58 | 2 |
| 87 | Drake London | ATL | WR | 85 | 2 |
| 22 | Deebo Samuel | SF | WR | 19 | 3 |
| 24 | Mark Andrews | BAL | TE | 21 | 3 |
| 29 | Keenan Allen | LAC | WR | 26 | 3 |
| 31 | Tee Higgins | CIN | WR | 28 | 3 |
| 14 | Davante Adams | LV | WR | 10 | 4 |
| 38 | Michael Pittman | IND | WR | 34 | 4 |
| 41 | D.J. Moore | CAR | WR | 37 | 4 |
| 63 | Amon-Ra St. Brown | DET | WR | 59 | 4 |
| 65 | Chris Godwin | TB | WR | 61 | 4 |
| 83 | DeVonta Smith | PHI | WR | 79 | 4 |
| 40 | Jaylen Waddle | MIA | WR | 35 | 5 |
| 47 | DK Metcalf | SEA | WR | 42 | 5 |
| 72 | Dalton Schultz | DAL | TE | 67 | 5 |
| 97 | Aaron Rodgers | GB | QB | 92 | 5 |
| 21 | CeeDee Lamb | DAL | WR | 15 | 6 |
| 26 | Tyreek Hill | MIA | WR | 20 | 6 |
| 39 | Diontae Johnson | PIT | WR | 33 | 6 |
| 50 | Darren Waller | LV | TE | 44 | 6 |
| 46 | Terry McLaurin | WAS | WR | 39 | 7 |
| 95 | DeAndre Hopkins | ARI | WR | 88 | 7 |
| 91 | Dallas Goedert | PHI | TE | 82 | 9 |
| 56 | George Kittle | SF | TE | 46 | 10 |
| 81 | T.J. Hockenson | DET | TE | 70 | 11 |
| 69 | Allen Robinson | LAR | WR | 57 | 12 |
| 55 | Brandin Cooks | HOU | WR | 41 | 14 |
| 89 | Tyler Lockett | SEA | WR | 74 | 15 |
| 92 | Hunter Renfrow | LV | WR | 73 | 19 |
| 82 | Michael Thomas | NO | WR | 62 | 20 |
| 85 | Adam Thielen | MIN | WR | 63 | 22 |