Blueprint in Action
Want to SEE the Blueprint advantage? 👀
Check out Reginald Appleby's first draft of the season.
10-team, PPR, 1-RB, 2-WR, 2 flex, 2 keepers, 3rd round reversal
First, check out my actual cheat sheet I used. As you know, because my matrix cheat sheet shows you the true value of players, and because the league only starts one RB, you can see that RBs fall in value on the cheat sheet. That's important. While others are following standard cheat sheets with lots of RBs at the top, I'm loading up on WRs because I know, and my cheat sheet shows me, in PPR, it's more valuable to fill my flex with WR.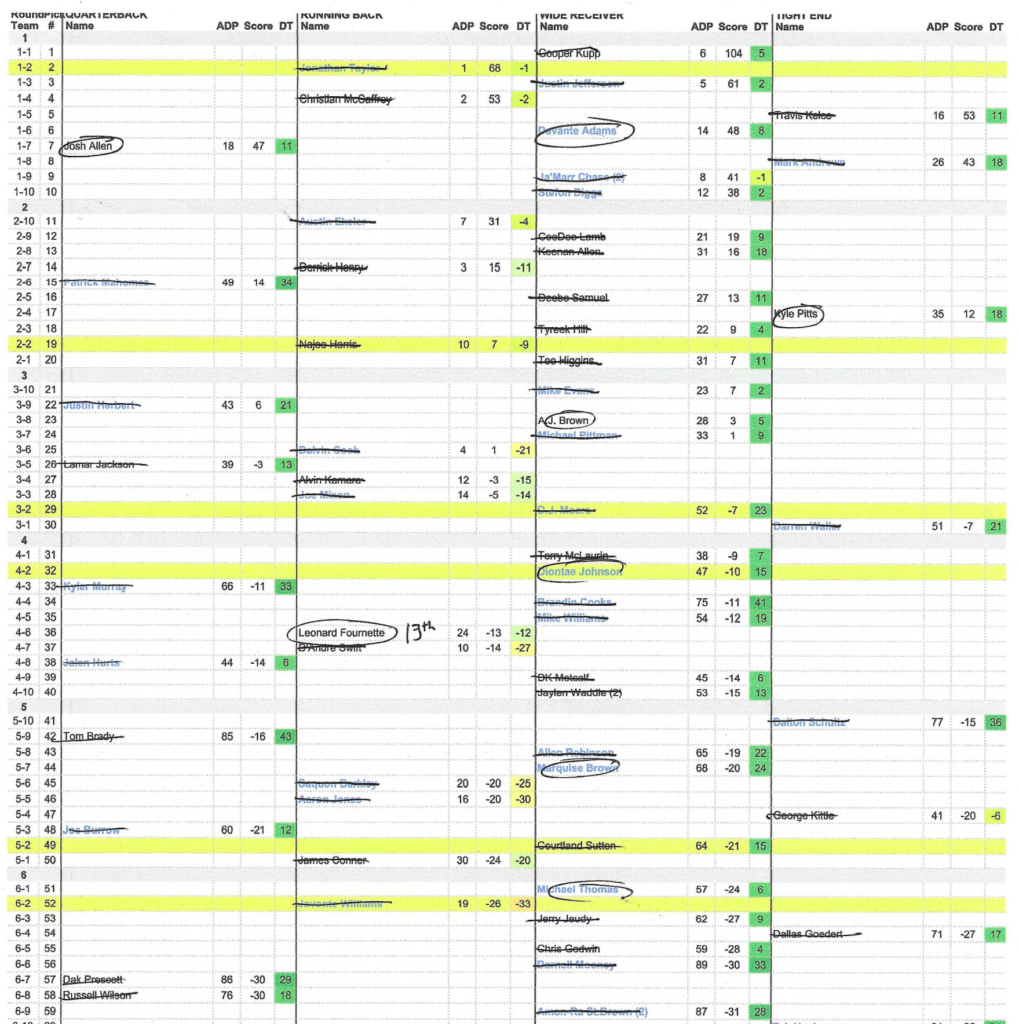 Let's check out my picks:
1) Davante Adams. I had the second pick. Jonathan Taylor already gone as a keeper. Cooper Kupp went number one. Justin Jefferson gone as a keeper. I have Leonard Fournette as a 13th round keeper already, so I grab Adams.
2) Kyle Pitts. Top TEs are extremely valuable and Pitts has a ton of PPR potential. With Fournette as a keeper and Adams in round one, happy to grab Pitts here at a slight discount to his actual value.
3) Josh Allen. No one started the QB run yet and too much value to pass on Allen here. I generally wait on QB, but you're getting a value compared to ADP and a really great value compared to Allen's actual league value.
4) AJ Brown. I've got my starting RB. I've got a top WR. I've got the top QB. I've got a top-3 TE. Now I'm drafting best player available. Others are still drafting RBs and now chasing QB and TE, so I keep loading up on WR getting my WR12 here.
5) Diontae Johnson. 5th round keeper. Could have thrown him back into the pool but I had a 4th round grade on him and I want WRs.
6) Michael Thomas. Not a lot of downside as my WR4 and plenty of upside if he returns to form. I dropped down past Marquise Brown to take this gamble.
7) Devin Singletary. Keeper. Not much downside as a 7th round keeper in a 1-RB league when I already have Fournette, but if he can play like he finished the year, and hold off Cook, he has a lot of upside.
'8) Marquise Brown. I had him ranked ahead of Michael Thomas and skipped him earlier, so easy grab when he was still available here.
9) Elijah Moore. Had some great weeks last year and adding to my WR depth. I want to have plenty of options as I'm treating this like a 4-WR league.
10) Miles Sanders. RB value falls off quickly, so grabbing some depth here with one of the few remaining starters. I know I can keep adding WRs later.
11) Kadarius Toney. All about upside here. Just like Moore, banking on the second-year WR breakout. He flashed a lot of potential… when healthy. If he's a bust, no big deal, back to the waiver wire he goes.
12) San Francisco DEF. I play to win. I want my choice of top defense, because defensive points count just the same as any other position. And it's all about maximizing your advantage over your opponent's player at the same position! Don't be a victim of groupthink – get your defense early. At this point, I've filled out my starting lineup and I have plenty of WR and RB depth, and I still have lots of players I like later in the draft. Nothing to lose and everything to gain by maximizing your starting lineup before adding bench players that you're just going to drop when the first hot waiver hits week one. And know your league settings – this league prioritizes points against.
13) Fournette. Keeper. Great pick… last year.
14) Derek Carr. I don't need him. And I'm not an advocate of drafting two QBs but my QB14, with 8th round value, going in round 14 was too much of a value to pass up. He has a lot of upside this year and could be one of the rare tradeable QBs.
15) Brandon McManus. Similar to defense, don't be afraid to grab your kicker early. Kicker points matter too and if you nail them you can get a big weekly advantage over your opponent. Bonus for 50-yard field goals.
16) LA Rams DEF. Defense isn't as predictable as kickers, so I like to grab two elite defenses when I can. What's better than streaming from the waiver wire – streaming between to two top defenses already on your bench. Maximizing my chances at having a weekly advantage over my opponent – that's the name of the game.
17) Kenneth Gainwell. I have plenty of WRs so grabbing a little more RB depth. I don't draft handcuffs, but a decent player with upside potential and one who happens to give me some Miles Sanders insurance.
18) Brian Robinson. Looking like the RB1 until he got shot. He's only out four weeks; I can wait. If he takes control of the backfield he could easily crack my starting lineup and he'd make a great keeper.
You can see using the Blueprint I'm loaded up with top-end talent and strong bench options. I used my cheat sheet to give myself an actual advantage during the draft – it's not just a talking point like most cheat sheets.
I can SEE where the player value is.
I can SEE who is likely to be available based on ADP.
I can SEE where the player tiers and value gaps are.
Did you have a great draft?! Send it in. We'd love to hear about it.