Second-year WRs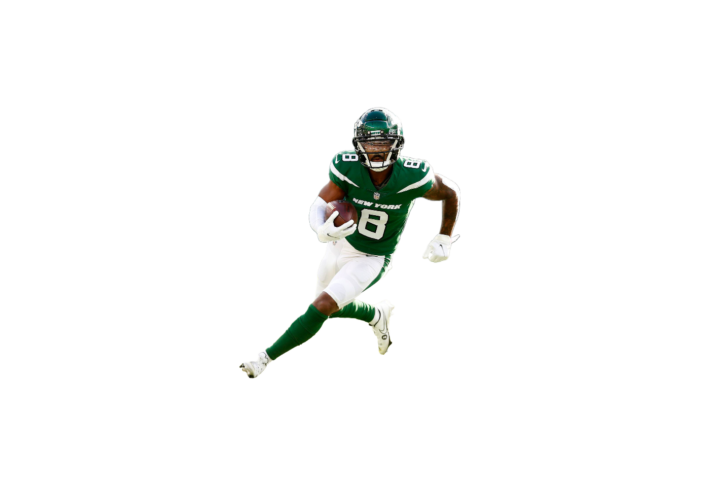 Welcome back to Fantasy Football Blueprint! It's early in the preseason so many people are focused on recently drafted rookies to see who can help win them a championship in their first NFL season. Thanks to Ja'Marr Chase last season, this is especially true for WRs.
There are a bunch of rookie WRs this season that are being hyped, and one or two could be very capable of holding their own and exceeding expectations (6 first round WRs picked in the draft), but all this rookie WR talk actually makes 2nd year WRs seem undervalued and worth a deeper look. After all, we know 2nd year WRs are traditionally the biggest source of breakout players.
Whether they breakout, bust, or land anywhere in between, here are some 2nd year WRs with potential to elevate your fantasy roster.
For all things fantasy football, follow me on Twitter (@FantasyHubbard) and Instagram (@fantasyhubbard). You can tweet me or message me on either social media with any questions/comments you might have regarding the upcoming fantasy football season.
Ja'Marr Chase – Cincinnati Bengals
We have to start here, even though he's fully established from last year. Chase did it all last season breaking Justin Jefferson's record of most receiving yards by a rookie WR in the NFL. Ja'Marr ended up as a top 5 fantasy WR and made it to the Superbowl last season which has this upcoming season rookie WRs ready to do the same. Chase will be on everyone's radar when drafting. He is projected as WR3 behind only Cooper Kupp and Justin Jefferson. He is being drafted above star WRs like Davante Adams, Stefon Diggs, and Tyreek Hill. That is great company to be in. The sky is the limit if Chase can continue his fantasy dominance and just further the already electric chemistry he has built with Joe Burrow. Chase will have Boyd and Higgins to compete with for target share but that didn't seem to be a problem last season. My question is how many rookie WRs are going to drop passes in the preseason (like Chase did), only to prove how exceptional of a catcher they are in the regular season. Chase is showing no signs of regressing so draft him with confidence.
Jaylen Waddle – Miami Dolphins
Waddle had a good rookie season for the Dolphins. He ended up being a top 20 fantasy WR. This season he is projected to be close to or even in the top 15 fantasy WRs. I know what you're thinking, how can Waddle possibly repeat any of his stats from last season with the addition of the lethal Tyreek Hill. Waddle didn't have to share targets with much of anyone and was a PPR beast. Waddle was 10th in WR targets and was 7th in WR receptions last season. Tyreek Hill was 7th in WR targets and 3rd in WR receptions last season. Waddle's targets are sure to decrease, but on a positive note, Hill will require a lot of defensive attention which could bode well for Waddle. I believe Tua can get the offense going with his new and old weapons, and hopefully we will see the team that won 8 of their last 9 games last season. I obviously prefer Hill for a Dolphins WR, but Waddle could be a pleasant surprise again this season and help create one of the better WR duos in the league.
Elijah Moore – New York Jets
Elijah Moore had a lot of hype going into his rookie season with the Jets. He certainly showed moments of dominance and potential. Moore played in 11 regular season games for the Jets and finished outside of the top 40 fantasy WRs. It can't be easy playing for the Jets, especially with a lot of subpar QB play. Zach Wilson is assumed to be QB1 with Flacco and Mike White behind him on the depth chart. Elijah will also be playing alongside rookie WR Garrett Wilson who is getting a lot of attention after being drafted 10th overall as the 2nd WR off the board. Moore had an exceptional run from week 9 to week 13 last season when he racked up the 2nd most WR fantasy points behind only Justin Jefferson. Did I mention he played with 4 different QBs in those 5 weeks? Elijah should be in position to have a nice year as long as he can steer clear of injuries.
Amon-Ra St. Brown – Detroit Lions
Amon-Ra St. Brown was a very surprising treat last season. After having a small role in the offense for most of the season, St. Brown exploded for an epic final 6 games that led to a lot of happy fantasy owners in the playoffs. He finished as a top 25 fantasy WR and is currently being drafted anywhere from WR20 to WR25 in this season's drafts. The Lions added DJ Chark Jr. and rookie Jameson Williams (12th overall pick) to their WR arsenal, but after Amon-Ra's end of last season, he should be heavily involved in the pass game and look to build on his late surge. His final 6 games of his rookie season, St. Brown averaged over 11 targets per game and scored 6 TDs. But we do need to take into account that the Lions should have a healthy Hockenson and Deandre Swift who can both take targets from Amon-Ra. I think he could have a great season but don't get too crazy with those end-of-season stats.
Rashod Bateman – Baltimore Ravens
Bateman could be in for a fantastic season. We have seen his spurts of potential and this season WR1 is open for the taking after Marquise 'Hollywood' Brown was traded to Arizona. Lamar Jackson will obviously use his feet a lot and that will open up deep shots for Bateman to expose defenses like Brown had success doing last season. Rashod is hovering around WR30 in pre-draft rankings which could end up being a steal. Bateman breakout SZN incoming??
DeVonta Smith – Philadelphia Eagles
DeVonta is an intriguing WR. The former Alabama Heisman first round draft pick had a solid rookie season for the Philadelphia Eagles. Smith broke the rookie WR receiving yards record in Philly formerly held by DeSean Jackson in 2008. Smith's rookie success of over 900 receiving yards and 5 TDs was rather quiet for an Eagles team that made the playoffs. Jalen Hurts and that lethal Eagles run game took over last season and didn't let go. This season the Eagles get an even more confident Jalen Hurts and the addition of star WR AJ Brown from the Titans. This Philadelphia offense is going to be exciting and have many fantasy relevant options each week. Smith can start to excel even more this season if he can keep getting targets on a run heavy offense and increase those TDs.
Kadarius Toney – New York Giants
Toney is a WR I can't get the best read on. He showed he can play but there is too much inconsistency in his game, and he is injury prone. Toney managed to play in 9 games last season and had 4 games with 9+ targets. Toney's game at Dallas last season was his statement game where he had 189 receiving yards, which was by far his best game. The Giants have Kenny Golladay and Sterling Shepherd alongside Kadarius. Toney is rumored to be tradable and had knee surgery in the offseason. He is not worth the risk in my opinion, being drafted in the top 40. He is a borderline top 50 fantasy WR on a Giants team that had the 2nd lowest passing yards last season and threw the 2nd most interceptions. He is truly a hit or miss player but I'm leaning toward other options.
Josh Palmer – Los Angeles Chargers
Josh Palmer was a 3rd round pick in 2021 for LA. He played in 15 games but never really took off. Palmer has Mike Williams and Keenan Allen in front of him on the depth chart but when you have Justin Herbert behind center you should feel good about all pass catchers. Palmer scored 3 receiving TDs in his last 5 games and could stay a red zone threat. Palmer is a 2nd year WR that could impress given opportunity and targets.
Want more of this? The best value in fantasy football just got better…
For a limited time, you can get a 21-day FREE TRIAL!
Click the free trial link to check out our patented, matrix cheat sheet. And we're giving away a ton of bonuses – you won't believe Bonus 7 and 8!