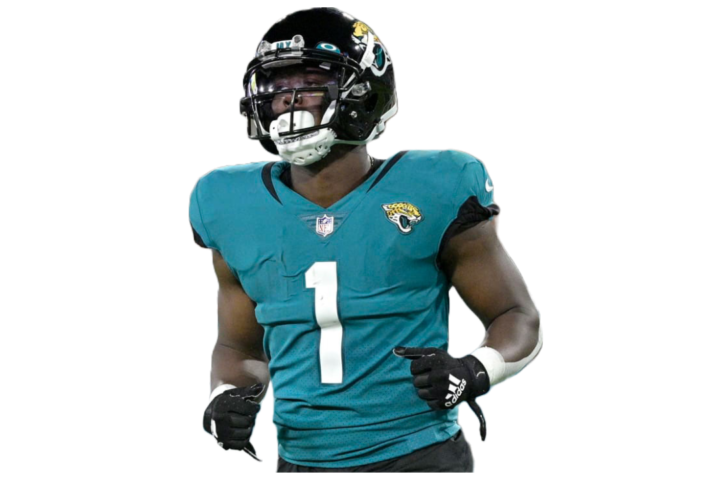 Welcome back to Fantasy Football Blueprint! Mike Hubbard Jr here ready for another great season of fantasy football. The new NFL season is rapidly approaching, and I couldn't be more excited to watch tons of football and provide you with information to better your chances at winning your fantasy football league.
A lot of change has occurred since last season concluded. Players traded/signed to new teams and rookies ready to make immediate impacts. The first NFL game is still over 2 months away but now is the time to prepare and do research. We obviously can't know how players will perform this upcoming season but that doesn't stop speculation and projected stats.
Below are players I believe to be hyped up and underhyped going into the new season.
For all things fantasy football, follow me on Twitter (@FantasyHubbard) and Instagram (@fantasyhubbard). You can tweet me or message me on either social media with any questions/comments you might have regarding the upcoming fantasy football season.
HYPED UP
Gabriel Davis – Buffalo Bills
Gabriel Davis is getting a ton of hype this offseason. He is on the stacked offense in Buffalo and we all have that 4 TD performance in the back of our minds from last season's divisional playoffs. Davis should be WR2 on the depth chart behind Stefon Diggs and in front of Jamison Crowder. Josh Allen makes things happen and has weapons to distribute the ball to. Davis could have a breakout year for Buffalo but will have to compete with Diggs and Knox for targets, especially in the red zone. Chemistry seems to be growing between Davis and Allen this summer making him feel like a good pick in this seasons fantasy draft. His ADP hovers in the mid 70s and is around the 32nd WR in multiple preseason rankings. I can easily see Davis surpassing his total of 549 receiving yards from last season. If Diggs were to miss anytime, Davis would be a steal at his current ADP.
Darnell Mooney – Chicago Bears
Mooney is the clear WR1 in Chicago right now in front of former Chief Byron Pringle. Darnell racked up 1055 receiving yards last season which was 400+ yards more than the next highest Bear, Cole Kmet. I believe Mooney is talented and has a shot at another successful year and a shot at adding to his 4 receiving TDs last season. So, what's the problem? Maybe it's Justin Fields who I still think has a lot to prove, especially with his passing. Or maybe it's the Bears offensive line that can struggle immensely. Expect defenses to cover Mooney well since he is the biggest threat to take it to the house. Darnell is projected to be a top 25 WR this season and is being drafted in the mid 60s. If Justin Fields can air it out and not run for his life constantly, Mooney can use his speed and agility to get open, making the sky the limit.
Travis Etienne – Jacksonville Jaguars
Etienne was drafted 25th overall to the Jaguars in the 2021 NFL draft. Although James Robinson has produced heavily the past 2 seasons for the Jags, Etienne is set to start as RB1 after a rookie season that was doomed from the start thanks to a foot injury. Robinson injured his Achilles back in December and it's unclear how that will affect when and if he plays this season. Etienne could have a Deebo Samuel type of role this season which boded quite well for Deebo and his fantasy stats last season. Etienne is hyped up quite a bit. His ADP is in the mid 40s and he is projected a top 25 fantasy RB season. If we can get even half of the player Etienne was at Clemson, he could be in for a huge season.
JK Dobbins – Baltimore Ravens
JK is returning to RB1 status on the Ravens this season after missing all of the 2021 season. Dobbins is on a run heavy Baltimore offense that can be both good and bad for his fantasy outlook. Lamar Jackson will take away a lot of rushing yards from him and we know how Baltimore likes to spread the ball around to multiple rushers. Dobbins is obviously a threat to get injured (so is almost everyone right?) but his 2020 stats are encouraging. JK finished the 2020 regular season scoring rushing TDs in 6 consecutive games and then scored another in the playoffs. If Dobbins can stay healthy and have Jackson not vulture all the rushing yards/scores, he is in a good position to produce. His ADP is around 50 and he is being drafted as a top 25 RB around the same time as Travis Etienne and Elijah Mitchell.
Saquon Barkley – New York Giants
Another season, another chance for Saquon Barkley to return to his rookie form. As a rookie, Barkley ran for 1307 rushing yards with 11 rushing TDs and had 721 receiving yards with 4 receiving TDs. In the 3 seasons since, he has a combined 1630 rushing yards with 8 rushing TDs and 761 receiving yards with 4 receiving TDs. He has clearly regressed and has a history of injuries. Doesn't exactly help him playing on the Giants. The Giants offensive line is pretty bad and I'm going to assume the Giants will be playing from behind quite often. Occasional garbage points are nice, but I'd rather have a consistent scorer. His ADP this season is in the mid 20s and he is being ranked between RB13-RB17 depending on where you look. Proceed with caution if targeting Barkley in your draft. Might want to consider getting Matt Breida late in the draft as an insurance handcuff.
UNDER HYPED
Devin Singletary – Buffalo Bills
Devin Singletary had a quietly good season going for over 1000 total yards and 8 total TDs. The 3rd year RB set career highs in rushing attempts, rushing yards and receptions all while sharing reps with Zach Moss, Matt Breida, and of course the scrambling Josh Allen. I haven't been hearing a lot of hype with Singletary and it shows with an ADP around 80. His backup will most likely be rookie James Cook who is a dual threat out of Georgia who just won the FBS Championship. Singletary will surely have Cook, Zach Moss, and even Duke Johnson to compete with. Singletary should be RB1 going into the season and it's his job to lose on an explosive offense.
Russell Gage – Tampa Bay Buccaneers
Gage has had back-to-back 700+ receiving yard seasons playing for the Falcons. The 2018 6th round pick has shown potential and can produce when given opportunity (like the Ridley situation). This season Gage not only gets to play for a super bowl contender in the Buccaneers, he gets the goat Tom Brady behind center. Brady doesn't have Gronk to target since he is now retired, and Chris Godwin injured his knee late last season leaving his status for the beginning of this season in question. Brady loves to throw to Mike Evans and I'm sure he'll love targeting Gage too. Russell is just inside the top 50 in WR rankings and is being drafted close to the 120th pick. If I can get Gage in that spot I wouldn't hesitate. If Gage and Brady can stay healthy, they can be a great fantasy duo.
Brandin Cooks – Houston Texans
Cooks is projected a top 20 WR this season in fantasy and is being drafted in the mid 60s thus far. Cook will most likely be playing alongside second year QB Davis Mills this season. Cooks is the most talented WR on the team and Mills would be smart to feed him game in and game out. Cooks is on his 4th team going into his 9th season. He has played with different types of QBs and still is a reliable producer. Cooks has exceeded 1000 receiving yards and 6 receiving TDs 6 times in his first 8 seasons. He has proven he can be trusted no matter how uncomfortable it is playing any Texan. Cooks seems to always show up statistically and I would be pleased with him on my roster.
Adam Thielen – Minnesota Vikings
Thielen is being overlooked by many going into the new season. He is being projected anywhere from WR30 to WR40 and his ADP is in the mid 70s. I believe Thielen can continue his consistency on the field and especially in the end zone. Yes, he is WR2 because of teammate Justin Jefferson, but that doesn't stop Thielen from being a threat. Kirk Cousins loves to target him and Thielen loves to cash in on those looks. Thielen is now age 31 and has scored double digit receiving TDs in each of his last 2 seasons and has averaged over 10 yards per catch his entire career. I say let people keep sleeping on him so that you can scoop him up when positioned ideally.
JuJu Smith-Schuster – Kansas City Chiefs
JuJu has found himself a new team in the Kansas City Chiefs. JuJu gets an upgrade in QB from big Ben to Patrick Mahomes and doesn't have to compete with any cheetahs since Tyreek Hill left for Miami. Juju might just be WR1 over Hardman and Valdez-Scantling. Travis Kelce will for sure be Mahomes go-to guy, but JuJu has a great opportunity to have a solid fantasy year. Schuster is entering his 6th season and has had 3 seasons with at least 800 receiving yards and 7 receiving TDs. JuJu played just 5 games last season for the Steelers due to injury. If he can stay healthy, I'm eager to see the connection he forms with Mahomes. He is being projected around WR30 this season and his ADP is around 80. Could be a great year for JuJu after an injury riddled disappointing season.
After reading my hyped up and under hyped up players you should take a look at The Biggest Lie in Fantasy Football to see where these players land on the table at the bottom of the page. You can see each player's best ball rank, their season-long rank, and the gap (delta) in between. For example, Adam Thielen's delta is 22 because his best ball ranking is 85 and his season-long ranking is 63. A high positive delta means the player is a better season long option rather than best ball. Some other deltas from above include JuJu Smith-Schuster with 1, Brandin Cooks with 14, and Devin Singletary with -10.