eSports KeSPA 3
Back at it for another night! Getting back on the Korean schedule has had its toll on my sleep schedule. I think I've slept for only a handful of hours because we just can't have rosters with any type of reasonable lead time, can we? We had it all last night. Everything from mega chalk failures to massive upsets across the boards, tons of substitute shenanigans, and some killer overlay. It's unfortunate about the last part as that has lead to a reduction in contest size tonight. The large GPP is a return of a 5k top prize. Even though the prize is the same as Day 1, the contest size is a bit larger so that leaves more money to go around. Now we have an idea of the teams, how they work together we should be able to make the perfect predictions. Of course, that isn't the case, the variance is real and we need to embrace that as we look at these games and see what we can do to give ourselves the proper leverage to take down that 5k up top.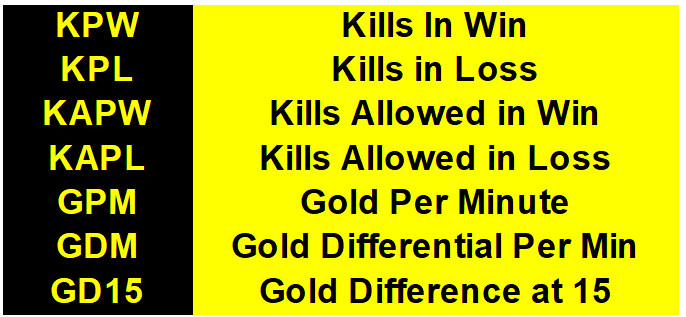 Damwon (-800) Vs Sandbox (+450)
Damwon comes into this game as the rightful huge favorites. After the first day of group play, they lead every category that we look at, and by a lot. Their GPM Ranks 1st versus Sandbox's 8th, Their Gold Difference at 16 is 3532 versus Sandbox at -691. Through two games there's a fair amount of noise as the sample size is pretty small. That being said this is exactly where Damwon left off in Summer and in Worlds. So that gives me confidence even in a smaller sample. Anything can happen in a Best of One format, and there's definitely value in looking to an underdog, but I expect Damwon to roll here.
Afreeca Freecs (-135) Vs NS Redforce (Even)
The Freecs disappointed a lot of folks two nights ago when they were the second-highest owned behind Damwon. As previously mentioned they handled business against teams that they were favored against in the summer but struggled when moving up against the elite teams. They lost to both Sandbox and DRX on day one and now end up having to play one of their two games in Day 3 against Damwon. Before that even happens they'll have to play Redforce who already got their Damwon game out of the way losing with a kill count of 11-28 before defeating Sandbox later in Day One registering a kill line of 22 to 8. In terms of my pick for this game, I'm taking Redforce here. I don't like the line enough to make a wager, but I suspect there will be some value in AF for DFS, which we will discuss in a bit.
Sandbox (-180) Vs DRX (+130)
DRX upsetting AF was a surprise on Day One. It's hard to figure out exactly how to approach this game given what we think we know. The common opponent that they both played AF was dispatched similarly by both teams. I'd even argue that AF played a bit better in some ways against DRX and was still defeated. On the other hand, Sandbox lost and pretty handily to Redforce. Like Redforce the only other game we have to judge this DRX lineup against is Damwon. To me, this Sandbox line is silly, but not to a point where I feel the need to bet on either line. SB was able to secure the first Dragon in both their matches and currently, are the favorite to do so at -150. I might take a small stab there. Despite that I still like DRX to win this game.
Damwon (-550) Vs AF (+330)
If I'm picking now, and I am. Of course, I'm going with Damwon who showed no signs of Worlds hangover.
DRX (+140) Vs Redforce (-190)
I'm going to agree with this, a pretty close match but Redforce just appears stronger in most of their lanes.
Damwon 2-0
RedForce 2-0
DRX 1-1
AF 0-2
SB 1-1
DFS Game Theory Thoughts:
While I'm not taking a ton of betting action, I will be running 10-15 lineups in the large GPP and I think there are few ways to get leverage over the field in doing so. Here are some random thoughts I have about the slate.
We cannot assume the lineups from Day 1 will be the same for Day 3. Every team has sub-risk in different places. While I fully expect Khan as an example to play both games, I wouldn't be shocked, surprised, or even mad if Chasy played one or both the games. This applies to other teams like Leo/Route for Sandbox
Damwon will be popular, but rightfully so. If they go 2-0 they almost certainly have 3 or 4 roster spots in the optimal. It's not just winning, but it's how they win with high kill totals and objective domination.
Redforce and DRX are both interesting as they don't have to play Damwon paving the way for one of them to go 2-0 as well.
Having some exposure to Sandbox and AF are the easiest paths to a solo takedown
After AF crashed and burned on Monday I think they're a sneaky stack partner with Damwon. If Every other team goes 1-1 they'll have as good a chance as any of them to find their way in the optimal
Playing a Canyon or Khan CPT slot could be the trick for the takedown. In Canyon's case pairing them w/ Redforce or DRX gives you another slot to play Peanut or Pyosik who both scored well for themselves in wins. You could go the other route and use one of them as the captain and ¾ stack w/ a CPT+1+Team. It's not the "optimal" build but we aren't just looking for things that will likely happen, we're looking for things that could possibly happen, and if they by some chance do occur. What type of ceiling do those events have?
In the case of Khan gives you a discount versus his teammates, but still with the potential to amass 10 kills in a given game. Kiin died 9 times in 2 games and Summit 10 times in 2 games. Those weren't all solo kills but they are top laners that can be taken advantage of.
Stats through two games