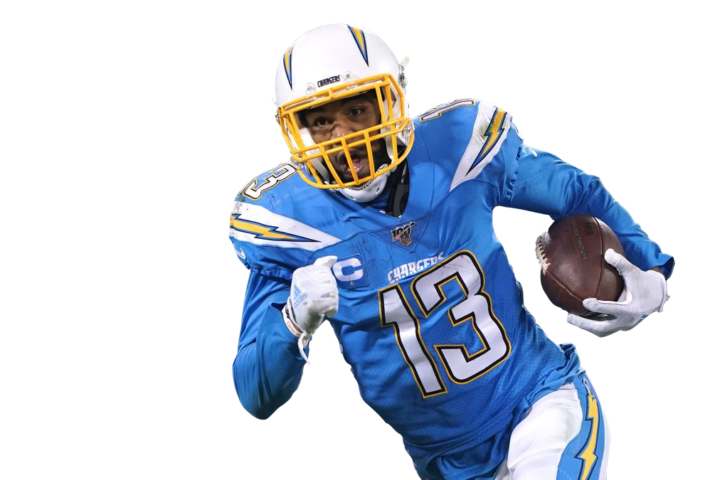 It's just another manic Monday fantasy friends, which means it's time for my weekly Trade HUB article. Mike Hubbard Jr here, ready to help you with trade opportunities to help your chances of success moving forward. Follow me on Twitter (@FantasyHubbard) and Instagram (@fantasyhubbard) for all things fantasy football.
Week 5 ends tonight with a matchup between the 1-3 Indianapolis Colts and the 3-1 Baltimore Ravens. The Ravens are favorites tonight by 7 in Baltimore. I'm expecting the connection between Lamar Jackson and Marquise Brown to be on display yet again and it's safe to expect a heavy dose of the Ravens rushing attack. The Colts are going to have to play well on both sides of the ball to keep this one competitive.
We saw a bunch of boom performances and plenty of bust performances this week. It's once again that time to get strategic and work in some of your persuasion skills out in the fantasy football trade market. Here are some players to buy and sell before week 6 begins. Like I always say, one trade could be the difference in winning or losing your fantasy football league.
PLAYERS TO BUY
Keenan Allen – Los Angeles Chargers
Keenan Allen has been having a pretty good season thus far on a high scoring offense that includes Justin Herbert, Austin Ekeler, and Mike Williams. All of those 3 players are pulling more than their weight and it shows in their offensive stats and their 4-1 record. With the attention of all of these weapons, Allen has quietly averaged over 10 targets, just under 7 receptions, and around 73 yards per game. He has only scored 1 TD this season compared to Mike Williams' 6 TDs and Austin Ekeler's total of 7 TDs. Over Keenan Allen's last 3 games he has averaged 7 receptions and about 53 yards per game. The time is now to make an offer on Allen before he starts finding the endzone more often than not. He currently leads the team in targets and receptions, so the volume is clearly there. Try to buy low.
Adam Thielen – Minnesota Vikings
Adam Thielen has somehow returned back down to earth after his first 3 weeks of at least 6 receptions and at least 1 TD each game. Since week 3 concluded, Thielen has just 5 receptions on 11 targets for 86 total yards and no TDs. In week 5 Justin Jefferson, Dede Westbrook, KJ Osborn, and Alexander Mattison all played less snaps yet were targeted more than Thielen. Most people associate Thielen with TDs and they aren't wrong. 2 games are hardly a drought for an NFL WR not scoring a TD but for Thielen that shouldn't last long. Send out some offers for Thielen before he returns to week 1-3 form. I can still see him getting a total of 10 or so TDs by season end.
Joe Mixon – Cincinnati Bengals
As a Joe Mixon owner myself, his health has been somewhat of a concern. The not knowing if he will play or not until the day of, and not knowing how productive he'll be able to be if he does in fact play is not ideal for fantasy owners. Mixon still managed to score his 3rd TD of the year and get 10 rushing attempts despite Samaje Perine getting more than double Mixon's number of snaps. Mixon now gets the week to heal up and should be good to go in a favorable matchup with the Detroit Lions next Sunday. Go find those worried Mixon owners and send them some low offers. His rushing attempts should go back up where they normally are which is around 20 per game.
Kyle Pitts – Atlanta Falcons
With both Calvin Ridley and Russell Gage both not available to play the Jets this past Sunday in London, it was all eyes on Pitts. The rookie showed up and showed out. He set career highs in targets, receptions, receiving yards, and got his first NFL TD. Pitts finished with 9 receptions on 10 targets for 119 yards and his score. It took 5 weeks but those who were patient enough to hang on to him are very content today. The future certainly looks bright for the 4th overall pick in the 2021 NFL draft, and in a time where reliable TEs are scarce, the clock is ticking on opportunity to acquire Pitts. Doubtful that you can buy low now that he has broken out but throw some decent offers out there and try to secure a TE worth rostering with red hot Matt Ryan throwing his way. His week 6 BYE could actually help your case to get him now.
PLAYERS TO SELL
Kadarius Toney – New York Giants
Kadarius Toney had another great performance, this time against the Dallas Cowboys. After 6 receptions for 78 yards in week 4, he followed that up with an absurd 10 receptions for 189 yards in week 5. The breakout rookie was ejected for throwing a punch in the 4th quarter. Although that is somewhat concerning, the Giants can't afford to discipline him by suspension or anything that will lead to losing playing time. Injuries to Sterling Shephard, Darius Slayton, and now Kenny Golladay have helped Toney get exposure and plenty of targets. There is still uncertainty in basically all NYG WRs going into week 6 so now is the time to sell Toney as high as possible before he goes back to taking a back seat to his WR teammates.
Cordarrelle Patterson – Atlanta Falcons
Despite not scoring this week, Patterson still set season highs in rushing attempts, targets, and receptions. Patterson finished the game with 14 rushes for 54 yards and 7 receptions for 60 yards on 9 targets. His pass catching ability is what makes this guy so appealing. There was no Russell Gage or Calvin Ridley in this one and Kyle Pitts was the guy who took advantage of that the most. Another week passes us by, and Patterson still has yet to give fantasy owners much to worry about. Whether you believe this production is here to stay or believe it's simply unsustainable, go make some offers and don't settle. Sell sky high.
Myles Gaskin – Miami Dolphins
If you had Gaskin having a great day against the Buccaneers defense, I'll assume you're either a psychic or a liar. After 3 total yards on 2 touches in week 4, Gaskin went off for 10 receptions resulting in 74 receiving yards and 2 TDs. He also added 25 rushing yards on 5 attempts.  Malcom Brown didn't even touch the ball in this game. Myles gets the Jaguars next and then the Falcons after that. His week 5 statistics and upcoming schedule are great information to include as a sales pitch when you offer up Gaskin. Sell him as high as you can before he has another week 4 kind of performance.
Courtland Sutton – Denver Broncos
Courtland Sutton had a great day in Pittsburgh yesterday exploding for 7 receptions on 11 targets for 120 yards and a TD. Those numbers were similar to his week 2 game in Jacksonville that resulted in 9 receptions on 12 targets for 159 yards. Sutton can clearly get hot in a game, but he can also get pretty cold as well. His average stats from week 1, week 3, and week 4 are 3 receptions and about 32 yards per game with no scores. Sutton has been able to take advantage of injuries to his pass catching teammates, but that will be hard to continue now that Jerry Jeudy is able to return as soon as this weekend or the next, and Tim Patrick's targets have continued to rise. Sell high on Sutton.