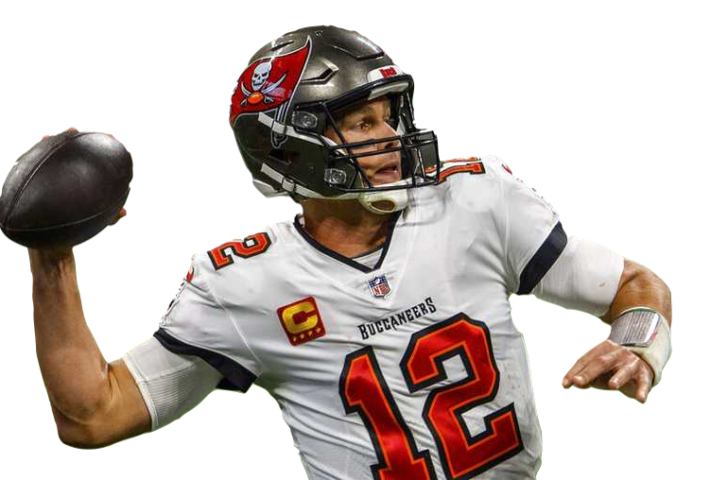 Happy week 4 fantasy followers, and welcome back to my Start/Sit HUB! Mike Hubbard Jr here, providing information to help you win your fantasy league one week at a time. For all things fantasy football, follow me on Twitter (@FantasyHubbard) and Instagram (@fantasyhubbard)
Week 4 has arrived and there are some great matchups this week, so I'm back to give you more start and sit suggestions. We get Brady back in New England, a game of 2 undefeated teams, and a bunch of potential high scoring games. Good luck this week and remember the season is still early. Go get a win and continue to check out my weekly articles.
Chiefs @ Eagles
Start – Jalen Hurts – After impressing skeptics and getting a win in week 1, Hurts hasn't been able to lead his team to another win and hasn't looked sharp throwing the ball. Luckily for fantasy football owners that doesn't matter. His floor continues to rise with his rushing ability, and it has helped him average around 23 fantasy points per game. Hurts and the Eagles take on the Chiefs this week and it wouldn't be shocking to see the Chiefs score often coming off of their loss at home to the Chargers. Mahomes has never lost 3 consecutive games in his career and it's not going to start now. Expect the Eagles to try to establish a run game this week but that could quickly be abandoned if the score gets out of hand. Jalen continues to be a great start.
Sit – Eagles Defense – It's safe to say the Chiefs have a high scoring offense. The weapons they have on offense are some of the best in the NFL. Also, the Eagles defense just let the Cowboys move the ball and score at will. They did finally create their first turnover, but this week the Chiefs will want to emphasize taking care of possession after a bunch of rare miscues that led to turnovers. Expect a lot of KC points on the board this week which makes the Eagles defense an easy sit decision.
Washington @ Falcons
Start – Logan Thomas – Logan Thomas has a great matchup this week against the Falcons. Thomas has a TD in 2 of his 3 games and is facing a Falcons team that has given up 3 TDs to tight ends thus far. Thomas is easily a top 10 tight end option this week and Heinicke should target him often.
Sit – JD McKissic – McKissic seems to be a boom or bust kind of fantasy player though 3 weeks. Being RB2 in Washington, his rushing attempts are consistently scarce and other than his game against the Giants, he has only had a combined 3 targets in 2 games. I would fade JD with confidence as long as you have more reliable players with better usage.
Texans @ Bills
Start – Cole Beasley – Beasley leads his team in receptions and is only behind Stefon Diggs in targets this season. His 30 targets in 3 games are very promising in an offense that likes to throw and score often. Beasley is also tied with Diggs with 7 red zone targets. He has yet to score, but with his targets and red zone usage that is bound to change.
Sit – Devin Singletary – Zack Moss has emerged as a contender for RB1 in Buffalo. Him and Singletary seem to be splitting time and touches. Moss has 3 TDs in 2 games while Singletary has only 1 in 3 games. Moss is the more promising RB option of the 2 based off his recent TD success and increased opportunities. Singletary has potential in this game against a weak Texans defense, but the risk might not be worth it this week.
Lions @ Bears
Start – David Montgomery – Montgomery and the Chicago Bears are coming off a rather embarrassing offensive performance against the Browns. Myles Garrett feasted on Justin Fields who couldn't get the offense going. No matter who starts behind center against the Lions, if I'm Matt Nagy I would be trying to save my job and plan to establish the run early and take pressure off my QB. Montgomery gets the bulk of carries for running backs and is also a threat to catch and run. He is the only Bear I would start this week.
Sit – Justin Fields – Fields had a memorable first start in his career. If only it was a fond memory. A performance that won't be forgotten anytime soon to say the least. If Fields were to get the start against the Lions, it would be a good opportunity to begin erasing last week against a Lions team who is averaging over 30 points against them per game. Fields is too risky to start after the massacre that took place last week.
Panthers @ Cowboys
Start – Chuba Hubbard – Chuba was this week's top waiver target after entering the game for a hurt Christian McCaffrey last weekend which led to 11 caries and 5 targets. McCaffrey will not play against the Cowboys so Hubbard should get a plentiful workload as their starting running back. Chuba dropped a touchdown and had rushing opportunities everywhere on the field on Sunday. He should be more confident and ready to face a decent rushing defense in Dallas.
Sit – Robby Anderson – Robby has had a disappointing start to this season. His 1 reception in week 1 was a 57-yard TD which gave fantasy owners a little bit of hope entering week 2. Since then, Anderson has only caught 4 passes for a total of 46 yards in 2 games. Sam Darnold is clearly favoring his connection with DJ Moore rather than trying to continue any chemistry he once had with Anderson that began in New York with the Jets. Moore has 31 targets this season compared to just 11 for Anderson. Diggs from the Cowboys is most likely going to shadow DJ Moore this week making Anderson just a tad appealing but he will be on my bench until I see production.
Colts @ Dolphins
Start – Jonathon Taylor – Taylor has a great matchup this weekend against the soft rushing defense of the Dolphins. Miami has given up 5 rushing TDs in 3 games thus far and let Peyton Barber run wild on them last week. I expect Taylor to get plenty of touches in this game where the Colts should be competitive, if not leading most of the time. Don't overthink it, start Taylor with confidence.
Sit – Mike Gesicki – Gesicki had a surprising 10 catches for 86 yards last week for Miami. He only had 3 receptions for 41 yards prior to week 3. This week Gesicki takes on the Colts who have made life difficult for opposing TEs this season. Brissett has targeted Gesicki often since becoming QB1, but I need at least 1 more game with production to establish some consistency. I'm sitting Gesicki this week unless I don't have a top 15 TE option.
Browns @ Vikings
Start – Odell Beckham Jr – Welcome back OBJ! He had 5 receptions for 77 yards on 9 targets in his first game back from his ACL injury that ended his season last year. Baker Mayfield should continue to target OBJ often while Jarvis Landry is on the IR. The Vikings defense has allowed 6 TDs to WRs this season and have given up over 100 yards to a WR each game. This could be OBJs turn to continue those stats. OBJ is a strong start this week.
Sit – KJ Osborn – KJ started the season strong but had a lackluster week 3 against the Seahawks. He was only targeted 2 times compared to Jefferson's 11 and Thielen's 9. The Viking's TE Tyler Conklin had 7 receptions on 8 targets of his own which also contributed to the low number of targets for KJ. I can't say start Osborn confidently, but I can say he is worthy of a bench spot.
Giants @ Saints
Start – Saquon Barkley – Alvin Kamara is the obvious must start of the game, but Saquon's performances have only gotten better with more touches. His carries and receptions have increased every game and the NYG might want to continue that trend in a game where many of their WRs are banged up. The Saints defense has played well thus far which makes Barkley a risk, but I have him as a must start moving forward. If the Giants expect to be competitive, they know that starts with feeding their star from Penn State.
Sit – Daniel Jones – Jones continued to play pretty well against the Falcons throwing for 266 yards and rushing for 39 yards on 8 attempts. The problem was that those yards didn't result in a TD on the ground or through the air. Jones has always had a problem fumbling the ball which has continued this season with 3 fumbles (only 1 fumble lost). New Orleans has created turnovers and will look to force a few on Jones. Not a good matchup for the 0-3 Giants.
Titans @ Jets
Start – Titans Defense – The Titans get the Jets this week. Need I say more? The Jets have scored just 20 points this season. Rookie Zach Wilson has struggled immensely throwing for just 2 TDs in 3 games. Wilson has also thrown 7 INTs. The Titans should feast this week on defense.
Sit – Ryan Tannehill – Tannehill had quietly had a good start to the season. He has thrown 4 TDs and ran for another leading his team to a 2-1 start. The Jets defense has been able to stop opposing QBs to the likes of just 1 passing TD against them going into week 4. The Jets have not been able to stop the rush which makes Derrick Henry a great play this week. Tannehill's top WRs are also hurting. This is a game where the Titans should go up early on them and run the ball a lot. Tannehill isn't looking like a top 10 QB this week.
Cardinals @ Rams
Start – Robert Woods – Robert Woods has taken the backseat to Cooper Kupp this season being out targeted 31 to 19. Kupp also had scored 5 TDs which is 4 more than any other pass catcher. Woods can easily breakout at any time given his number of targets, skillset, and red zone looks. Defenses are taking notice to Kupp's early success and will try to emphasize game plans to shut him down. If or when that happens, Woods should benefit nicely with more targets.
Sit – Tyler Higbee – Higbee scored a TD in week 3 and reached 68 yards in week 1. In-between those 2 games he had a dismal 1 reception for 8 yards. The inconsistency and TD dependency in fantasy thus far is not looking good, especially facing Arizona this week. The Cardinals have shut down opposing TEs this season allowing less than 50 yards in total with no scores! Not looking great for Higbee this week so proceed with caution.
Seahawks @ 49ers
Start – Chris Carson – Chris Carson is RB1 in Seattle with no one threatening to take opportunities away from him. He has averaged over 13 carries a game and turned all those carries into 202 rushing yards and 3 TDs. Great production so far and a great matchup this week in San Francisco. The 49ers have allowed opposing RBs to reach 262 rushing yards and 165 receiving yards for a total of 3 TDs (2 rushing and 1 receiving). Carson is an easy must start RB this week and should land in the top 15 fantasy points for RBs.
Sit – Brandon Aiyuk – Don't get me wrong, I believe in Aiyuk and so should you. His week 3 stat line of 4 receptions on 6 targets for 37 yards and a TD was very much needed to stay fantasy relevant and give hope to fantasy owners after 3 weeks. He could be in for another good game against the Seahawks if Jimmy Garoppolo targets him as much or even more. The matchup favors Aiyuk in this one, but like I say with many players, I want to see consistency before I feel confident adding him to a starting position in fantasy football. Until then he will remain a bench spot for me.
Ravens @ Broncos
Start – Noah Fant – Fant gets to face the Ravens this week who have allowed TEs 279 receiving yards and 2 TDs. That's 93 yards per game. Fant should be eager to go out there and pad some stats. Look for Teddy Bridgewater to target him often in hopes of a 4-0 start.
Sit – Ty'Son Williams – Ownership of Williams has continued to decrease. His numbers dropped quite a bit last week and this week he gets the Broncos in Denver. The Broncos have allowed only 128 rushing yards and 41 receiving yards to RBs this season. That is an average of under 60 total RB yards per game. Not to mention they haven't conceded a score to opposing RBs. Not only does the defense play into this decision, but also the Ravens use multiple options in the back field and QB Lamar Jackson is the leading runner on the team with 251 yards on 35 attempts. All signs point to a bad week for Ty'Son. Sit him with confidence.
Steelers @ Packers
Start – Najee Harris – The main bright spot in Pittsburgh's offense this season has been the rookie Najee Harris. He has gotten almost every rushing opportunity and is starting to heat up in the pass game. The Packers rushing defense is not bad yet not elite. The Steelers will look to continue using Harris often in order to relieve pressure off of Ben Roethlisberger who has been looking subpar to say the least. Najee is a must start top 10 RB this week.
Sit – Robert Tonyan – Tonyan's production has not been what was expected of him since his 11 TD breakout season for the Packers last year. If it wasn't for his lone score in Week 2, Tonyan owners would be panicking right now. I'm continuing to avoid all Packers not named Rodgers, Jones, or Adams.
Buccaneers @ Patriots
Start – Tom Brady – The game everyone has been waiting for. Possibly the most anticipated regular season game of all time? Brady returns to New England in a Bucs uniform looking to not only break the record of most career passing yards (needs 68 yards), but also get his first win over the Patriots to give him a win against all 32 NFL teams. Brady and Belichick have been playing nice to the media, but I'm sure both want to win this game more than ever. Look for Brady to not only win this one but go full throttle on New England. Don't underestimate the Patriots defensive game plan, but Belichick would need a lot to go his way in order to stop the GOAT and all his offensive weapons. Brady is this week's most obvious must play QB. A top 5 fantasy QB performance is looking good even without rushing capabilities.
Sit – Damien Harris – Look for the Tampa Bay defense to be pumped up and ready to make their presence known Sunday night in hopes of helping Brady get this historic win. The Bucs have a terrific run defense and Harris might not be heavily involved in the Patriots offense if they go down early. This matchup for Harris is less than ideal. Harris is not a top 30 RB this week so fade him unless you have no better options.