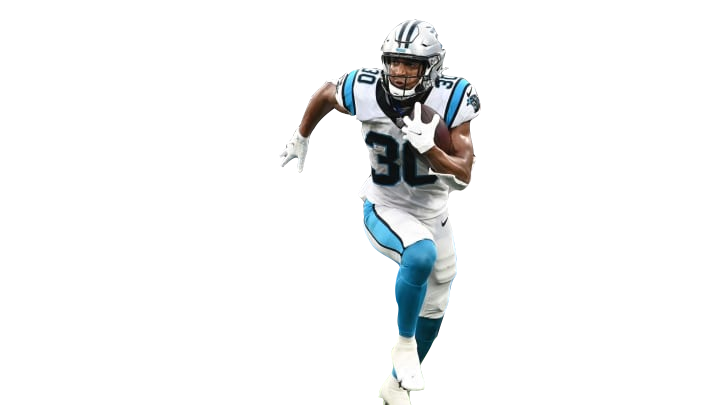 Mike Hubbard Jr here, welcome back to my weekly Waiver HUB. Follow me on Twitter (@FantasyHubbard) and Instagram (@fantasyhubbard) for all things fantasy football throughout the season.
Week 3 has concluded, and the waiver wire is hot. Like last week, there were some unfortunate and brutal game changing injuries, opening up opportunities for you to acquire potential starting players who are not heavily owned. It's time to hit the waivers and get those much-needed top available players. Go make strategic moves to positively impact your team and check back here every week to stay informed.
Quarterbacks
Sam Darnold – Carolina Panthers
Sam Darnold continued to show just how good he can be with a nice outing against the Texans. He threw for over 300 yards (again) and got his 2nd and 3rd rushing touchdowns of the season. Darnold seems to be rejuvenating his career by playing in Carolina. His favorite target has been DJ Moore, targeting him 31 times in just 3 games. The chemistry between Darnold and Moore has many fantasy owner's attention, if his 3 rushing TDs hadn't already.
Derek Carr – Las Vegas Raiders
Derek Carr is currently leading the NFL in passing yards with over 1200! Jon Gruden has the Raiders throwing the ball more than ever and Carr has been proving that it is a formula for success. Carr has been throwing to his receivers and running backs a ton, and it doesn't hurt to have TE Darren Waller on your team. Carr and the Raiders go to the Chargers for MNF in week 4 which could prove to be a shootout.
Running Backs
Chuba Hubbard – Carolina Panthers
Christian McCaffrey left the Panthers game early with an apparent hamstring injury. He is due to miss at least a week or so since they haven't placed him on IR. Chuba entered the game as his main backup and contributed 52 yards on 11 carries and caught 3 of 5 passes for 27 yards. Chuba should handle the bulk of the running back responsibilities with only Royce Freeman to compete with for playing time. Last year we saw Mike Davis fill in for an injured McCaffrey and he saw just as much work as McCaffrey would have. Hubbard is looking like a solid RB2 play in the next two weeks facing the Cowboys and then the Eagles. Chuba is my top waiver target this week and it isn't just because we share an awesome last name.
Zack Moss – Buffalo Bills
Zack Moss is probably owned if you have active attentive owners in your league, but if he is available don't hesitate to add him. In just 2 games he has had 86 rushing yards with 2 rushing TDs, and also 5 catches for 49 yards and 1 receiving TD. Devin Singletary is RB1 on the depth chart, but Moss had 45 snaps while Singletary only had 33. Buffalo is looking like a running back by committee thus far which isn't ideal in fantasy football but get him on your team and see if he can emerge into a reliable fantasy starter.
Peyton Barber – Las Vegas Raiders
On a day where Josh Jacobs was inactive (again), Barber registered 111 rushing yards on 23 attempts and caught 3 of 5 targets for 31 more yards. His rushing TD was the cherry on top of an impressive performance. Barber had almost 3 times as many rushing attempts as Kenyan Drake and also 10 more snaps than Drake. Barber has established himself as the primary rusher when Jacobs is out.
Wide Receivers
Emmanuel Sanders – Buffalo Bills
Sanders has had relatively quiet performances through two weeks averaging 50 yards and 3 receptions per game. Josh Allen looked like the QB everyone was hoping for on Sunday, which bode well for Sanders resulting in 5 receptions for 94 yards and 2 TDs. Sanders should continue to be a vital piece of this Bills offense and is considered a part of the 3 headed attack that is the Bills WRs.
Tim Patrick – Denver Broncos
Jerry Jeudy is still on IR and there has been news that KJ Hamler tore his ACL and will miss the remainder of the season. Tim Patrick should benefit a lot from these unfortunate injuries opening up more targets. Patrick has had a TD in each of his first 2 games, and almost hit 100 yards receiving in week 3. His success could just be starting.
Hunter Renfrow – Las Vegas Raiders
Hunter Renfrow has the 2nd most targets and receptions on the Raiders this season. No surprise that Darren Waller is 1st in both of those categories. Renfrow finished week 3 with 5 catches for 77 yards and a TD. Carr is airing it out often to his WRs Renfrow, Edwards, and Ruggs III. Of the 3, Renfrow seems to be the most reliable weapon. Owning a pass catcher from the Raiders should pay off as long as the Raiders continue to pass like they have.
Jakobi Meyers – New England Patriots
Jakobi Meyers finished week 3 with 9 receptions on 14 targets resulting in 94 receiving yards. The Patriots WRs are all getting attention, but Meyers leads the team in receptions, targets, and receiving yards. If Mac Jones starts throwing more TD passes, Meyers could be the one catching them. The Patriots get Tom Brady and the Bucs next week at home where Mac Jones will have to do his best Brady impersonation and air it out often to stay competitive. Meyers is worth adding and all Patriots receivers are worth monitoring.
Tight Ends
Evan Engram – New York Giants
Engram played his first game of the season in week 3 and only had 2 catches for 21 yards. Although discouraging, he did have 6 targets and the Giants WRs are dropping left and right. Golladay, Shepard, and Slayton are all banged up and Jones has to throw it somewhere. If any of those 3 WRs are to miss anytime, Engrams target should increase. Another WR core to keep tabs on.
Tyler Conklin – Minnesota Vikings
In week 3 Conklin set new career highs in receptions with 7 and receiving yards with 70. He also added his first TD of the season. The Vikings are stacked in most offensive positions with the exception of TE. With Irv Smith Jr on IR for a while, if not the whole season, Conklin is the only Minnesota TE to register a catch this year. It's his position for the taking and like we have seen with KJ Osborn, Cousins can make any pass catcher look great and pad stats.
Dalton Schultz – Dallas Cowboys
Dalton had himself a great Monday Night Football performance in Week 3. He finished with 6 receptions for 80 yards and 2 TDs. He led all pass catchers in targets with 7 which is quite impressive knowing that the Cowboys ran the ball more than they threw it. 7 targets were 3 more than any other receiver and 6 catches was twice as many as any catcher. Schultz has had 6 receptions in 2 of 3 games so far and clearly has Dak Prescott's attention.