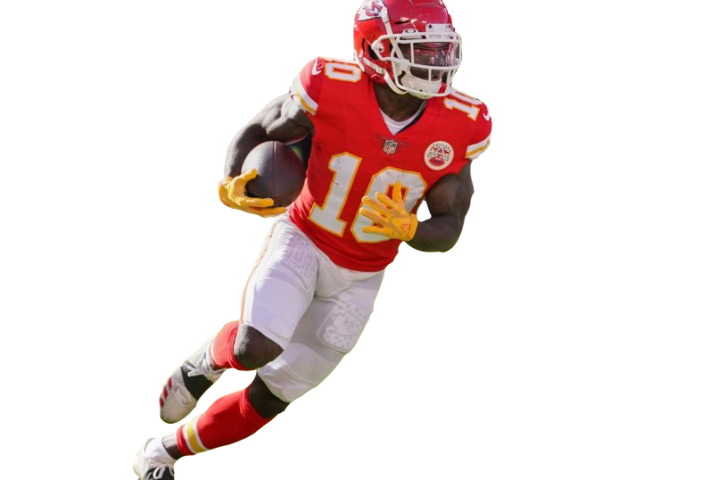 Happy Monday everyone and welcome back to my weekly Trade HUB article. Mike Hubbard Jr here, ready to help you find some trade opportunities in hopes of both short-term and long-term success. Follow me on Twitter (@FantasyHubbard) and Instagram (@fantasyhubbard) for all things fantasy football.
Week 3 has been a good one, but sadly all good things must come to an end. The end will be after tonight's MNF showdown between the Philadelphia Eagles and the Dallas Cowboys. Winner will take sole possession atop the NFC East.
Like most weeks in fantasy football, we continue to see breakout performances, consistency, busts, and unfortunate injuries. These up and down showings help determine who to sell high and who to buy low while you can. Like I always say, one trade could be the difference in winning or losing your fantasy football league.
PLAYERS TO BUY
Damien Harris – New England Patriots
Damien Harris had a day to forget yesterday against the Saints. The Patriots offense struggled early and had to play from behind. The matchup didn't bode well for Harris and it was evident. Even though James White left the game due to injury, Harris still lost snaps to Brandon Bolden and JJ Taylor.  The Patriots rushed with Harris only 6 times and was targeted in the passing game just twice. Harris is still the RB1 in New England and better days are coming. Take advantage of this situation and buy low on a starting RB.
Tyreek Hill – Kansas City Chiefs
After a huge week 1 performance (11-197-1), Hill has had 2 consecutive games where he hasn't hit 5 fantasy points. Uncharacteristic to say the least from a top 5 must start WR. His production should look like week 1 more than week 2 and 3 combined moving forward. Hill has Mahomes slinging it to him and the Chiefs are averaging over 30 points a game even though their record is 1-2. If there is a time to take a shot at acquiring Hill, its now.
Jonathan Taylor – Indianapolis Colts
Taylor made the most of his 10 carries totaling 64 yards. He wasn't used as often as fantasy owners would like, but it's hard to have great production from a running back when your team is trailing often. It isn't an ideal fantasy situation knowing the Colts use both Taylor and Hines, but the clear RB1 is Taylor who has 42 rushing attempts to Hines 16. Take advantage of Taylors subpar fantasy performance and buy low.
Calvin Ridley – Atlanta Falcons
Ridley is WR1 for the Falcons and has the 29 targets to prove just that. Despite an average of just under 10 targets a game, Ridley has yet to surpass 63 receiving yards in each of his first 3 games. His usage is very good and it's hard to believe that won't continue, especially with Matt Ryan not utilizing their first-round pick TE Kyle Pitts as often as expected. Matt Ryan and Ridley have over 3 seasons of chemistry, including 27 TDs, so I believe he will be just fine. Ridley owners might not feel the same way, making it a great time to send some low offers their way.
PLAYERS TO SELL
Mike Gesicki – Miami Dolphins
Gesicki had only 3 receptions for 41 yards prior to yesterday. Brissett targeted him 12 times in week 3 which led to 10 catches for 86 yards. The Dolphins have Waddle, Parker, and Fuller V at WR, and also Gaskin at RB, who are all getting their share of targets. Gesicki is a great TE, but the inconsistency is far from reassuring. Sell him high, with the pitch that Brissett targeted him 12 times in his first start at QB. I don't think he will be able to maintain the targets and receptions moving forward.
James Robinson – Jacksonville Jaguars
Robinson nearly doubled RB2 Carlos Hyde in snaps and rushing attempts in week 3. He was also targeted 6 times in the pass game while no other RB had any. Robinson finished his best week yet with a total of 46 receiving yards, 88 rushing yards, and a rushing TD. That was the good news… the bad news is the Jaguars still haven't won a regular season game since September 13th of the 2020 NFL season. They have a rookie QB in Trevor Lawrence, who has more INTs than TDs, and will most likely be trailing in most future games. Take advantage of Robinsons week 3 performance and sell him high.
Christian Kirk – Arizona Cardinals
Kirk continues to impress this season, racking up 7 receptions for 104 yards on 8 targets. All were season highs for him. He has been producing consistently in a high-octane offense with bountiful receiving options. Deandre Hopkins was playing with sore ribs, and Rondale Moore only had 2 targets resulting in 1 yard. A healthy Hopkins and a more involved Moore should decrease chances for Kirk moving forward. Sell him high as his stats are promising.
Austin Hooper – Cleveland Browns
Hooper caught his first TD of the season yesterday in a win against the Bears. Jarvis Landry will be out for at least 2 more weeks, hopefully resulting in more targets for Hooper. OBJ and Kareem Hunt were Baker Mayfield's primary targets in the pass game, but Hooper was the only one to have a receiving TD. It's a long shot but throw some offers out there and hope for a bite.
I will be continuing to provide this article every Monday, giving you the chance to get some trade offers out there before the weekly waivers. Go out there and make some moves to improve your team.