eSports LCS Academy
Getting into LoL last year during the lockdown era was pretty interesting. I was amazed at how many slates DraftKings could come up with. From EU Masters to CBLOL, and even to relegation/promotion slates. It seemed like there was a never-ending supply of these games. For that I'm pretty thankful, otherwise, I would have been stuck watching CSGO, which for me just doesn't do it. I knew for the most part that this wouldn't continue as we got back to normal. I knew we wouldn't see this many slates, and certainly not the non-major ones. That once they were gone they were gone for good. That's why I was surprised and a little caught off caught that LCS Academy was brought back last week. After not supporting the first week I surely thought this was something of a bygone era, never to be seen again. After all the slates were fairly small even with nothing else going on back in Summer. Yet there it was last week. A glowing beacon of LoL abundance from a simpler time. Back again to appease our mid-week need to degen while the sun was still out on our side of the planet.
My content is never to sway you toward one team or another. While I might share my opinions or interpretation of the data I urge you to make your conclusions. When looking for teams to play in GPP's I first look for teams that will win, and then teams that are likely to win with a lot of kills. Whether that be because they press the action or because their opponent does creating a conducive environment for high kills and lots of fantasy points. I know I'm going to be wrong a lot and I embrace that variance instead of ego.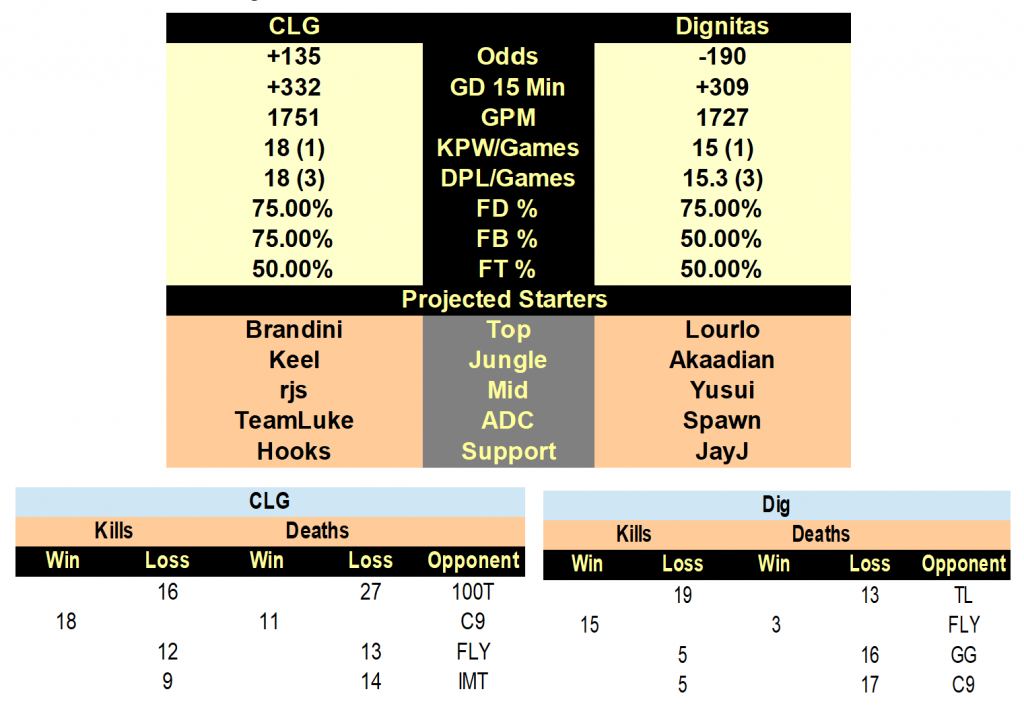 The slate gets started with two teams that are looking to improve on some less than stellar week 2 results. We went into the first slate last week with Dig a -600 or -900 favorite, only to have them draft a team comp that didn't have the damage to deal with the winless Golden Guardians team. From the first fight at the first herald it was evident this was going to be a long game for them and it turned out to be a long week.
On the other side, CLG had some internet issues that delayed their game and eventually had to have Wildturtle fill in for TeamLuke(Terrible name by the way). Despite having the legend in the bottom lane they were no match for Flyquest and their early fire fizzled out as the game went out.
This game to me is pretty exciting for DFS. I don't think that a lot of people are going to look at, yet it still has some massive potential. Both of these teams have played pretty difficult schedules and have been able to produce kills and deaths in the matches. With similar game stats the winner of this game could very well look like the winner of the XL/Astralis game. Where the teams aren't able to build huge leads but continue to fight, no ability to finish, and dragging out a game that should have ended earlier into deep waters and high kill totals.
There is one major issue I can see with CLG and it is their Kill Participation is extremely low. RJS is at 47%, Brandini and Teamluke come in at 58 and 51 percent respectively. It's only when you get to Keel and Hooks do you find members approaching 70% as they're both at 69.1%.
On the other hand Yusui and Lourlo are the lowest on DIG both with a 68.2%. Akaadian and Spawn lead the team with a shared 72.7% Making this team attractive as if they're able to get kills everyone should be scoring on those kills.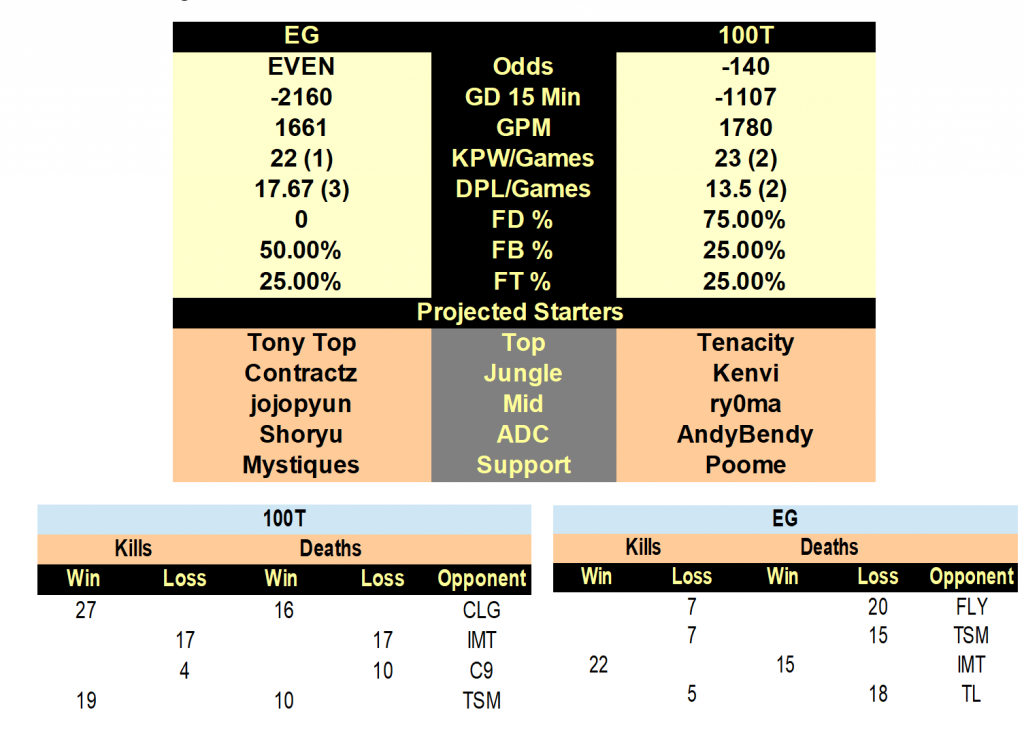 Some might say that the 100T academy roster is the best roster in all of LCSa. Others might disagree with that, myself being one of those people. I would agree however that this roster is very talented and as such has thus far has under performed my expectation thus far. The game against C9 was one in which they just didn't look like they were ever able to execute what they wanted with their team comp. Then again for much of the game against TSM the same thing looked to be happening. That game turned around and in a big way. When you look further the struggles so far in the early game for 100T are evident their OE early game rating for the team currently has them ranked 8th only above GG and EG. However, when you switch to the Mid/Late rating they jump up to fourth. This all falls in line with what we've seen from them. Here they face off with EG who similarly struggles (even more so) in the early game. Yet hasn't found their way back in late. That said I'm backing 100T here, it isn't a lock button situation but this game like the one before it has the makings for a high kill total for the winner. I tend to agree with the odds and will be looking to get a fair amount of Kenvi (85% KP / 37% KS) and ry0ma (76% KP / 16% KS).
My hope is that people flock to the EG side of things here. Remembering that game against Immortals. It's evidence that they certainly have it in them to produce a high kill game, but they failed to add to that momentum the following game against Team Liquid. With the prize pools what they are, I'm not likely to have enough lineups to find my way to EG. If I did/do it would revolve around Contractz. He captained my largest LoL win and his KP is up there for best in the league at 83%. The rest of his team is between 48-61 so it's hard to find places on this team to like.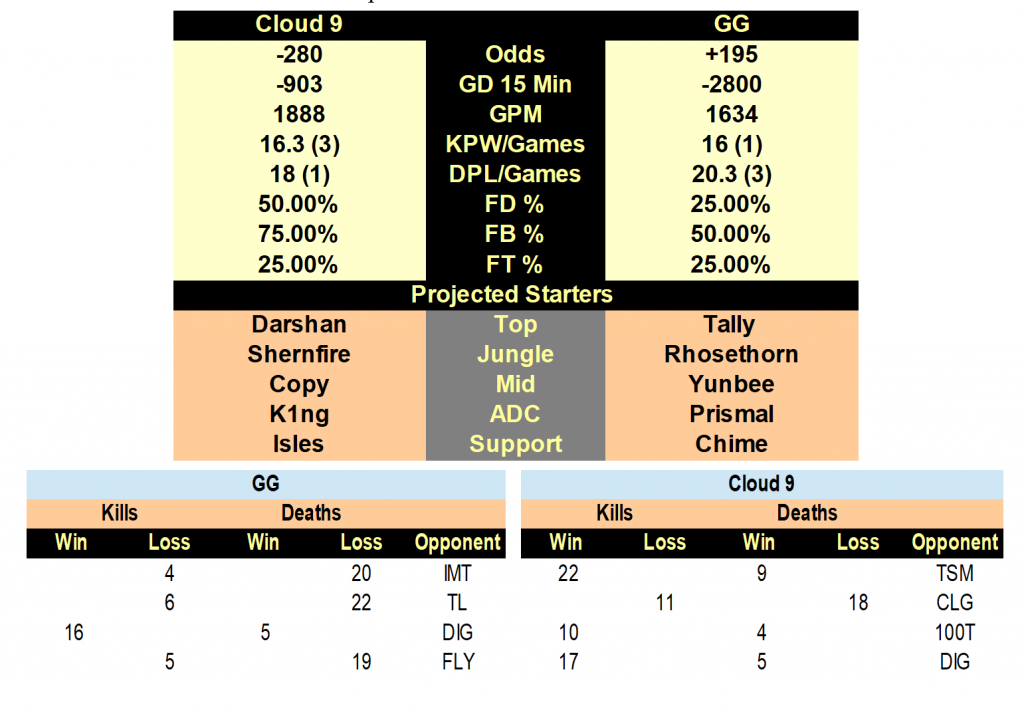 I believe you need to give this one much thought. GG is the only team that has a DPL over 20 with more than 1 loss. Now Cloud 9 might not be as good as some like myself might tell you. Looking into their stats you see that they struggle in the early game. This is reinforced by their EGR putting them middle of the pack. That said they have been better than anyone else in the Mid-Late game. Which I might argue is more important. While I have some hesitations since they've had one of the easier schedules thus far, this GG team isn't the spot I'm going to look for them to be upset. I don't try and pick winners for GPP's just situations. It is fair to look for heavy favorites that stand to do what they're expected to do for Cash. Cloud 9 is one of the teams that fit that mold. The risk is always there that they win too fast, or like last week k1ng just isn't there for any of the kills. Through 3 games everyone except Darshan had solid KP, through 4 k1ng's numbers understandably took a hit. I'd still look to play everyone on this team with confidence.
If GG is going to pull an upset, it's going to come through Prismal. If you want to take a dart through on GG pulling out another massive Wednesday upset he's the guy to you start your lineup with.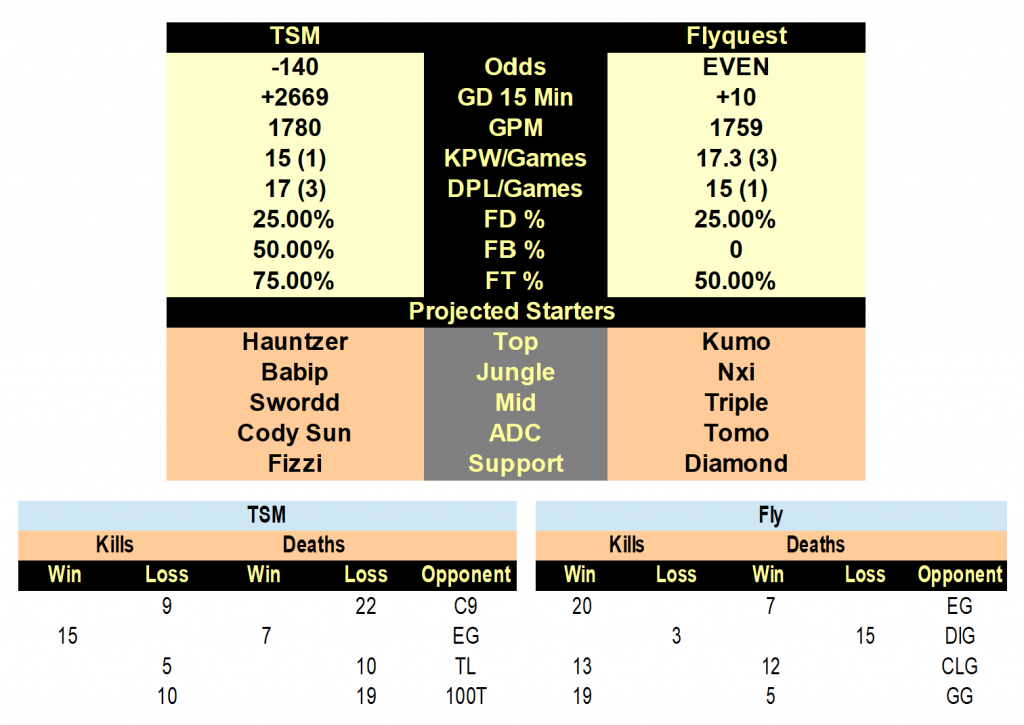 I'm interested in this game. I know that the odds favor TSM, but I'm not sure the ownership will end up that way. While we've seen them struggle in last week. A time in which when people were paying closer attention to academy results. We've seen the Flyquest team win both their games and one as pretty heavy chalk. For that reason I expect to see ownership go back into Flyquest's favor and I don't fault that at all. Looking a little more deeply reveals that Flyquest has had a far easier schedule, playing the bottom 4 teams aside from TSM. Where as TSM has played TL,C9, and 100T. Even as such the Flyquest numbers haven't been all that impressive by comparison. TSM has them dominated in Gold at 15, and they're almost dead even on GPM. This feels like a time where the oddsmakers got it right, but the public might get it wrong leading to some nice ownership leverage to be found. Aside from that nothing really stands out in this game.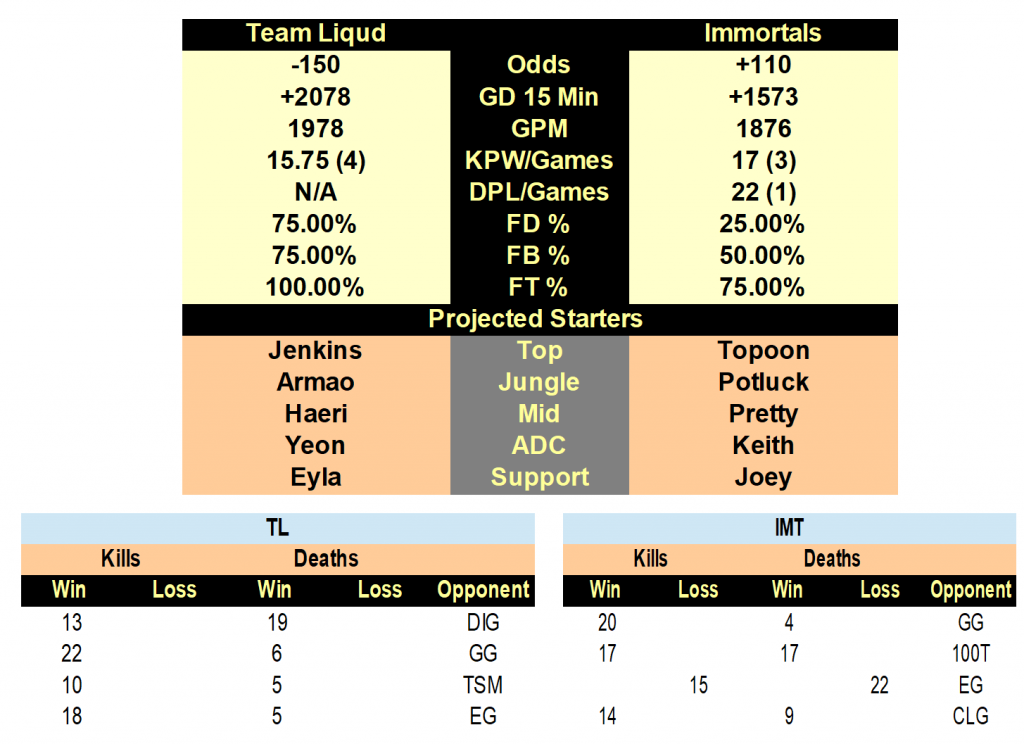 The marquee matchup of the week. Some have said that this Immortals roster is the best in the academy. The Team Liquid team has been impressive and dominant in three of their four games. Finding a way to win even when they weren't ahead from the begging in their opening match. Their metrics aside from kill totals certainly point to them being the better team. Something and someone has to give. Like some other teams on the slate, neither of these teams have a super compelling resume of games. In part because neither has played each other. While TL remains unbeaten their first game wasn't a cakewalk by any means. This Immortals teams hold one blemish in what was a surprising loss to team EG, outside of which they've taken care of business. But only hold one quality win over a 100T team that we aren't even sure is actually good. Both teams have fairly strong GPM and Gold Difference at 15 that are pretty close to each other. That all being said I'm not sure picking this game is really required either in cash or to take down a GPP. Sure, it might be. This could be one of those close back and fourth games that yields strong scores on both sides not unlike that EG/IMT from last week. Or it could be one of those games where both teams feel the pressure and play a bit more cautious and hold back on full engage type fights. This could look a lot more like the TL/TSM game or the IMT/CLG while still having ownership drawn to two teams that have been winners on the season. I'll be underweight on this game but I suppose you could make a case otherwise.
Favorite Cash Stack- Cloud 9
GPP Stack(s)- 100T/Cloud9/DIG/TSM