NHL Preview
By Brewerymark
Hockey fans, the 2020-2021 season is upon us and it will be an interesting and delightful mess.  In light of the ongoing pandemic, the NHL has realigned into 4 divisions for ease of travel.  The most notable is the North division, which contains all Canadian teams, due to border restrictions.  Teams will play a 56-game schedule from within their division only.  Only 4 teams per division make the playoffs and the first 2 rounds are within the same divisions. 
What does this all mean? Teams will be playing the same teams, a lot. 7-8 times in the regular season and potentially another 7 games in the playoffs.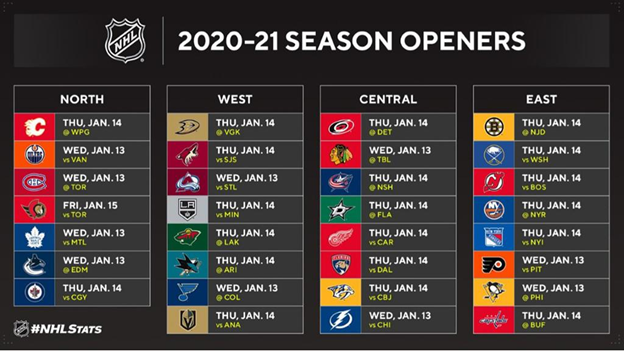 Courtesy of NHL.com
From a DFS perspective, we have to take a look at each division and find the strengths and weaknesses of each team. For example the East has by far the best goaltending and that could translate into lower scoring games for those 8 teams. The Central contains a collection of rebuilding teams and the defending Stanley Cup Champion Lightning and the runner up Dallas Stars.
In the coming couple of weeks we will breakdown each division in separate articles to get you ready for fantasy hockey. I am mostly a daily fantasy player but the articles should help you decide how to draft in the upcoming season as well. For now, here are some general thoughts:
North
How excited are you for this division? Not since the inception of the NHL has there been an all-Canada division, and besides the rebuild Senators, these teams are good. All the upcoming young talent is in the North and these games are going to be fun to watch.
Connor McDavid, C, EDM
Leon Draisaitl, C/LW, EDM
Ryan Nugent-Hopkins, C/LW, EDM
Auston Matthews, C, TOR
Mitchell Marner, RW, TOR
John Tavares, C, TOR
Matthew Tkachuk, LW/RW, CGY
Johnny Gaudreau, LW/RW, CGY
Elias Pettersson, C, VAN
J.T. Miller, LW/RW, VAN
Mark Scheifele, C, WPG
Patrik Laine, LW/RW, WPG
Kyle Connor, LW, WPG
Blake Wheeler, C/RW, WPG
These are just a few of the high-powered talent in the North (all in my top 50 players to draft). The North only has 7 teams, meaning these players will be facing each other 8 times in the shortened season. The North is lining up to be a fantasy scoring buffett.
West
Colorado, Vegas and St. Louis are the cream of the crop in the West and should make the playoffs. However, the West is filled with hard hitting defensive teams that will take their pound of flesh. The trick here is predicting who the 4th or 5th place team will be. Arizona has built a good strong core and they have a suffocating defense, but little offense. LA, San Jose and Anaheim are filled with aging veterans and that could favor them in this shortened format. Minnesota seems to always be in an identity crisis.
This will be a hard-fought division, and while I see an obvious Top 3, I don't expect any of them to run away with the division.
Central
The Central is going to be brutal but predictable in terms of fantasy value. Detroit last year set the record for the worst team ever in the NHL and they won't be much better this year as they start the long task of rebuilding. Also rebuilding are Chicago, Nashville, and Florida.
Dallas overachieved last season and Columbus took a step back. Tampa and Carolina should easily run away with this division and put up massive fantasy points along the way. Fanduel and DraftKings have not released pricing yet, but I expect these 2 teams to be at the top all season.
East
This will be the hardest division to predict. 6 of 8 teams are playoff contenders (possibly all 8 this year with the crazy FA period) and these teams possess the best of the best in goaltending. Boston, Washington, Islanders, Buffalo, and Pittsburgh all have top 25 goal scoring talent. This is the division to watch and it's anyone's to win. My initial thought is watch for when the backup goalies play and attack those games. With this condensed scheduled, we will have more back-to-back games and a more shared approach to netminding.
That's just a few initial thoughts on the new season based on the pandemic format. Look for more articles soon as I break down each division, free agency and give you my top players by position.