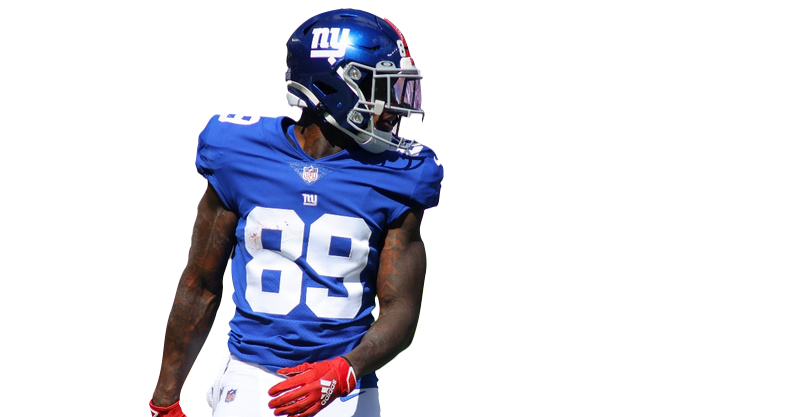 Mike Hubbard Jr here, welcome back to my weekly Waiver HUB. Follow me on Twitter (@FantasyHubbard) and Instagram (@fantasyhubbard) for all things fantasy football throughout the season.
Week 5 has come to a close and week 6 starts Thursday with a matchup between the defending champion Tampa Bay Buccaneers and the Philadelphia Eagles. The fantasy players most owners will have their eyes on in this game include Jalen Hurts, DeVonta Smith, Antonio Brown, Mike Evans, Chris Godwin, and the GOAT himself Tom Brady. Can't count out Leonard Fournette, Mile Sanders, Kenneth Gainwell, and possibly Rob Gronkowski.
It's Tuesday which means it's time to jump into the waiver wire! Injuries are inevitable and continue to pile up even though it has only been 5 weeks. There are a ton of waiver targets this week and I'm going to share with you my top choices. Go get those available players to help your chances moving forward. Good luck this week and remember to check back every week to stay informed on who you could target off of waivers.
Quarterbacks
Geno Smith – Seattle Seahawks
Russel Wilson injured his middle finger on his throwing hand last Thursday which resulted in surgery. Wilson will be out for at least a month and is targeting a week 10 return. Geno Smith has hardly had any in game experience in Seattle prior to week 5. When Geno came in, he led the team to a nice drive down the field resulting in a TD. Later with a chance to take the lead late, he threw an unfortunate INT when his receiver fell that basically sealed the win for the Rams. Geno has 2 of the best receivers in the game in DK Metcalf and Tyler Lockett in his arsenal. I'm eager to see how Geno will do in a start against the Steelers next Sunday night. Smith could have a good outing through the air and possibly on the ground if he can rush like he used to in his first couple of years with the Jets.
Trey Lance – San Francisco 49ers
Trey Lance struggled throwing the ball in week 5 against the undefeated Arizona Cardinals. Lance threw for 192 yards with 1 INT and no TDs. Much like Jalen Hurts from the Eagles, rushing ability can save a fantasy performance. Trey ran for 89 yards this week after rushing for 41 the week prior. Lance will surely continue to get rushing yards and his accuracy throwing the ball should only improve. Keep an eye on the Jimmy Garoppolo situation following their week 6 BYE. It unfortunately seems as though the QB1 is yet to be determined moving forward but Trey Lance is still worth the add as he could start to breakout. It has now been reported that Lance has a sprained left knee and could miss some time. The BYE week is coming at the perfect time for him. Monitor the situation moving forward.
Running Backs
Devontae Booker – New York Giants
Just when Saquon Barkley was starting to look as good as ever he gets injured during week 5 with a left ankle sprain. It seems that Barkley will miss at least 1 week and that means Devontae Booker will be RB1 on Sunday against the Rams. Booker played well after Barkley left the game. He finished with 42 rushing yards, 16 receiving yards, and a TD on the ground and a TD through the air. The severity of Barkley's injury is still unknown but even if it is just 1 week, Booker is an easy target off waivers. The more time Barkley misses the more you can cash in on Booker. He is one of this week's priorities on the waiver wire.
Darrel Williams – Kansas City Chiefs
Clyde Edwards-Helaire is yet another injury that occurred in week 5. He left the game after appearing to hurt his knee and it looked to be serious. It was later determined that CEH suffered an MCL sprain and is out for a few weeks. Darrel Williams is another priority waiver target because he will be the lead RB in a powerful Kansas City offense while CEH is sidelined. The Chiefs get Washington next week who have been defensively disappointing and love giving up big plays.
Rhamondre Stevenson – New England Patriots
Rhamondre Stevenson got a little playing time this week due to Damien Harris leaving the game on 2 separate occasions due to injury. With James White gone for the season and JJ Taylor not playing since his fumble in week 4, that only leaves Stevenson, Damien Harris, and Brandon Bolden. Bolden seems to be the pass catcher of them, and Harris is the go-to RB1. Monitor Harris' health this week. If he was to miss time due to injury, or simply because he fumbled the ball at the goal line this past Sunday, Rhamondre could be in line for some good usage.
Wide Receivers
Kadarius Toney – New York Giants
Toney went off now in 2 straight games. His targets, receptions, and receiving yards have all increased heavily over the past 3 weeks. He lit up the Cowboys for 10 receptions and 189 yards. He is definitely worth targeting this week due to his production and the uncertainty of almost all NYG WRs. Daniel Jones looked very out of it when he took his big hit when he rushed in the red zone. He did not return to the game, so Mike Glennon took over. Glennon found Kadarius often and that chemistry could bode well for both of them next Sunday against the Rams. Regardless of who is throwing the ball, Toney is a threat to produce when given targets. Monitor all WRs from NYG this week and go get Toney off waivers if he is available.
Hunter Renfrow – Las Vegas Raiders
Hunter Renfrow now has a minimum of 5 receptions in every game this season and averages over 60 yards per game. He has also found the end zone 2 times this season. Hunter is tied with Darren Waller for receptions this season with 28 despite Waller having 10 more targets. Renfrow seems to be solidifying WR1 status in Las Vegas over Henry Ruggs III and Bryan Edwards. Renfrow is a good waiver target this week, especially if you need a WR to fill in on any BYE weeks.
Josh Gordon – Kansas City Chiefs
Josh Gordon made his season debut for Kansas City on Sunday night. He only had 1 reception on 1 target for 11 yards. Gordon was in on only 9 snaps out of a possible 86. The Chiefs have Patrick Mahomes who loves to throw the ball around and has weapons everywhere he looks. As long as Gordon gets more snaps and target's he should be considered waiver target worthy. Gordon has proven to be elite in the past and could get chances when Tyreek Hill and Travis Kelce get the most attention from opposing defenses.
Tim Patrick– Denver Broncos
Tim Patrick saw 9 targets this week against the Steelers and turned that into 7 receptions for 89 yards. Patrick is averaging 60 receiving yards each game. Patrick is worth targeting on the waiver wire this week, especially knowing Jerry Jeudy isn't scheduled to return until week 7 at the earliest. Courtland Sutton and Noah Fant are the only other relevant receivers in Denver and Sutton has been either red hot or ice cold. Patrick could go off any week now and he faces a Vegas team this week where the Broncos might need to air it out often.
Tight Ends
Hunter Henry – New England Patriots
Hunter Henry is starting to become a reliable target for rookie Mac Jones in New England. Henry is behind only Jakobi Meyers in receptions this year and he has scored a TD in 2 consecutive games. Hunter is averaging 4 receptions and 43 yards per game this season. Not mind-blowing numbers at all, but he is worth claiming in a season where TE production is in short supply. Look for Henry to get a good amount of looks against the Cowboys in week 5.
David Njoku – Cleveland Browns
Holy Njoku! The Browns TE had himself a day against the chargers finishing with 7 receptions for 149 yards and a TD. Although that doesn't seem sustainable moving forward in an offense that runs the ball a lot and has OBJ, Peoples-Jones, and Higgins as WR options. Like I mentioned above with Hunter Henry, productive TEs are in short supply. That being said, Njoku is worth a target in hopes of more boom games rather than bust games moving forward.