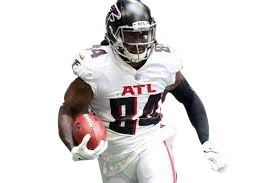 It's Monday yet again fantasy followers which means it's time for my weekly Trade HUB article. Mike Hubbard Jr here, ready to help you with trade opportunities to help your chances of success moving forward. Follow me on Twitter (@FantasyHubbard) and Instagram (@fantasyhubbard) for all things fantasy football.
Week 4 of the 2021 NFL season ends tonight in a great offensive matchup between the Chargers and Raiders. 2 of the best gun slingers going at it on primetime.
As the season progresses, it usually becomes more difficult to sell and buy players because of growing sample size. The likeliness of projections is more consistent. That being said, some players will continue to surprise for the better and some for the worst. Trading is very strategic, and timing is always important. Let's go through some players to buy and sell before week 5 begins. Like I will continue to say, one trade could be the difference in winning or losing your fantasy football league.
PLAYERS TO BUY
Kyle Pitts – Atlanta Falcons
Kyle Pitts has consistently let fantasy owners down every week. He has yet to score, yet to surpass 5 receptions, and has failed to eclipse 75 receiving yards. Pitts was the highest draft pick ever used on a TE in an NFL draft which gave many high expectations for the Matt Ryan to Kyle Pitts potential connection. After 4 games he is sitting at 20th most points for a TE this season, when he was projected with hopes of being top 5. Call me crazy but I still believe things will change for the better. He has been targeted at least 6 times in 3 of 4 games. Waiting on his breakout game but time is ticking. It's definitely risky, but Pitts is approaching cheap trade value rapidly. Buy very low at your own risk.
CeeDee Lamb – Dallas Cowboys
CeeDee is such an explosive weapon on the Dallas Cowboys offense. He started the season with a bang racking up 15 receptions for 185 yards and a TD on 24 targets. Since then, he has a total of 5 receptions on 8 targets for 79 yards. It seems like the Cowboys have finally realized that running the ball consistently and decreasing Dak's passing attempts is a recipe for success. That doesn't help Lamb in an offense where Amari Cooper, Zeke Elliot, Tony Pollard, and Dalton Schultz are all getting good exposure. Try to take advantage of his last 2 weeks of mediocracy and buy low while you can. I expect a bounce back performance next week when the Cowboys take on the Giants.
Adam Thielen – Minnesota Vikings
Adam Thielen is in fact a human being. He has off days just like the rest of us. His off day came against the Browns yesterday. Thielen didn't score a touchdown for the first time this season. He has scored 18 touchdowns in his last 19 regular season games. Even in his down to earth 3 reception game yesterday, he still managed to lead the team in targets. It's worth your while to send out some trade offers for Thielen before the TD's continue to rack up.
Damien Harris – New England Patriots
Damien Harris has been practically silent these past 2 weeks. He has only 10 yards rushing and 27 yards receiving since week 2 concluded. To his defense, he did face the Saints and Buccaneers who can both easily limit opposing running backs production. We know he has potential after facing the Dolphins and Jets in the first two weeks where he got 39 rushing attempts resulting in 162 yards and a TD. The Patriots remaining schedule favors Harris immensely, and his usage is going to stay on the higher side since the news that James White is most likely out for the season. Now is the time to buy low on Harris.
PLAYERS TO SELL
Kenny Golladay – New York Giants
Golladay had a nice outing against the Saints producing 6 receptions for 116 yards on 7 targets. This was by far his best game in a Giants uniform. Golladay was only behind rookie Kadarius Toney in targets. The Giants were without WRs Sterling Shephard and Darius Slayton against the Saints which opened up some volume for Golladay. Once Shephard and Slayton return from injury, Golladay's targets will more than likely decrease, especially with the rise of Toney. Golladay will probably also get the Cowboys breakout rookie Diggs covering him in week 5. I would sell high on Golladay in hopes of a more reliable option moving forward.
Cordarrelle Patterson – Atlanta Falcons
If you had Patterson scoring 3 TDs this past week then congratulations, you win. Patterson continues to be on a tear for the Falcons. 3 TDs and 116 total yards was more than unlikely given he only had 23 of 76 snaps. I'm not saying he can't continue this pace moving forward, but Atlanta has a few offensive weapons that get more exposure. He will face the Jets in week 5, which is a nice sales pitch if you're willing to sell him. If so, sell him sky high.
Jamaal Williams – Detroit Lions
Jamaal Williams had the most rushing attempts for Detroit in week 4 but was not targeted at all. D'Andre Swift is emerging as the clear-cut dual threat running back for the Lions and Goff has been starting to look for his WRs more. The future is looking less and less optimistic for Williams moving forward given his low snap count. Sell Jamaal Williams as high as you can while you can.
AJ Dillon – Green Bay Packers
AJ had a decent day against the Steelers in a game where the Packers led most of the way. Dillon had some good broken tackles and got good exposure late in the game when the Packers were closing the game out. Aaron Jones is obviously the RB1 in Green Bay and that won't change unless he misses time. Sell Dillon in hopes of anyone with better volume moving forward.