What Success Looks Like
You've heard me talk about maximizing value in your draft and – if you're a returning customer – you've seen it yourself! But let's take a look at my first draft of the season to see what happens with the matrix cheat sheet.
Let's see how I got four players ranked in my top 30 with my first four picks. NOTE: McLaurin was a 5th round keeper.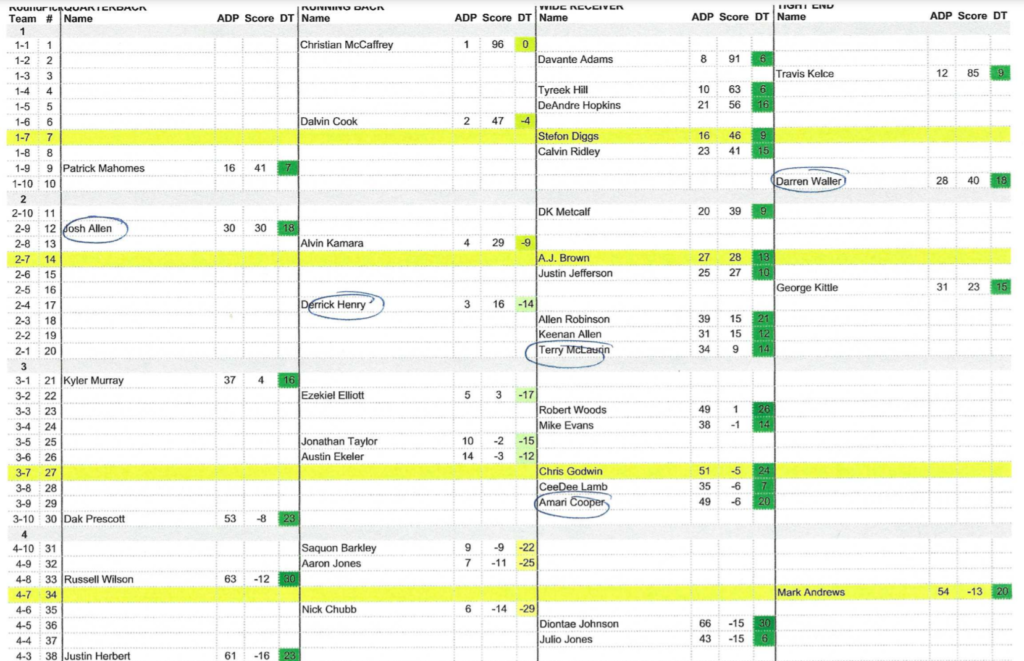 When you use the matrix cheat sheet, you get to see the TRUE VALUE of the players. So while others are "waiting on QB just because" we're maximizing the value of our starting lineup.
Let's dive in.
Round 1 went…
McCaffrey
Cook
Kamara
Elliot
Adams
Hill
Now to me with the 7th pick. Some perspective, this is a 10-team league with only one starting RB required, but multiple flex spots. So spots 5 and 6 more likely to grab WR there. But, the real lesson here is, I had a choice between Kelce and Henry.
Kelce ranked much higher in terms of true value, but I know – using the delta column – that I rank TEs higher than ADP and I rank RBs lower than ADP, meaning RBs are going to be gone much earlier than TEs. So, with some hesitation, I passed on Kelce, feeling confident I'd still have a good shot at Waller. But if I went Kelce, I wasn't confident in the quality of RB that would be there for my second pick.
It worked. I went Henry, then Waller.
Then I'm looking at Josh Allen still there for my 3rd pick. We're past the days of waiting on QBs as we discovered here. Top QBs are very valuable, so knowing I have a ton of WR options later, I grab Allen here. Again, maximizing our starting lineup.
Then at my 4th pick, I dive into WRs, grabbing Amari Cooper, who I had a 3rd round grade on. With McLaurin already my 5th round pick as a keeper, I feel pretty good about my starting lineup. That's our goal. Depth is nice and upside players are good, but not at the cost of your starting lineup.
We're Blueprint people. We play to win.