"Seeing" Your Draft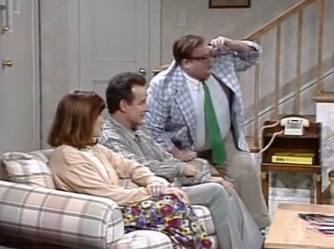 One of the patented features of our matrix cheat sheet is our draft-position overlays that allow you to see where your picks will be. These – paired with our unique matrix format – allow you to "see" your way through the draft.
But it doesn't just help you at the draft. It enables you to quickly plan a strategy for any possible draft position without ever needing to mock draft (you should still do just one to make sure you're familiar with any draft-room changes your league provider may have made.)
Let's see (see what I did there) what this looks like with the 3rd pick in a draft.
Having the third pick makes your strategy pretty easy. You're taking the best RB available at 1, then coming back and taking another at 2. RB is the most scarce position in the league – every team only starts one, compared to three WRs. Load up early on stud RBs. Then, it will be close, but Kittle should be there (based on the ADP column we see we value him at pick 25 but, on average, he's being selected at pick 28 and we have pick 27). We've locked in our starters at the two most top-heavy positions, giving us a big advantage each week.
Then we grab our first WR, with a range of options available at our 4th pick. Now, this is where it starts to get interesting.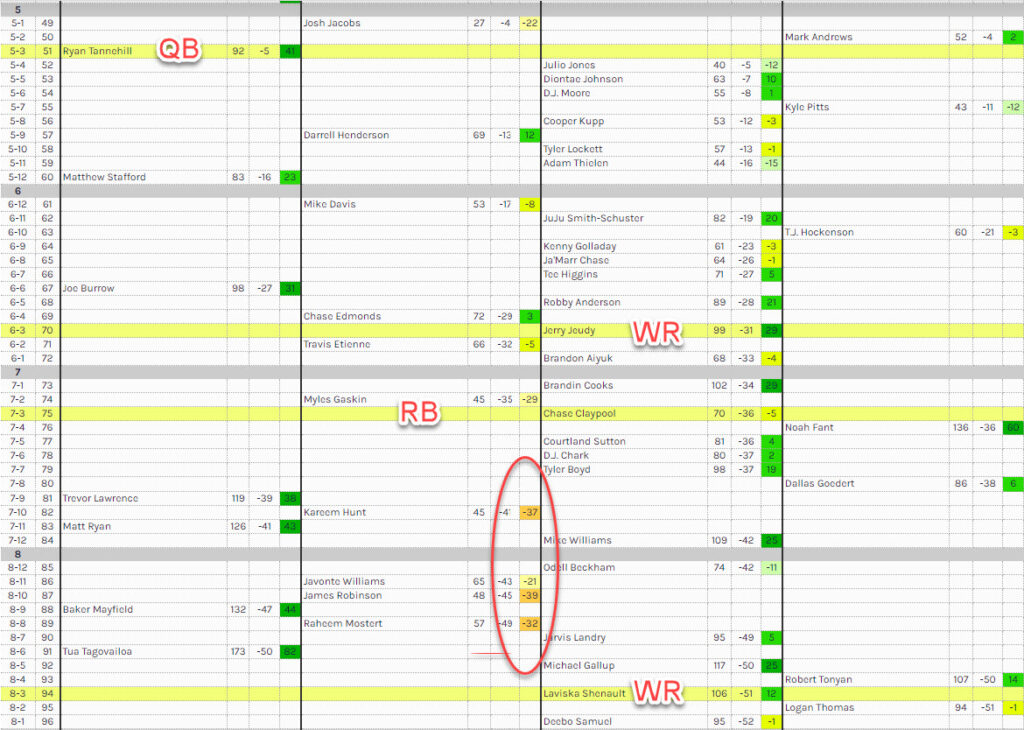 Most people are going to grab another WR here, but not you, you're Blueprint people, you play to win. And, as we learned, in recent history, QBs have been becoming more and more top-heavy, so you know you need to grab a top-half one while you can. You get QB at 5, then back to WR at 6.
Then, if you're just looking at a list of players, you're going to see a lot of WRs in the area of your 7th pick. If you're just blindly following the rankings, you're going to take WR here, but you shouldn't…
Look at that red circle. All those red shaded cells with negative numbers mean those RBs are being drafted way before your 7th round pick. There probably won't be any of them available, but it tells you RBs are quickly coming off the board, so you reach down your list and grab a 3rd RB here.
But just like those red cells taketh away, those green cells next to the WRs giveth. You've got plenty of WR options expected to be available at 8, so you're not really losing much value by grabbing your RB at 7 then waiting for WR at 8.
Now, at this point you have core starting lineup set (QB, RB, RB, WR, WR, TE) and you're filling out your bench. Well, most people are filling out their bench. Not you! You know this is the time you need to be looking for value gaps where you can grab a top DEF and K!
Remember, we play to win… let other people play not to lose, drafting backup QBs and TEs and 5 RBs and WRs before ever getting their DEF and K!
Kickers and defenses are important too; your goal is to not build the most depth you can, but to build the best starting lineup you can! Don't sacrifice your starting lineup for an RB or WR that you'll probably end up dropping anyway.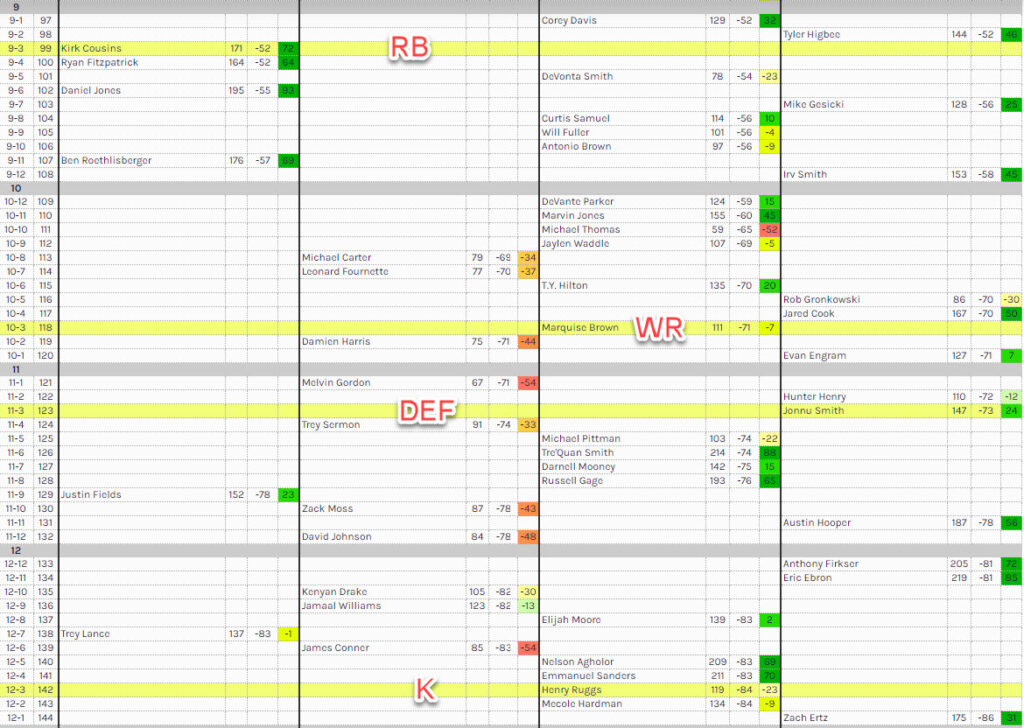 So do you have to take your DEF with your 9th pick? No, you know by ADP – and through fantasy football mythology – that most people are going to wait far longer, so you can still grab another RB at 9, another WR at 10, then take a top DEF at 11 and a top K at 12. Get the best starting lineup you can!
But if you wanted to go DEF and K at 9 and 10, I wouldn't even be mad at you…
Next, I'm doubling down.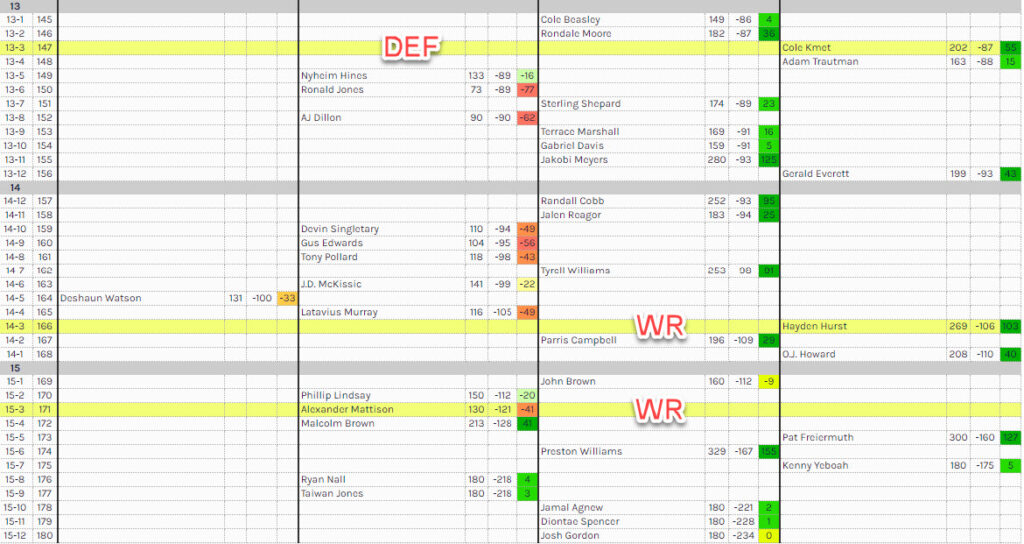 I'm going right back to DEF. Crazy, I know, right?! Defenses have less predictability than kickers, but they have more value if you get a top one. So I'm going to grab a second one, giving myself the best chance possible to land an elite defense. I may even fall into a streaming-defense strategy with two top defenses.
Next, while other people are fighting over your DEF and K scraps, you've got your pick of the remaining WRs to fill out your lineup. WR is the position most likely to surprise, so don't waste your time taking more RBs here. This is the place to load up on WR upside picks.
Hopefully you can see how quickly you can build a strategy using the draft-position overlays. And you can see what a difference it makes "seeing" your rankings rather than "reading" them.
Want to go RB and WR to start – you can see what players will be available at your next picks to make a similar draft plan. Want to prepare for the 6th pick instead? Simply click the button and the overlays will change.