11/15 NFL FD Building Blocks
Week 10
Ah, Dalvin Cook. Here's what I told you… "He has another good matchup and like I said about Davante Adams, if anyone can put up a repeat monster performance, it's Cook." I ended up going with some of the cheaper Carr lineups so was able to fit him in.
Ah, Christian McCaffrey. Here's what I told you (in Week 3)… "He's not getting the usage he had last year, but he'll be back some time and his monster week will come… I'll be there, at a deflated price and ownership level, when it does." I recalled this last week, and almost played him just because of that, but ultimately I didn't recommend CMC because there were plenty of other options that were safer and had similar upside. It wasn't a "monster" game but he hit his value and then some.
Last week we saw a very untraditional build win the million. Bridgewater and CMC (can be counted like a WR in a mini-stack) stack, but didn't bring it back with any Chiefs. John Brown was a way-too-cheap piece of a popular game. We've talked about that before as a good way to differentiate your lineup – target less popular pieces of popular games. Also had the Bills defense at a miniscule .2% ownership.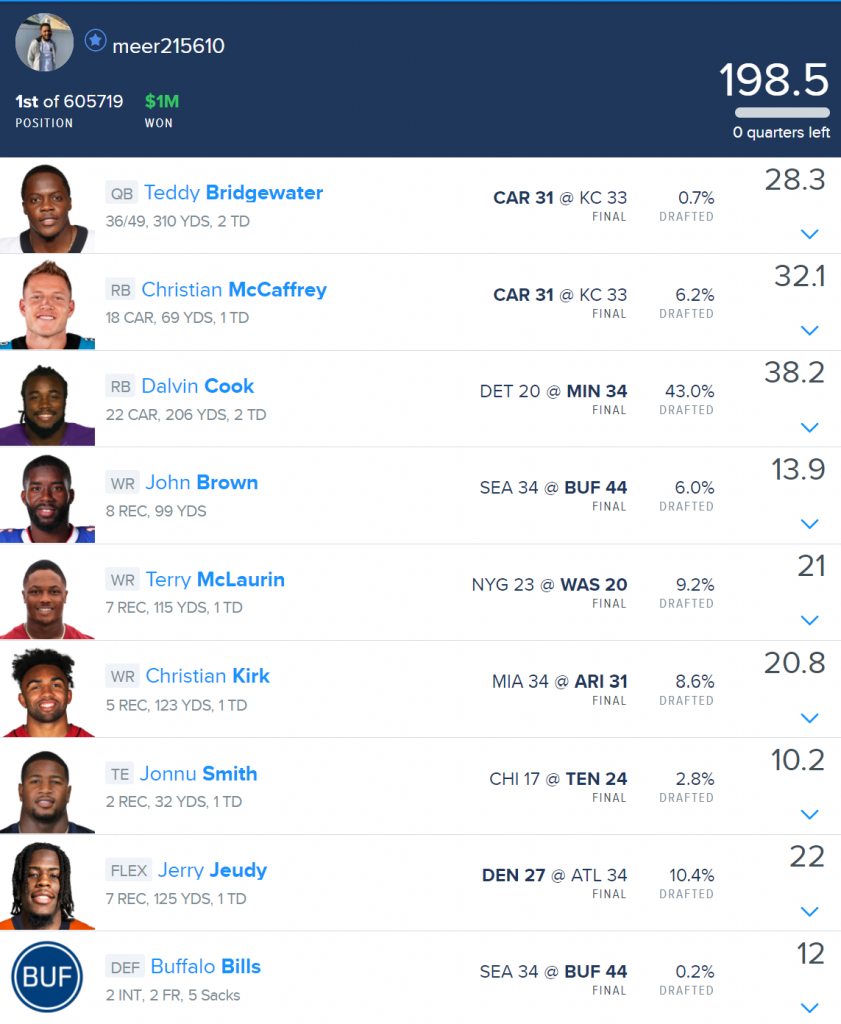 Hard to believe it's already Week 10.
QB
Russell Wilson is the most expensive and coming off a rough loss (although he finished with a fine 24 points). He could go overlooked based on that performance, but as Miami showed us, this Rams team shouldn't scare us away from using Russ. Rare chance to get him at lower ownership than he deserves this year.
Kyler Murray could be popular after a big day, but could also go overlooked since he's playing the same Bills team that just beat the Seahawks. Again though, even with 4 turnovers, Wilson still ended up with 24 points. Buffalo traveling to Arizona in a classic letdown spot. Don't be afraid to turn to Murray here in the highest project point total and closest spread. Buffalo DEF is also banged up this week.
Allen on the other side is a fine option as well. Four great games, four bad games, and another great game last week. Which Allen and which Bills team will show up?
Aaron Rodgers had a bounce-back game last week, as we'd expect. He gets the Jags this week after watching Watson, Fuller, and Cooks tear them up. Rodgers another fine option this week but there is concern they go to the run more this week as heavy favorites.
Watson gets Cleveland this week. Another good option.
All of the above are solid picks. Good time to mention QB ownership again. With so many good options, there won't be a significant ownership advantage with any of the above. Let the game situations and the potential stacking options drive your decision. As we get through all the positions, we'll start to narrow into the situations we like best.
Herbert ended up with another fine week – hitting value in 6 of 7 weeks now. I'll likely go away from him this week against a legitimate Miami defense.
Brady is the first one that gets interesting. Coming off an absolute dud he's be a nice tournament pick this week. He should go overlooked, but since Carolina just got into a shootout with KC, people may flock to CMC (likely out now) again and naturally come back with a Brady stack. Worth a look, but may not be as low-owned as I like, given the other really solid options above. UPDATE: It appears Brady is going way under-owned, along with all his receivers.
Jared Goff has to be in consideration against the Seahawks. Expect the Seahawks to put up a lot of points and Goff, who just threw 61 passes against Miami, to have to air it out again. If he can be more efficient (was 35 of 61) he should easily hit 3x value. This could be a popular pick though.
Roethlisberger is in a good spot this week and may go overlooked (he always goes overlooked this year) after the Steelers almost let the Cowboys win. I don't love this because despite last week's showing, the Steelers D is legit, and it's not as clear that there are worthwhile Bengals to come back with. And, like with Rodgers, they could go to the run more this week.
I never like to play Mayfield, but at 7k, assuming he's cleared from the COVID list, he should go way under-owned against Houston. This is a much better stacking spot, as we saw with the HOU/JAC game last week, as there are much more viable stacking options on both sides.
Have to mention Alex Smith. Hard to believe he's even in the conversation here after his leg almost fell off, but up against the Lions, with a clear stacking partner in McLaurin, he should be on our radar. Depending on what we like at RB and WR he might be the cheap option we need to fit in studs at other positions.
RB
Kamara has only hit value twice and has less opportunity with Michael Thomas back. I'll stay away.
Aaron Jones has my interest this week. After Rodgers and Adams stole the show again last week, this is a nice spot to get Jones, in a great matchup, at potentially low ownership as people will probably lean Rodgers and Adams again. UPDATE: Given the lack of options this week, Jones is getting a lot of ownership attention. That may soften some with the addition of Mike Davis, Duke Johnson, and Gio Bernard.
Hunt has mostly disappointed but is in a good spot against Houston, especially if you want to roll out a Watson stack. Nick Chubb is expected back this week though. That hurts the value of both, especially at their prices. If choosing, I prefer Hunt as his ownership levels will fall off a cliff with Chubb back, but he still has a ton of upside in the passing game and the matchup is great.
Conner could be overlooked, but the Steelers like to pass, so even as favorites he may not hit value. He's only hit 3x value once this year. But if you're going with the popular Steelers DEF play, not a bad idea to stack them with Conner to give you some differentiation.
Robinson will probably get more attention than he deserves this week. Not that he's a bad player, but he's only hit the value we need twice this year. The matchup is there for him if you do want to play him though, especially if you're looking for a stacking partner with Rodgers + Adams.
Melvin Gordon has the matchup but is splitting carries right now. We probably have safer options.
If you can choose correctly between Fournette and Jones they have a good matchup.
Gibson has to be in play after Cook destroyed the Lions, but McKissic is getting a lot of work too so this isn't a priority play for me. Would rather take the Smith + McLaurin side. You could even add McKissic in a nontraditional stack if you're banking on passing game upside.
Boston Scott is viable here if Sanders is still out, but it looks like Sanders is back this week. I'll stay away in his first game back.
Zach Moss always has the TD upside, but lot of risk here with Allen rushing at the goal line and Singletary also still involved some.
Mike Davis, Duke Johnson, and Giovani Bernard are the backups that either already are or are positioned to start this week. Davis will get more than 50% ownership, but his reputation is stronger than his value… when we start a player at $5,400 we need him to get a minimum of 3x his salary, but we really need him to get more like 4x or 4.5x. Here's his game log this year (11.5, 19.1, 19.6, 25.4, 10.5, 6.1, 8.2 6.2). I may just be a small-town pizza lawyer, but that's four games in a row where he hasn't even hit 2x this price. Yes, after CMC went down earlier in the year, he put up 11.5 against Tampa Bay, but this Tampa Bay defense is for real and is coming off an embarrassment looking for a statement game. It would not surprise me at all if Davis is a bust even at this low price. The other side of the argument, of course, is that he just gets massive passing volume. He's had some games with 8 or 9 receptions already this year and he'll surely need that many again as the Panthers try to keep up (or catch up). I'm not that interested in Duke Johnson or Gio Bernard, but am okay with Johnson if you're really stuck for salary.
Unlike last week when we had several good RB options, it's much less clear this week. We'll see how the WRs look to get a better sense of where we want to go. The limited RB pool has me with Jones as a foundation play, meaning I can probably rule out a Rodgers stack in my primary lineup. Jones and Hunt are probably in for me, then trying to pick between Gibson or one of the TB backs.
WR
Davante Adams. His price is ridiculous, but he's hit 3x value 4 of 6 weeks, including three in a row. Everything about this matchup screams Rodgers and Adams (but it also screams Aaron Jones). Rodgers and Adams will be popular. Aaron Jones should be popular. I may consider a Rodgers + Jones + Adams stack here and not bring it back with anyone from Jacksonville. Or may even add GB defense to it. I may also just go with a Jones + Adams mini-stack depending on what other foundation stacks I like. One of these weeks will be an Adams let down, but nothing points to it being this week, except GB dominance and leaning on the run game. With the ultra-high scoring we've seen this year, there is room for an RB + WR mini stack to pay off.
Michael Thomas is interesting and could go overlooked after Brees spread the ball around last week. I'm looking for him to start locking onto Thomas again, if you think SF can keep pace long enough to force the Saints to keep passing.
Metcalf/Lockett both in play again. People are stuck on the idea of them swapping good weeks, so not a bad idea to stack them both with Wilson to get some differentiation.
Diggs is interesting. He's only hit value once this year, but if any week points to a ceiling game it's this one.
Kupp is okay in a good matchup. He doesn't generally have a huge ceiling but either him or Woods figures to do well here.
I don't feel great about Godwin, Evans, or Brown but they're cheap and severely under-owned. If you're looking for the 3 + 1 stack with a Brady bounce-back, pick two and hope you get lucky.
McLaurin just posted 3x value (twice this year now) and worth a shot with improved QB play in a good matchup.
Fulgham is starting to get into some cheaper prices where I feel like guys have a better chance to hit value. An Eagles WR a good pivot off of Sanders.
Cooks in line for another nice day, but, even at his cheap price, he's only hit value once.
Kirk might be a must-start. Hit 3x the last three weeks and you can expect White to cover Hopkins. If this game is the shootout Vegas expects, and Hopkins underperforms, it should benefit Kirk. You can never rule out a monster day from Hopkins, but I like the value and upside of Kirk better this week, especially with some of the other Bills CBs ruled out.
Nothing about Landry's numbers suggest he's playable – only hit double digit points twice (10 and 12) but the matchup is there and Vegas expects a high-scoring, close game. It's never fun to play the Browns, but he's a good tournament option if you're not using Hunt.
Jeudy is okay if you want to go to the Broncos. That cheap Lock stack worked out fine last week.
I like Diontae Johnson as the Steelers will definitely want to make a statement after almost letting the Cowboys win. Keep an eye on the COVID status of Big Ben; he's eligible to play Sunday if he has negative tests, but he's under watch. A big Ben + Johnson + Claypool (or even Ebron) would be a fine stack.
John Brown / Cole Beasley. Pick your poison. It's likely one of the Bills WRs will have a good game here. See what fits from a salary perspective.
For as good as the QB options seem, there aren't nearly as many slam-dunk WR plays this week. Some good ones at the top and some mid-range options. This is still leading me to a Jones + Adams mini-stack, but may not be room price-wise.
TE
Hockenson has a good matchup and is priced fine; no TE is really priced up this week without Kelce and Andrews.
Gronk could be in play as you'd expect people to focus on the TB WRs instead.
Tonyan has the matchup and is a good pivot off of Adams and Jones or a stacking partner with Rodgers + Adams.
Engram looks pretty good at only $5,600. His game log doesn't look great but he's trending up and TE is the best way to target Philadelphia. He gets a bump over Tonyan because GB has so many other weapons to use.
Ebron has the best TE matchup, but like Tonyan, lot of different mouths to feed in Pittsburgh.
Gesicki is a wildcard. Not enough time with Tua to see what we really have, but Tua may try to get the ball out quick this week.
Have to mention Reed for price and matchup, but this is far from a safe play. I'm not likely to go here.
DEF
We saw it a few weeks ago when KC was extremely popular and disappointed and the same last week with the Steelers. This is the NFL – I told you a few weeks ago one of these weeks picking on the Cowboys wasn't going to work. Now, I didn't think it would be last week, so I was on Conner and the Steeers right alongside you, but it speaks to the high variance of DEF scoring. If you can get lucky with a cheaper DEF at low ownership, you're in a great spot.
All that said, I like the Steelers again this week. I expect a bounce-back and hopefully it will come at low ownership as people shy away from them. UPDATE: They're popular again.
The Packers have a big 13.5-point spread and should be popular. This is a spot where you can play the DEF along with an offensive stack. This is a popular play this week, stacking with the offense will give you some leverage.
The Saints are in a good spot and will probably be popular after dominating TB.
Speaking of TB, I like them in a bounce-back this week. After just getting crushed by the Saints, people may shy away from this. You can get one of the top defenses of they year at only the eighth highest price.
The Giants keeping pace with TB doesn't look nearly as impressive after seeing what the Saints did to them. That said, Wentz is turnover prone and the Giants have shown an ability to hover around double digit fantasy points.
Washington is another nice lower-end play.
Lineup Build
It feels like an ugly week. People are going to be flocking toward BUF/ARI and SEA/LAR, giving us a lot of leverage in other places. This is a week where I'll probably have secondary lineup with a Murray stack, but my primary lineup is not going to feel nearly as safe.
I'm probably going with a Brady + Brown + Evans + Davis stack in my primary. Davis is going to have massive ownership, and, I think, has huge bust potential. Game theory says fade him, and I will in other lineups, but you can also take a different path to differentiation by stacking him with the extremely low-owned Bucs offense. Take your pick between Brown, Evans, Godwin, and Gronk. I'm going to roll with Brown and Evans and hope I get lucky. And I'm going to hope Davis gets enough passing work to hit value.
In my secondary, I'll be going chalk at QB and WR, with a Murray + Hopkins + Kirk + Diggs stack. Since I'm going so chalky there I'm hoping to avoid Davis, but I'll have to see what the salary allows. This would be a good spot to turn to Fournette or Ronald Jones rather than Davis, giving us two main lineups that are positioned to take advantage of TB points no matter how they come.
I also like a Wilson + Lockett + Metcalf + Woods lineup.
I like a Rodgers + Jones + Adams stack that should be pretty unique this week.
And I like a Big Ben stack at what will be low ownership, again.