Week 8 FD Building Blocks
Sunday Update:
It looks like the wind situation will be a little worse than expected in Cincinnati. I'm moving my Burrow stack to my secondary lineup and bumping up a chalk stack of Wilson + Lockett + Metcalf + Kittle. To make this work, I can still go to Bernard in the TEN/CIN game hoping he gets more usage because of the wind. So Wilson stack, Burrow stack, then as more contrarian options I'm going with a Rodgers stack and a Big Ben stack.
Well, not to be a broken record, but another week and another 3 + 1 million-dollar lineup.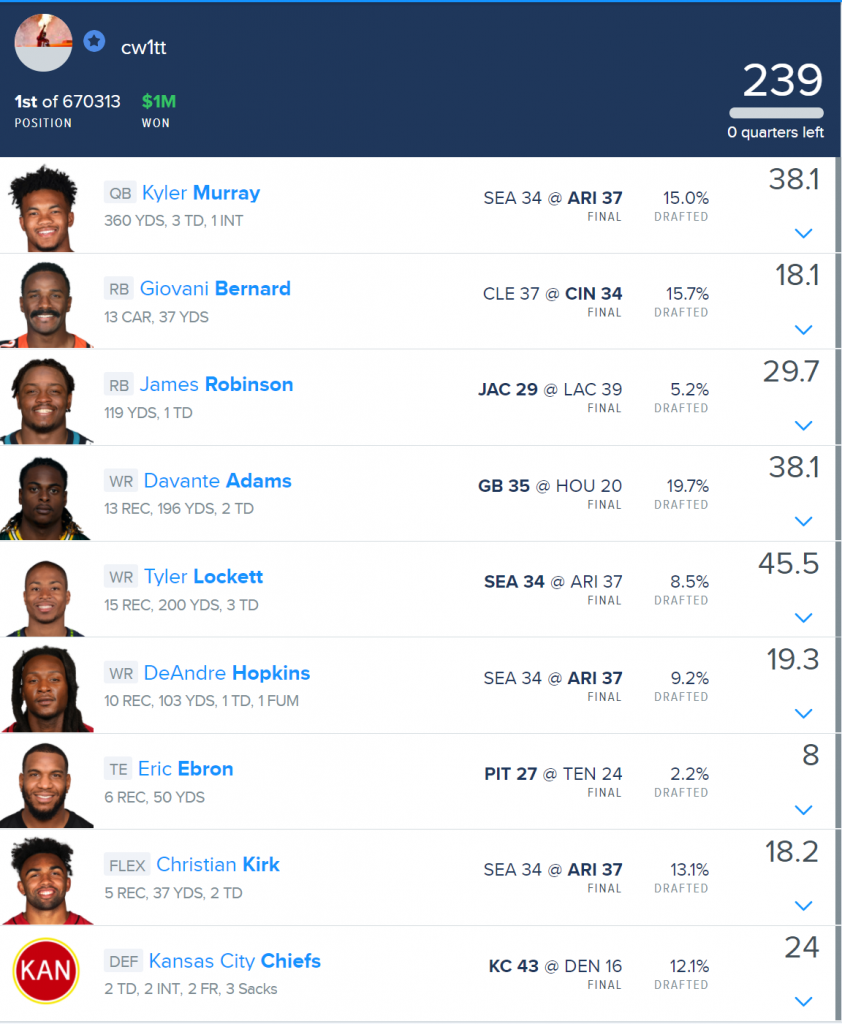 We were all over Davante Adams last week but shied away from the ownership of the SEA/ARI game. If we were to go there, we did note that we liked the Murray side better. Hopefully you had some exposure to that and found the right secondary pieces. This was a week where, not only did the 3 + 1 win, but having a single player, Lockett, was required to win. We saw this a few weeks ago when a non-traditional lineup won because it had Claypool who scored 39 points at .5% ownership. In this case, a 3 + 1 that included Lockett, turned out to be the must-have build. This week was also a good reminder that we don't have to avoid chalk (popular plays) just for the sake of it. If it's truly the best matchup, go for it, and find uniqueness with your secondary pieces. But, if there is an equally good matchup, or several, it's always better to go with the lower-owned game. Last week saw some similar games from CIN/CLE, LAC, and, of course, GB. If you had those stacks – and included Lockett as a secondary play – you probably did fine.
On to Week 8.
QB
Not a ton of QBs I love this week.
Mahomes is always in play but with a ridiculous 19.5 point spread he's not the safest play. It's easier to pass on the Jets than it is to run, but that's really splitting hairs, they're still the Jets… so, that spread could very easily be achieved through four or five passing TDs. Or, it could be achieved by a couple quick passing TDs, and then three or four rushing TDs. Or three defensive TDs. Take your best guess and make your lineup match.
Rodgers stands out again, although there are wind concerns to keep an eye on. Aaron Jones has been ruled out, so fire up Rodgers and Adams again. If anyone can follow up a 38-point performance with a 38-point performance, it's Adams.
Herbert and Burrow both coming off great games. I don't love chasing points with two rookie QBs but their performance deserves it. Burrow with the better matchup of the two, but Herbert has the more clear stacking partner with Keenan Allen.
Tannehill on the other side of Burrow is a solid pick, particularly if you're not paying up for Henry this week.
Carr and Mayfield could find themselves in a shootout game. Mayfield has actually performed better without OBJ, but I'll probably wait a week to let the team adjust first. Either side comes with inexpensive stacking options, so you can spend on your secondary players. This is another spot to keep an eye on because of the wind, might be too much wind to make this spot worthwhile.
Looking deeper, Garoppolo is cheap but likely to be popular going against Seattle, especially after Murray put up the winning performance last week. I know I said felt more like a Seattle blowout last week (got Green Bay blowout right at least) but this also feels like more of a low-scoring game. The play here is that Seattle jumps out to a lead and the 49ers are forced to pass. Kittle as a stacking partner is going to be popular, can go to Aiyuk and/or Bourne for some differentiation.
And much deeper, Philip Rivers makes it into the hail-mary picks this week. He hasn't been on the same page with Hilton, but maybe this is the week… I'll definitely have at least one lineup with a Rivers + Hilton stack as most people are going to gravitate toward Jonathan Taylor.
RB
Let's start this with Bernard who is starting again with Mixon out. He did what he needed to do last week in a tougher matchup. This game favors the CIN passing game, but there are some wind concerns here too, so could see more reliance on Bernard or even more quick passes to Bernard. At $5,900 he's almost a must-start again. Here are some backups or players in timeshares that are more expensive than Bernard… McKinnon (heavy workload this week), Lindsay, Bell, Henderson, Mattison, Swift. That's a lot of players priced higher than a starting RB. This game isn't the biggest wind concern so I'm fine with a Burrow stack still, and fine with making a non-traditional QB + RB + WR stack here as well, bringing it back with Jonnu Smith or AJ Brown. Brown gets most of his points in yards after the catch, so he's a great wind-game target. I should note, I like Bell in a spot I think Andy Reid supports him in a true revenge game. And I like Henderson as well.
While we're talking about wind games, let's talk about some RBs in wind games. Heavy wind favors the running game. These games all have some wind risk: LVR/CLE, MIN/GB, NO/CHI (those games have severe wind). NE/BUF, TEN/CIN (some wind, but not as bad). Cook and Hunt stand out as having good matchups before the wind, so are even better plays now, but may be popular because of that. Although Cook's price may keep his ownership lower. Jacobs has an okay matchup, but has a lot of busts this year. Jamaal Williams gets the start again this week for GB, but unlike last week, he's priced like the starter. Okay matchup, bump from the wind game, priced higher but not terribly expensive… he could get popular. I'm not likely to go here again this week, but may if that's the way my lineup builds and available salary works out. Good option if you want to fade Adams' and Cook's prices. I actually don't hate a Williams + GB DEF mini-stack.
Hunt, Kamara, Taylor all have good matchups and figure to be popular. Taylor appears cheap but he's barely making 2x his value – but he does seem to be trending toward a ceiling game. Hunt is making around 2x, sometimes 2.5x, his value – 2.5x is a fine target for the really expensive players. Kamara is consistently getting 2x and has twice gone above 3x – he's in a wind game so gets a bump, but overall has a tougher matchup in a likely lower-scoring game. Henry is expensive again and has only hit 2.5x once and, of course, nearly 4x a couple weeks ago – matchup is okay and it's a wind game, so gets a bump there. He gets better as the year goes on, so even though he's "busted" several times year, he's always capable of that monster game we need to win a million dollars. We normally wouldn't pair opposing RBs on the same lineup, but this is different – Bernard is more of a free square, so I'm fine with a Burrow + Bernard + Henry + Green/Boyd/Higgins stack if you want to go there rather than to Brown or Jonnu Smith.
Talked about the Jets being terrible at life, so have to like Edwards-Helaire. He comes with all the same game-script risks I talked about with Mahomes and could even see Bell get some action if the Chiefs do get out to the huge lead we expect. He's a fine play, although definitely not a slam dunk only seeing 2x and a couple times 2.5x value. Bell is surprisingly expensive, but if you think he gets a whole second half of work, he could pay off.
The Rams have a good matchup for RBs, if you can pick the right one. Is it Henderson? Does Akers finally get more work this week in a blowout? Does Brown get a couple cheap TDs? I like Brown most as a hail-mary pick, but there's enough other RB value that you probably don't need to go here. If you do, make sure it's with a mini-stack with Rams DEF. As a safer play, with just as much upside, I like Henderson stacked with the Rams.
The 49ers RBs are similar to the Rams in that you have to guess right. Could be McKinnon. Could be Hasty. Or could be Garoppolo throwing 50 times.
WR
We talked about Adams some. It's a wind game, so that hurts, but he could easily get ten 5-yard catches and take one to the house. Matchup is great, but hard to see another ceiling game with the weather conditions. See how your lineup shapes up and see how he fits.
Tyreek Hill is interesting. If we think the Chiefs could get to the blowout through the air, this is a great spot for a ceiling game from Hill. He's generally hitting around 2x value but hasn't really had his monster game this year. Same with Adams; see how your lineup looks and what game script you're projecting. I don't even hate a Mahomes + Helaire/Bell + Hill + KC DEF stack this week.
AJ Brown a good option this week if you're not going with Henry. A Tannehill + Brown + Smith + Bernard stack looks pretty nice.
Not a lot that I like until we get to some cheaper options.
I like any of AJ Green/Boyd/Higgins. I prefer Green.
Aiyuk/Bourne are fine options.
Landry a decent option and good pivot away from Hunt. Higgins good too, although I like the Landry role better.
Ruggs a good pick if you think he gets a lot of short passes and uses his speed to get points, but he probably won't be getting deep looks. He's more expensive than Agholor – who has been more productive – so should be lower owned. Agholor a fine option too though.
One of these days we'll have a vintage TY Hilton game. If it doesn't come against Detroit, it may never come. This is more of a gut feel pick, but I like it a lot this week. Pascal fine too.
Davis a good pivot from Brown and Smith.
Hardman a good pivot from all other Chiefs.
I really wanted to come to Valdes-Scantling this week, but with the heavy winds, he's not likely to get the big plays he needs. If weather concerns go away, I like a Rodgers + Adams + MVS + Cook stack.
Renfrow falls into the endzone and he probably hits 3x value; nice cheap option to get exposure to that game, staying mindful of the wind concerns.
In hail-mary territory, I like Berrios for a ton of Jets garbage time. And Snead.
TE
Jonnu Smith my top play.
Kittle is very solid and has huge upside in the matchup, but, as always, is expensive and Seattle is pretty good against TEs.
Waller is the best way to get exposure to that LV/CIN game, but I'm not prioritizing the game given the wind. Would be a nice bonus if he fits into my lineups, especially him and Hunt, but, again, I could see this being lower scoring than people expect.
Ebron a sneakier play against tough defense.
I don't like them this week but how about Bryant and Njoku from our hail-mary section last week?!
I like Sample as a hail-mary pick this week in a good matchup. And I like Herndon as a deep hail-mary looking for that garbage time TD.
DEF
We had the Chiefs as our second DEF last week. No reason to go away from them this week other than it's going to be super popular and DEF scoring has a high variance.
That makes the Rams my top pick this week in Tua's first game as starter.
Chargers make a fine pick going against Denver.
I like the Packers if you're going away from Dalvin Cook. Windy game on the road spells trouble for Kirk Cousins. Not the safest play, but definitely my favorite low-owned play.
Lions get the hail-mary treatment (or as Danger says, the always-potential-for-Rivers pick-six treatment).
Lineup Build
Everything is pointing me to a Burrow stack this week. Sure he's coming off a monster game and I don't like to chase points, but the matchup is there. With some minor wind concerns he might go overlooked and a ton of good stacking options on both sides. I even like going beyond 3 + 1 to a 3 + 2 or even 4 + 1. Burrow + Bernard + Green + Smith/Brown/Henry however you want to play it. I like adding Clyde Edwards-Helaire or Bell and then filling in the rest of the pieces as you can. Although play around with your lineup and see if you can get up to Cook or Taylor instead. In terms of stacking order, I like Burrow, Carr, Garappolo… and Lamar Jackson as a way under-owned contrarian play.