FD Building Blocks Week 7
Ah, another week down. How'd you do? The Watson + Henry + Fuller stack nearly won someone a million dollars. The lineup that did win the million dollars had a lot of our pieces… faded Mattison, Henry monster game, Ronald Jones… more importantly, we came back to our 3 + 1 build after last week's outlier.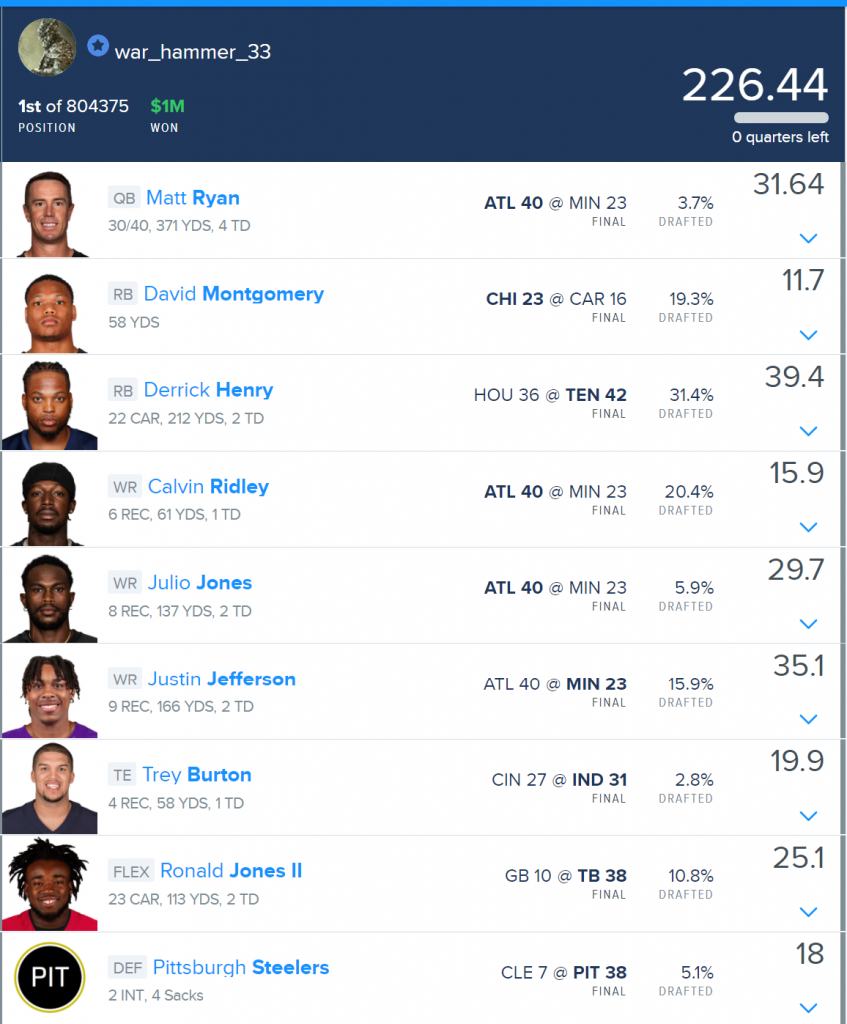 If I had unlimited money, I'd build a 3 + 1 stack for every team. And if I had money left over, I'd build ten variations of each one. But we don't need to do that, we just have to continue being smart about the stacks we choose, focus on our projected game scripts, and find ways to differentiate our lineups. Last week, that differentiation led to Justin Jefferson rather Thielen, Derrick Henry rather than Mattison and other cheap chalk picks, and Ronald Jones. Keep putting yourself in position and you'll find those tournament cashes.
What else did we get reminded of last week? Don't fall in love with recent performances – I talked about the Atlanta defense trap and, sure enough, last week it happened. It's the NFL. You can't just expect 16 terrible games. Okay, maybe you can for the Jets, but you get the idea. When the whole world is saying start WRs against Atlanta (which did work thanks to some major garbage time) it's time to be cautious. Bulls make money, bears make money, pigs get slaughtered. I raised the alarm on this next team before Atlanta even – at some point the Cowboys defense is going to show up in a game. They get Washington this week and they're coming off an embarrassing loss – I'm short Redskins this week, let others go back to the "attack Dallas" well. Just like Atlanta, one of these weeks it's not going to work.
On to Week 7.
QB
Mahomes is expensive. This doesn't scream shootout or high-scoring game, but it is a spot where it will be easier to pass than run. A Mahomes + Hill + Kelce stack would give you a unique lineup because it's expensive and there are other "more obvious" matchups that people will target. This is a situation where I wouldn't bring the stack back with someone from Denver, but I might add KC defense to the stack. When a game is expected to be one-sided and the points are more likely to come through the air, it's feasible to build a QB + WR + WR/TE + DEF stack. We've seen it work recently with Pittsburgh against Cleveland.
Josh Allen is always in play. Coming off some tough losses, might be time to return to "MVP" Allen facing the lowly Jets. You get huge upside at much lower ownership than he deserves.
Russell Wilson and Kyler Murray are both fine picks, but they'll be very popular. I'll probably look elsewhere, simply because of that. As we talked about in the intro, when there are equally good options available at much less ownership, you should always take the lower-owned option. If I went here, I'd lean Murray because the game script should point to him needing to pass more than Wilson, but this game feels (based on no analysis whatsoever) like a low-scoring disappointment or a pure Seattle blowout.
Rodgers has my attention this week. After the dud last week, and after Henry ran all over Houston, people will probably focus on Aaron Jones. I imagine I'll have Rodgers + Adams in my top two lineups, as I like angry Rodgers to bounce back here. I think we'll see Watson + Jones in a lot of lineups. This feels like a Green Bay blowout though, so I'm probably not looking to Watson this week in a potential let-down spot. If you think the Texans keep it close and the game shoots out, David Johnson has a nice matchup.
Ryan and Stafford are both good options. We talked about Atlanta being a trap, but now we may be able to take advantage of some positive recency bias, as people may not automatically go to Stafford this week. Ryan could be over-owned after his good game last week, but this still seems like a good spot to go back to Ryan + Ridley. This game appears just like the Lions / Jags game last week – two teams with terrible passing defenses. Could be a shootout, but as we saw last week, a lot of times these situations turn out to disappoint.
Roethlisberger always seems to find himself on my list. You used to be able to lock in Ben + Bell + Brown every week. Now, we're still getting a heavy focus on Pittsburgh passing, but it's much more spread out. This is more reminiscent of playing Brady naked (not stacking any WRs with him) because he spreads the ball out so much. If you can build multiple lineups with some different Pittsburgh stacks, could land on a tournament winner. I like going back to Juju as the entire industry is off him. Roethlisberger + Juju + Ebron could be in my top two.
Andy Dalton will find his way onto my hail-mary list. No one in the world is expecting anything from him this week, but he's playing Washington who isn't exactly a juggernaut, and could be in line for a super-low-owned bounce back. I'll be looking for him to get the ball out to someone like Lamb.
RB
I like the idea of an Elliott bounce-back game, but I just don't like the matchup or price. All of that points to him being a fine pick in a large GPP lineup, where talent can overcome matchup at super low ownership, but I'll mostly avoid.
Kamara gets the Henry line this week – expensive, but good matchup and other good, cheaper options, so getting less attention. Perhaps with Michael Thomas back Kamara is getting overlooked. Mike Davis continues to get more ownership love on the other side of this game, but I'll go back to the "play RBs against Carolina" track. Just like Henry, Kamara can have a monster game any day. And, he's coming into this week with a far better performance so far this year, than Henry had coming into last week. UPDATE: Thomas is out again, and now Sanders is out too, so Kamara should pick up a lot more interest. I'm still probably playing him as he could get a ridiculous number of touches. This also bumps up Lat Murray probably. If the Saints get out to a big lead, easy to see Murray getting a couple cheap TDs.
I'm avoiding Henry this week in a major letdown opportunity.
Aaron Jones will probably get a lot of attention. Fine pick if you don't go with a Rodgers stack, just don't expect a repeat of Henry's performance last week. UPDATE: With Bernard and Kamara getting so much attention now, Jones makes a lot more sense as a pivot.
Carson makes sense if your gut also says it's a potential blowout of Arizona, but this is definitely a contrarian play.
Gurley is the next one that stands out if you want to bank on another Atlanta win (good luck) and get away from the Falcons passing game or even make a non-traditional stack. You can attack Detroit through the air and on the ground. If this looks like a popular game, an over-stack could work here.
David Johnson has a good matchup on paper, but I just see Houston falling behind and forcing the pass. This is a good option if you want to take the line that Houston wins the game and we see a repeat of Ronald Jones.
Swift strikes me as too popular after his performance last week. Although with Mattison disappointing against Atlanta he could go a bit overlooked this week. The matchup is okay, but I'm expecting Detroit to go back to the pass this week.
Hate the Drake. Even though is price doesn't reflect his game against Dallas, I'm still avoiding here in what I think is a Seattle blowout. Jonny Danger goes a step further and has Chase Edmonds in his Tipsy Picks.
If you want to take a flier on Gibson, go for it. Just like Swift last week, if you can pick the RB that actually gets the work you can do well. He's cheap and if he gets enough work could easily payoff against Dallas. McKissic equally good. On that note, Peterson is a good flier this week. Is Swift for real? Probably. But he only had one more carry than AP last week.
Finally, Mixon is out so Gio Bernard becomes a near must-start at $4,800. I talked last week about the back-ups being priced up, but this is a price from years past… back-up who has proven himself when given the opportunity but is still priced like a backup. He should be the highest-owned RB. I'll definitely have some lineups without him from a game theory perspective, but I'll probably have a lot of him.
WR
Hopkins can provide value in any matchup. I'm avoiding this game, but if you really want a piece of it this is where I'd go.
I mentioned Rodgers and Adams already; will be targeting Adams a lot.
I like Ridley. It's not really a bounce back, but since he left the game early and Julio got his two TDs for the year, that may take some focus away from Ridley.
I like Hill at lower-than-normal ownership.
I like Golladay if you target the Detroit / Atlanta game. A Gurley + Golladay mini-stack looks nice.
Diggs is due for a ceiling game. Already mentioned Allen being overlooked; here's his stacking partner, especially with John Brown out now. And we know we're looking for that 3 + 1 so Allen + Diggs + Gabe Davis looks good. Crowder or Herndon if you come back on an Allen + Diggs stack, but I'm more likely to play Allen and Diggs without bringing it back with a Jet. Or even adding the Buffalo defense to the stack instead.
McLaurin will likely be popular against Dallas. I'll avoid.
Keenan Allen is a good target, but I prefer him in a game stack if you think this Chargers / Jags game turns into the shootout we thought we'd get last week. I like Chark to bounce back if you're playing that Chargers / Jags stack. But Cole and Shenault are pretty cheap and both make fine options to add as well.
I'm avoiding Cleveland, so no OBJ for me, but his price is pretty nice if it fills out your lineup.
I like JuJu again. Two bad games in a row and trade talk. But he's still got big-game potential and his bad games are priced in already. I also like Claypool and Johnson in a game stack or individually if you prefer, but they'll be more popular.
Robby Anderson is due for some positive TD regression. I like him in a mini-stack with Kamara.
Lamb is solid if you're going to Dalton or just need a mid-range guy to plug in.
Boyd + Burrow looks like a nice stack. Add in Bernard who is starting for Mixon and you've got a cheap, nontraditional QB + RB + WR stack. The beauty of this stack is that Bernard can be expected to get a lot of work in the passing game. This opens the door to bringing it back with OBJ and then being able to fit in studs like Kamara and Adams.
In the hail-mary section, Larry Fitzgerald could rack up a lot of catches in garbage time. If he's able to get into the endzone finally, he can pay off and next to zero ownership.
TE
I like Kelce. He's a big part of the offense in what should be a pass-first game.
Hockenson has a good matchup and good price. He'll likely be popular.
Same with Hunter Henry. Could make sense stacked with Herbert.
Not a ton I like at the top. Schultz stands out as a player who has hit value a couple times this season, has a good matchup, and could be the quick-out target that Dalton needs.
I like Ebron, but you're just guessing… could be JuJu game, Johnson, Washington, or Ebron. Let salary and the rest of your lineup build determine where you go.
Njoku/Bryant have a good matchup with Hooper out, but too many unknowns on playing time outside of a large GPP flier on either one.
DEF
Not a lot to say about defense. Run down the list on the player grid and see what fits and makes sense with your lineup. As mentioned, I'm okay with stacking Bills and Chiefs with their offensive players.
Lineup Build
Bernard will be highest owned RB, followed by Kamara. Both make a ton of sense and there may not be any way to get away from then in your primary lineups. But, in these types of situations, I always like to make a few secondary lineups that fade the chalk. An Aaron Jones, Carson, Gurley trio looks pretty nice in a total pivot from Bernard and Kamara.
I really wanted to come out with a Rodgers + Adams stack as my number one, but given the low ownership on Jones, I may slide that down some and go with the Packers running game. So I'm stuck picking between Mahomes, Allen, and Big Ben as my primary options. Rodgers as my secondary, along with a Burrow stack. Then a Dalton stack in a deep, hail-mary lineup. To pick between a Mahomes, Allen, or Big Ben stack (or the secondary ones if you prefer) play around with a few different lineups seeing what you like best as you fill out the rest of your lineup using the player grid and value rankings.
Stay tuned for any Sunday morning updates. And make sure you head over to Facebook Sunday morning at 11 EST to watch 'First Sip' where Jonny Danger, Emrick, and BreweryMark give you their final thoughts on the slate.