FD Building Blocks Week 6
Well, I hope you had Chase Claypool – I didn't. This is the first week we saw a non-traditional build win the million-dollar contest.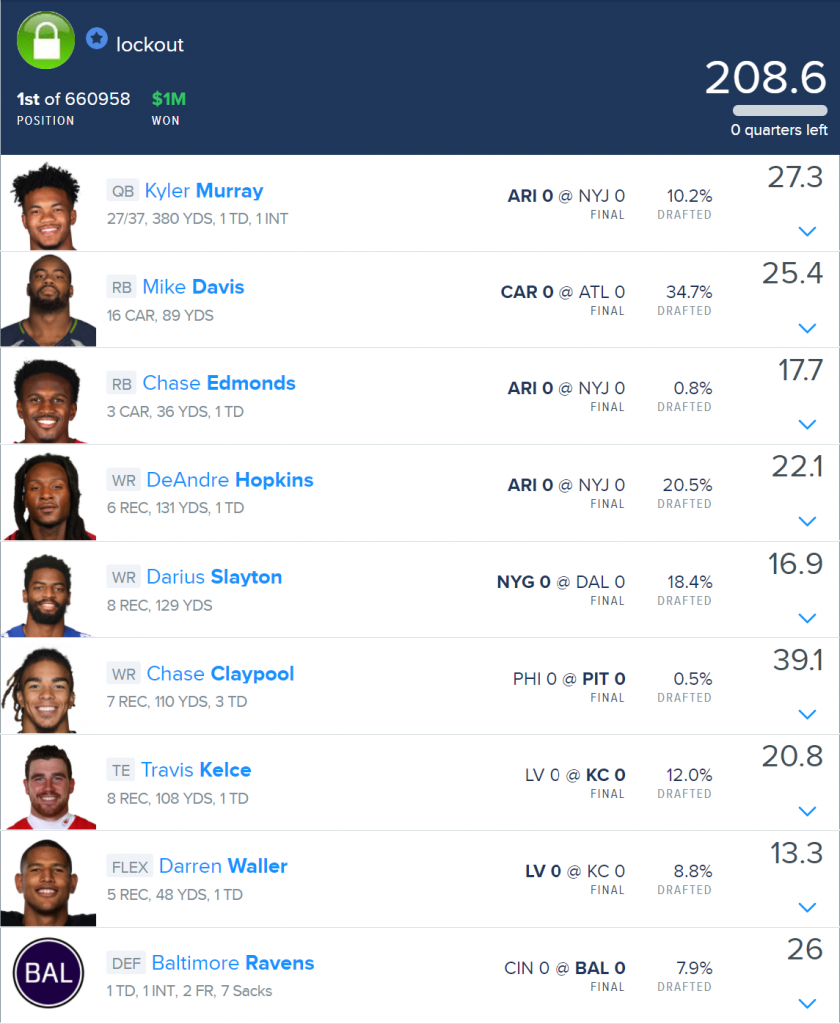 Murry and Hopkins make the normal QB + WR stack, but didn't bring it back with a Jets WR. And the only other mini-stack we see is another non-traditional stack of opposing TEs. It's usually preferrable to have an RB or WR in the flex, but when you have a game with such a high total and two TEs that play a prominent role in the offense, it can work. It's all about the story your lineup tells.
Now, it's important to note, this lineup build isn't a sustainable structure for long-term success. This win was more driven by having Claypool in a week where a single player can shift everything. When you have a .5% owned player that scores almost 40 points, you can overcome a non-optimal build, or rather, a build that needs individual players to do well, rather than needing projected game scripts to go well. Projecting game scripts and building correlations is the way to sustainable success.
On to Week 6.
QB
Lamar Jackson is expensive as usual, but a good option and he may go overlooked. Baltimore defense will be popular. Good spot for a non-traditional QB + DEF stack. You know we like to target RB + DEF, this is similar in that Lamar Jackson gets so many carries and has a lot of rushing TD upside in a potential blowout. If you think the Eagles can keep it close, can stack Jackson with a WR (or Andrews) and bring it back with someone like Ertz. Sanders turned out to be good against a tough Steelers defense – I won't bank on a repeat performance against Baltimore. And I know I said it's not a sustainable build, but a Jackson + Andrews + Ertz stack could work here.
I'm probably passing on Rodgers and Brady in a game that both sides probably don't want to turn into a shootout, but Vegas is expecting a lot of points and a close game and that's usually a recipe for success. I'll see how I like the RBs or other individual pieces of this game to fill out my lineups. Adams has a ton of upside every week and he should be healthy now, so that's an expensive way to get a piece of this game.
Watson stands out as a good option against a Tennessee team that we know can also put up points. I was in wait-and-see mode and he did have the breakout game he needed. I'm willing to look here again this week. On the other side AJ Brown will be popular, could stack with Henry instead.
I like Roethlisberger again, even if it's at what could be higher than usual ownership levels as people chase Claypool points (see what I did there?). A Roethlisberger + non-Claypool stack could be a good option. Can come back with a Cleveland WR if you really want, but that Steelers D is for real.
Vegas likes Atlanta and Minnesota to stay relatively close and score a lot of points. I just don't feel that good about Matt Ryan. As we get to the other positions, maybe we'll find some pieces of this game we can use without going to a Ryan stack.
Fitzpatrick does it again. Can Fitzmagic show up another week? His game log this year, 8.4, 24.3, 24.7, 23.3, 27.6. If you're just looking at the numbers this looks like a very solid floor, right around 3x value. And we know he has the upside. It's all about the game script this week… could it be a letdown week against the lowly Jets? Could it be a blowout that sees the running game put up points this week? Depending on what other QB + WR stacks I like, I'm more likely to use Gaskin here and maybe even Gaskin + MIA DEF.
Stafford or Minshew are fine options in another high Vegas total. Minshew's game log suggests a better floor than Stafford. But defensive matchups point more toward a Stafford + Robinson stack than a Minshew stack.
Cousins is the last one on the list I'd have any interest in. We're likely going to see Mattison as the most-owned player this week, although he's priced up already. If you want to go away from that ownership, can go Cousins. Or even a non-traditional Cousins + Mattison stack.
Remember, at QB you don't have to go to crazy. The ownerships are pretty spread out, so go with the QB stack you like the best and you can find other places to build a lower-owned, more unique lineup.
RB
Derrick Henry continues to underwhelm, even when scoring two TDs… he's just not hitting the value we need. Could he put in a monster game any week, sure. Could it be this week, definitely. But we probably have safer and cheaper options this week. That said, because of those really cheap popular options, you can differentiate your lineup by paying up for RB here while also pivoting away from AJ Brown.
Aaron Jones is probably a pass for me. I'm more inclined to think this game goes under and will probably avoid most pieces. As I do my builds this week I'm finding myself loading more Ronald Jones into lineups and making an Adams + R. Jones mini-stack. I don't really want to stack the game here, but these two pieces stand out as good tournament options.
Mike Davis continues to produce value as chalk, but he's finally priced up to the point that it's not a no-brainer. And he has a tough matchup. This is the week we fade him (again) and are finally right about it.
Jonathan Taylor appears attractively priced for the matchup, particularly when stacking with Indy DEF, but his numbers just aren't showing the ceiling he needs to hit value. Maybe this is the week though.
Already talked about Mattison – at $7,000 he'll be highly owned, with people betting on potential in a great matchup. I don't see a way to get away from him here in our primary lineups. A secondary lineup with a Cousins + WR stack would be a nice hedge here. Gurley on the other side is a fine option, but I'll probably look to the Falcons passing game this week, bring any stacks back with Ridley.
I mentioned Robinson as part of a game stack, but he's a fine stand-alone option too. His numbers don't always hit value, but he's getting the usage in the running game and passing game that suggests a ceiling game is on the way.
David Montgomery gets the 2020 dream matchup in Carolina. With Foles getting attention now and Montgomery coming off a tough matchup, he could go slightly overlooked here, but probably not. Might still be the highest-owned RB, followed by Mattison.
WR
Ridley is the top option of the slate in a good matchup. On the other side, Thielen is due for some negative TD regression, but this may not be the week for it against this Atlanta defense that continues to disappoint. Could we see new life this week though for Atlanta's defense after the coaching change? Continuing to target Atlanta's defense feels like a trap… one of these weeks it's not going to work.
Kenny Golladay gets a great matchup in a potential shootout. Makes a great stack with Stafford and may find his way into my primary lineup. Marvin Jones could bounce back here, but I like a Stafford + Golladay + Hockenson stack as well. There are a lot of other good TE options this week, so Hockenson will have very low ownership, but that also means you're passing up on a lot of good TE options… if you can fit Andrews in, I'm okay with a 2 + 1 stack and not forcing Hockenson in.
I like Juju Smith-Schuster but he feels pretty expensive compared to his performance. I do like him as a pivot away from Claypool in a Roethlisberger + Schuster stack. On the other side, can come back with Beckham in a potential bounce-back game if you want to fade the Steelers DEF.
Jamison Crowder is a solid option if you're going away from Miami DEF. I probably won't have him in my primary lineup, but if I end up with a secondary Fitzpatrick stack I'll bring it back with Crowder.
Marquise Brown is a good option, but will probably be popular after Claypool's performance last week. Even with the high ownership, a Jackson + Brown + Andrews + Ertz could be a good 3 + 1 stack. The addition of Ertz would make the lineup more unique.
Justin Jefferson is a nice way to get away from heavy Mattison ownership or a nice addition to a Cousins + Thielen + Jefferson + Ridley stack.
I like going back to TY Hilton this week in a better matchup. His ceiling game is coming, and he remains cheap for his potential. As I'm building though, I'm finding myself trying to jam in three expensive WRs.
Laviska Shenault Jr. is getting a lot of work and is a better value than Chark, who is hurt anyway. If going to a Stafford game stack, this is a nice piece to come back with. Cole is also a nice option.
Jarvis Landry if you're stacking that game and want a cheaper option than OBJ.
Russell Gage a cheap pivot from Ridley or a nice addition if you want to stack the Falcons side of the game.
Chase Claypool, ah, here we are. I probably won't be chasing points here, but he doesn't need three TDs to pay off at such a low price. He may be the most owned WR this week, partially because of people chasing points, but also largely because he's simply too cheap. If I go here, I'll probably go with a full 3 +1 stack with Roethlisberger + Schuster + Claypool + Beckham. Or Ebron instead of Schuster. That will give us some of our ownership leverage back. Update: Industry buzz is that Claypool isn't getting the public attention I thought he'd get. I have no problem going back to him here, not to chase points, but because Roethlisberger likes him and he's going to continue getting work.
TE
Mark Andrews is always in play and has a nice matchup this week.
I'll be passing on Robert Tonyan. He may be a productive player the rest of the year, but he's not worth the second most expensive TE.
I like Ertz if the Eagles can keep it close or put up any points at all.
Hockenson is a nice option on the cheaper end and makes a nice game-stack addition. Same with Ebron.
Irv Smith Jr. is an upside flier. Rudolph an upside flier if you're just hoping for ten yards and two TDs.
DEF
Mostly obvious names here, see what your salary will allow and see whether you can build any RB + DEF stacks. With the other value at RB this week, may not be able to focus on the RB + DEF stack as much.
Colts, Steelers, Ravens. Dolphins and Washington are slightly cheaper options, but both solid options. Vikings are an upside pick against a shaky Matt Ryan.
The build this week.
Roethlisberger + Claypool + OBJ + Ebron. Claypool and Ebron give you a cheaper stack allowing you to fit in some other nice pieces. This is my preferred GPP stack. A Cousins or Stafford one a bit safer in cash games.
Cousins + Thielen + Ridley + Irv Smith Jr. I like this if you want to get away from Mattison ownership. Or at least put in a hedge lineup.
Cousins + Mattison + Thielen + Ridley. Non-traditional stack with QB + RB, but we know when a game score is high enough this stack can pay off.
Stafford + Robinson + Golladay + Hockenson (can sub Shenault Jr. or Cole for Robinson or even add one and go with a full 3 + 2 stack.
Jackson + Andrews + Ertz. Or Jackson + Brown + Andrews + Ertz.
Watson + Henry + Fuller. AJ Brown going to get a lot of ownership. If you want to bet on Henry's monster game coming here, makes sense to bring it back with Watson and Fuller or even add Cooks too for that 3 + 1.
As I'm building, I'm trying to get a Davante Adams and Ronald Jones mini-stack into my lineups where I can. Jones will be very low owned and gives you a pivot off of Mattison. This works best with a Cousins + Thielen stack where you're already betting on a Mattison disappointment or in a lineup where you're targeting some of the cheaper RBs like Montgomery, Robinson, Gaskin.
QB
RB
WR
TE
DEF
Foundation
Jackson

Stafford

Montgomery

Mattison

Ridley
Andrews
Colts

Dolphins

Tournament
Roethlisberger

Fitzpatrick

Minshew

Robinson

Taylor

Mixon

Thielen

Golladay

Adams

Hilton

Shenault Jr.

Claypool

Ebron

Hockenson

Steelers

Baltimore

Football Team

Million $
Cousins
R. Jones

Gaskin

Smith-Schuster

Beckham Jr.

M. Brown

Jefferson

Byrd

Landry

Gage

Ertz

Smith Jr.

Vikings
Hail Mary
Boone

Gore

Perine

Rudolph
Eagles

Jets