FD Building Blocks Week 5
Well, another week, another 3 + 1 game stack won a million dollars. As long as these ultra-high-scoring games continue, the 3 + 1 stack is going to be the build we need. Below you see Prescott + Lamb + Cooper + Beckham. We also again see an RB + DEF mini-stack with Cook and the Vikings. Should note, this person probably was not targeting Minnesota's defense as a high-upside defense but as a salary saver to fit all the others play in. But if you're picking a salary-saver defense, might as well try to get the correlated upside and pair with an RB if you can.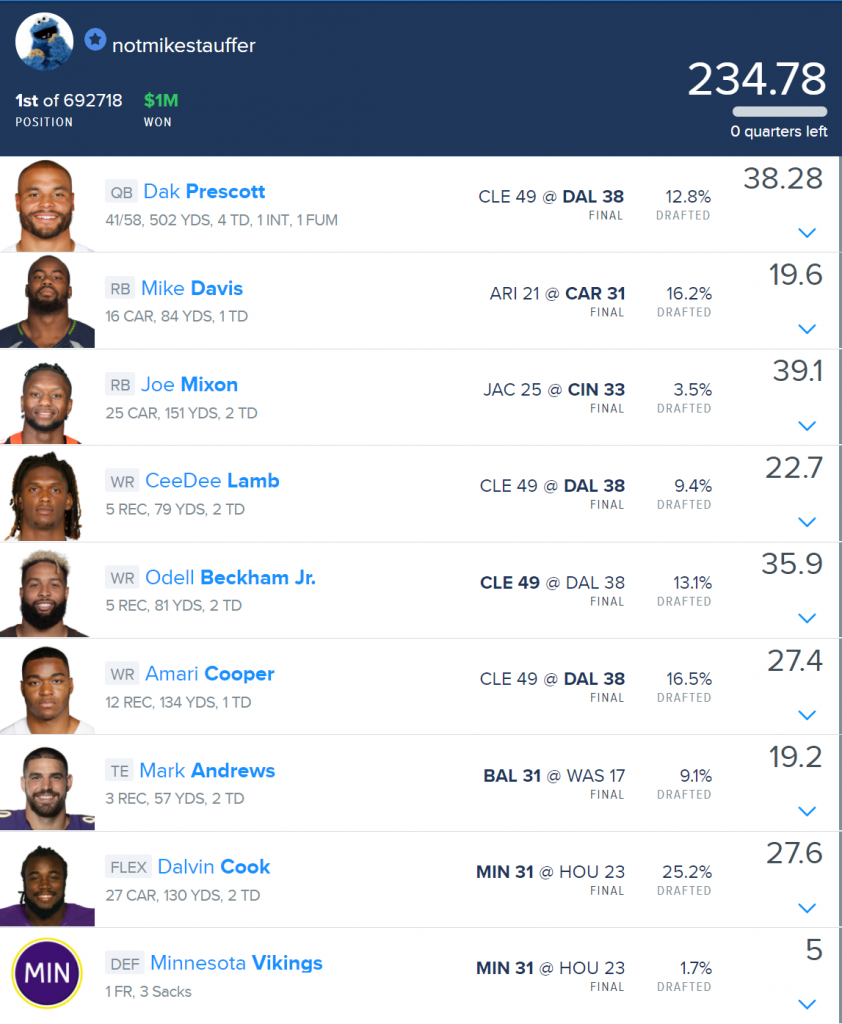 I had a 3 + 1 in my primary lineup, but it was Browns heavy, not Cowboys heavy. Now, if you would've told me before the week started that the Browns would put 49 points and Landry would throw a TD to Beckham, but I would still end up losing money, I'd think you were crazy. Alas, all we can do is try to predict game flow, build a correlated lineup, then wait and see. DFS still takes luck, but the key is putting yourself in position to take advantage of that luck. In my 3 + 1 stack, I had Mayfield + Landry + Beckham + Elliott, so had I known the Browns would jump out to a lead forcing the Cowboys to air it out, yet again, then I wouldn't have had Elliott as the 1 but would've had Cooper or Lamb. That's the game script concept… my lineup was telling the story that the Cowboys would get out to a lead, run the ball more, and the Browns would be passing to catch back up. That story didn't turn out to be reality, but that's the best we can do… make your lineup tell a story and then hope the game flow follows that story.
On to week five.
QB
Mahomes coming off a relatively low day; looking for him to bounce back here against Las Vegas. You have to pay up for that though.
Going to mostly avoid Jackson with a little injury scare. Wouldn't take much to make his knee injury (knee precaution?) flare up, no matter how minor it is. We should have safer options available to us.
Prescott, again. One of these games will be the Elliott game; one of these games the Cowboys won't have to come from behind. Playing the Giants is as good a chance for that to be the case as you could hope for. I'm probably (hesitantly) fading Prescott and going back to Elliott here instead.
Avoiding Allen in a game that is likely to be postponed and could be slower-paced than we want anyway.
Murray against the Jets. I like it. Good spot for a bounce-back; Murray + Hopkins is always a dangerous stack. Could run it back with Herndon, keeping in mind Flacco will be starting at QB. If you want to a more contrarian stack, could go with Flacco + Drake + Herndon.
Watson against Jacksonville seems like it could turn into a shootout situation, but I'll probably wait and see what happens with the coaching change. If it starts to look like the coaching change means unleashing Watson, might look here in a few lineups. He definitely has the upside though, so worth a lineup if you're making multiple.
Matt Ryan, what a disappointment. Julio/Ridley/Gage really let us down on the showdown slate. If you want to go here playing for a bounce-back, I'm okay with it. But I'm more likely to go to the other side of the ball targeting Gurley, with a Bridgewater + Moore/Anderson + Gurley stack.
I expect we'll see a lot of Daniel Jones ownership this week. He's priced pretty cheap and doesn't need another 80-pt game to pay off. I already said I'm more likely to go with an Elliott lineup than a Dak lineup, so it makes sense to bring it back with Daniel Jones, but… I'll still throw in one Elliott + Cowboys DEF stack too in a totally contrarian lineup. They can't really be that bad every week, right? A Jones + Engram + Elliott stack could be pretty nice. If you want to bank on another 3 + 1 lineup build, could throw Tate or Slayton in there as well.
I can't not mention Flacco again and Kyle Allen. Both are starting, both are min-price. Flacco against Arizona has pace and more potential to be a shootout. Allen against the Rams has more potential to be sacked and injured on the first play of the game. If not injured, at least sacked. And then sacked some more. And sacked some more. Allen was a serviceable starter last year for Carolina and is surely better than Haskins, but this seems like a spot to fire up the Rams defense rather than getting cute with Allen. But if you absolutely need the savings at QB, go for it.
RB
Elliott is $9,000. That seems awfully pricey for a guy who has a game log of 26.2, 19.2, 14.8, 16.5. Maybe that price and that game log will scare people off of him; maybe people will flock to Prescott again. I'll take the chance on talent winning out and will go for some TD regression here.
Clyde Edwards-Helaire is another bounce-back candidate. I would even go to a more rare QB + RB stack here with Mahomes and a WR. If this game does shootout, like the ridiculously high Vegas total suggests, there will plenty of points available for both Mahomes and Edwards-Helaire to pay off. This game will be popular, so this less traditional stack will be the starting point of a unique lineup.
Josh Jacobs on the other side is a fine option too in a game stack – a Carr + Jacobs + Waller + KC (Hill/Kelce/other) stack will give you a unique lineup as most people probably won't stack the LV side as much. I may have a lineup there, but I'm just as likely to go with an Edwards-Helaire + Chiefs DEF stack given the high point spread.
Joe Mixon will hopefully take a lot of ownership focus off the guys we want to play. I won't be chasing points here, especially against Baltimore.
A lot of options in the mid-range of pricing. Davis, Gurley, Robinson, Johnson, Drake. Since I'll likely be on a KC/LV stack in my primary lineup, I'll need some cheaper RBs and will likely go back to Drake after a big disappointment last week. Fit the others into your lineup as needed based on the story you're telling and the salary you have.
Another salary saver that you may need, Freeman. Surely the Cowboys will jump out to a lead in this one and maybe that takes Freeman out of the game. But at $5,500 if he falls into the end zone once he's got a good chance at hitting value. If you want to go cheaper, and really contrarian, can give Dion Lewis a look, telling the story that the Giants will be behind and he'll get more work in the passing game, but it's a pure, long-shot gamble.
WR
Bunch of fine options at the top, depending on what stack you want to target and how much salary you have. Hill could find the end zone again this week, but Kelce could be in line for a bounce back. Hard to go away from Hill, so it depends on what you want to do at TE. If you want to come back with Waller, then play Hill. If you want to go away from Hill, play Kelce. If you want to build a unique lineup, you can even go with a rare two-TE lineup, with Kelce and Waller. When a game is expected to be so popular, you have to find those unique spots.
The first WR that really gets me excited is Moore, then also Anderson. Both seem too cheap for playing against the Falcons.
Boyd and Green (if healthy) are under-the-radar, cheap options you might need to build a Mahomes lineups. People will be scared off by the matchup with Baltimore, as they should be, but someone has to try to catch passes when the Bengals are playing catch-up.
If you're going away from Elliott at RB, Lamb and Gallup both remain cheap. Stuck in between those two is Slayton though, who I like better given the potential game script.
Then we come to TY Hilton. Wow. $5,700. Four games in a row where the Colts haven't needed to air it out. And now they get the Browns who just put up 49 points. Could it be another disappointment for TY Hilton, sure. But could also be a vintage two-TD performance playing catchup against the Browns, sure. I'll bank on talent here and a much-needed bounce back.
If you're going with a KC/LV stack you'll want some variations that have Watkins. A Mahomes + Watkins + Kelce stack is a nice way to get away from Hill and save some money.
TE
Familiar options at the top and we've already talked Kelce and Waller. Kittle and Andrews, coming off good games, could got a bit overlooked given the KC/LV attention.
Ertz appears cheap, but has a tough match-up against the Steelers. Would be a great addition to a game stack if you wanted to put a lineup in there.
Engram and Herndon are two cheaper options in a great spot. If you're not going up top, or are going Hill rather than Kelce, these are good options to add in.
DEF
The Rams, as expected given our discussion of Washington above, are the most expensive defense. They're a fine option if you can fit them.
Ravens are always fine, but I don't feel like they have the scoring potential in this matchup.
The Steelers stand out as my top option going against an over-rated Philadelphia team coming off a win.
Arizona is an intriguing option, particularly with a Drake stack.
I like Hilton, but after Cleveland shut down Dallas for three quarters, it's not hard to imagine Rivers throwing a pick-six or two. Good contrarian option. And a good RB + DEF stack with Hunt.
The build this week.
Some weeks I want to go with a single lineup. Some weeks I like a lot of different scenarios so I build a primary lineup then throw in some smaller secondary lineups. Some weeks, like this week, when everything points toward one game, I lean toward putting all my eggs into one basket (one game) and building multiple variations of lineups stacking those games. That will be my primary strategy focusing on the KC+LV game. My preferred stack to fit some of the other players we like, is a non-traditional Mahomes + Edwards-Helaire + Watkins + Waller.
My secondary build, if I build one, would be a Bridgewater + Moore + Anderson + Gurley.
And third, a Murray + Hopkins + Herndon stack.
Then, if you're still building, Watson + Fuller, can add Robinson or Chark or even Shenault Jr.
In any of these secondary stacks that don't feature the passing games of the Chiefs or Raiders, I like adding a Clyde Edwards-Helaire + Chiefs DEF stack.
QB
RB
WR
TE
DEF
Foundation
Mahomes
Elliott

Edwards-Helaire

Hill
Kelce

Waller

Steelers

Rams

Tournament
Bridgewater

Jones

Murray

Drake

Gurley

Davis

Da. Johnson

Hilton

Moore

Watkins

Anderson

Slayton

Tate

Boyd

Engram
Cardinals
Million $
Ryan
Freeman
Lamb

Gallup

Zaccheaus

Herndon
Browns

Texans

Hail Mary
Flacco

Allen

Lewis
Green
Cowboys