FD Building Blocks Week 3
Ah, the injuries. It happens. It's always tough when one of your DFS players gets hurt in the 1st Quarter, even tougher when it's a core piece on your biggest lineups, as was the case with Saquon Barkley. He found his way into my lineups, based on the same reasoning for Aaron Jones and Dalvin Cook – whenever you have two players like Derrick Henry and Jonathan Taylor expected to be so heavily owned, it's a great idea to pivot to a player who has an equal chance of performing well but is being ignored.  
Aaron Jones call was great. Fading Derrick Henry call was great. Fading Jonathan Taylor was not great, but didn't really hurt us too much as, outside of Aaron Jones, the RB position as a whole missed value. Our second RB – McCaffrey – didn't hit his value but still ended up as the third-ranked RB despite leaving with his own injury in the 4th Quarter. He's not getting the usage he had last year, but he'll be back some time and his monster week will come… I'll be there, at a deflated price and ownership level, when it does.  
Our Brady + Evans core was great with Evans, but Brady didn't really produce what we needed. Hopefully you had a lineup with our second QB – Prescott – and hopefully you hit on the right pieces of overstacking that game. I ended up on Hurst, who did fine, but was not the Falcons piece we needed. And I ended up on Gallup on the Cowboys side, who was a disappointment (might have to go back to him this week!)   
We saw the overstack build win a million dollars in Week 1. And it was the same in Week 2. 
A QB + RB + WR + Opposing WR stack won the day. That winning lineup (below) had Prescott and Elliott who we mentioned as a viable QB + RB stack in a high-scoring game. It also had another one of our favorite stacks – RB + DEF with Jones and Green Bay. With Jones and Evans – our top RB and WR picks – paired with the right Prescott stack, you might have made a lot of money last week. Hopefully you did!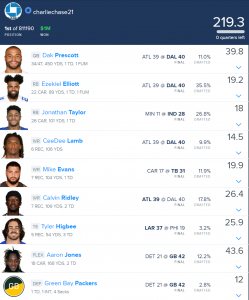 You've heard it from me before but focusing on these mini-stacks is the way to make your lineup safer and give it more upside! And it doesn't take a game hitting 79 points to pay off! And you don't have to totally avoid the chalk… as long as you find a way to differentiate your lineups by overstacking and/or picking a good (but underrated) player or two you can win the big one! 
On to Week 3.  
I told you on Sunday I was starting to like a Big Ben + Juju stack. That didn't pan out, but ownership was ridiculously low on them, which made them a great play, despite the result. Their ownership will surely be higher this week in a potential shootout with Houston, but they still seem to be going overlooked. I'm likely to go back to Big Ben, but because of the expected ownership levels, will likely use an overstack, perhaps going Big Ben, Juju, Diontae Johnson, and coming back with Will Fuller on the other side. Again, overstacking a game is a great way to capture upside in a high-scoring game, but it's also a great way to build some differentiation to offset the high ownership levels of individual players.  
I told you last week that Jones and Cook (rather than Henry and Taylor) could be a dream situation. Well, with Aaron Jones it was. Cook finished 11th, not terrible and better than Henry for sure. That dream situation leads us to a new dream situation this week… we're going right back to Henry! After his stinker last week, he'll be lower-owned than he should be and we can bring it back with Thielen who always has a chance to score two TDs. Another mini-stack! This dream situation would be even better if the Packers were playing on the main slate so we could also fade Jones this week at what would have been absurb ownership levels.  
We can also get some leverage off of the Dallas and Seattle game this week, which might have record ownership levels as Prescott and Wilson have been putting up ridiculous numbers. We'll definitely have some lineups that stack up the Cowboys side and the Seahawks side, but forgotten in this is Matt Ryan. An 0-2 start, going against a solid defense in Chicago, and outshadowed by Prescott and Wilson makes Ryan a great tournament start this week. And, Ridley will likely have higher ownership levels than Julio Jones, so we'll take the classic pairing of Ryan + Julio instead. And, of course, we need our mini-stack… hello Allen Robinson! You might have forgotten he's even playing this year; that's exactly the situation we want to target for leverage this week! Note, keep an eye on Julio's status. He's a game-time decision and, even if he starts, could leave with an injury at any moment. If you want to avoid that risk move to Ridley instead, even if he'll be more popular. If you're comfortable knowing Julio may get you a zero, he'll be much lower owned given his status – a great situation if he does indeed play and puts up a big score.  
Specific to moving away from Dallas and Seattle… people forget Week 1 where the Rams beat the Cowboys. And people forget the reason there was so much work for Prescott was because the Cowboys had a giant hole to climb out of. Both these teams want to run the ball to set up the pass – it would not surprise me if this game is the "Derrick Henry" of the week and finishes lower than expected. Of course, it could easily be another 80-point game, but I'm willing to fade it in my primary lineups (understanding there is risk in doing that). Will still have some smaller ones sprinkled in that feature this game, but I'll be mostly contrarian again this week. If you're playing cash games, don't have to get cute, you can play the chalk from this game.  
Where I'll really be looking in this game is to Chris Carson. We saw it with Aaron Jones a couple times last year and again last week – when the focus is so heavily on the passing game, you can get a player like Carson at much lower ownership than he should be, although people seem to be coming around to him as the week goes on. If you really want to go contrarian, throw in a Carson + Seattle DEF lineup. Remember the concepts of regression and recency bias. Could these teams put up another monster week, sure, but could they also regress to the mean and end up with a much lower scoring game than expected, absolutely. As E-Sports told you in one of the showdown slates, to win a big tournament you have to get a little uncomfortable – not trying to make the correct picks, trying to make the correct picks if the most popular picks fail.  
I also like Kyler Murray if you want to move away from Prescott and Wilson, but he'll be popular too. Trubisky may pick up ownership as well, given Prescott's performance against Atlanta. He may even be higher owned than Matt Ryan; I'll stick with Matt Ryan or Big Ben. 
I liked Ekeler last week, but he's stuck in that timeshare and his price is too high. I might jump on Miles Sanders before he gets too popular in future weeks, although it's sounding like he's going to be pretty popular this week already, so I might fade him now. He had a great week last week and has a great matchup, but I'll wait to see a couple weeks in a row first.  
I mentioned I might go back to Gallup this week as he'll surely be the lowest-owned of the Cowboys skill players this week, giving us a more unique lineup in a popular game. TY Hilton could be a good option this week without Campbell now and with people perhaps focusing their attention on Jonathan Taylor. Taylor is a good option this week but he could be popular again. If you go that route pair him with Indy D to offset the high ownership of each of them individually.  
Also on the Defense front, the Chargers are going overlooked. They're priced at the top so that may be causing people to shy away, perhaps it's their injuries. But one week after Tampa was the most popular defense going against Carolina with McCaffrey, we can now get the Chargers going against Carolina without McCaffrey. Sign me up. An Ekeler + Kelly + LAC stack would be a nice hail-mary stack in a larger GPP. 
QB
RB
WR
TE
DEF
Stack
Foundation
Henry
Indy
LA Chargers
Tournament
Ryan
Roethlisberger
Murray
Taylor
Cook
Sanders
Carson
J. Jones
Thielen
A. Robinson
Smith-Schuster
D. Johnson
L. Thomas
Hockenson
Sample
Cleveland
Tampa Bay
Taylor + Indy
Henry + Thielen
Ryan + Jones + Robinson
Murray + Hopkins + Hockenson
Million $
Trubisky
McKinnon
Montgomery
Fournette
Gallup
Fuller
Miller
Gage
Hooper
Hurst
Schultz
NY Jets
Pittsburgh
Roethlisberger + Schuster + Johnson + Fuller
Trubisky + Robinson + Miller + Jones
Roethlisberger + Schuster + Johnson + Pittsburgh
Hail Mary
D. Lewis
Graham
NY Giants
Carolina
Tennessee
Seattle
Henry + Tennessee
Carson + Seattle
Ekeler + Kelly + Chargers
Fading
Afraid of Not Having
Prescott
Wilson
Ridley
Cooper
Lamb
Lockett
Metcalf