Have you entered the world of daily fantasy leagues yet? You should!
Play a new contest every day against other people. It's easy to join, easy to play, safe and secure, and a TON of fun! You can enter for as little as $1 and you can play for thousands of dollars in prizes!
How It Works
Just like finding as many above average players as possible in a regular league, the goal in daily fantasy leagues is to find as much value as possible for as small a price as possible. You get a fixed budget and you can select any players you want, as long as their total cost is less than the budget (see the example below).
You can pick any type of team you want – you can get all stud RBs and choose cheaper WRs or pair a QB with all of his WRs. You can even start your favorite player every week!
We'll Help Get You Started
Every week, we'll give you computer-generated, optimized lineups for NFL contests on FanDuel. We've done our homework so we can give you the greatest chance of winning each week. Just enter our lineups and you're ready to go!
For less than $1 a week you can be well on your way to dominating daily fantasy contests! If all you do is enter a $1 contest each week and win $1.80, you've paid for the optimized lineups!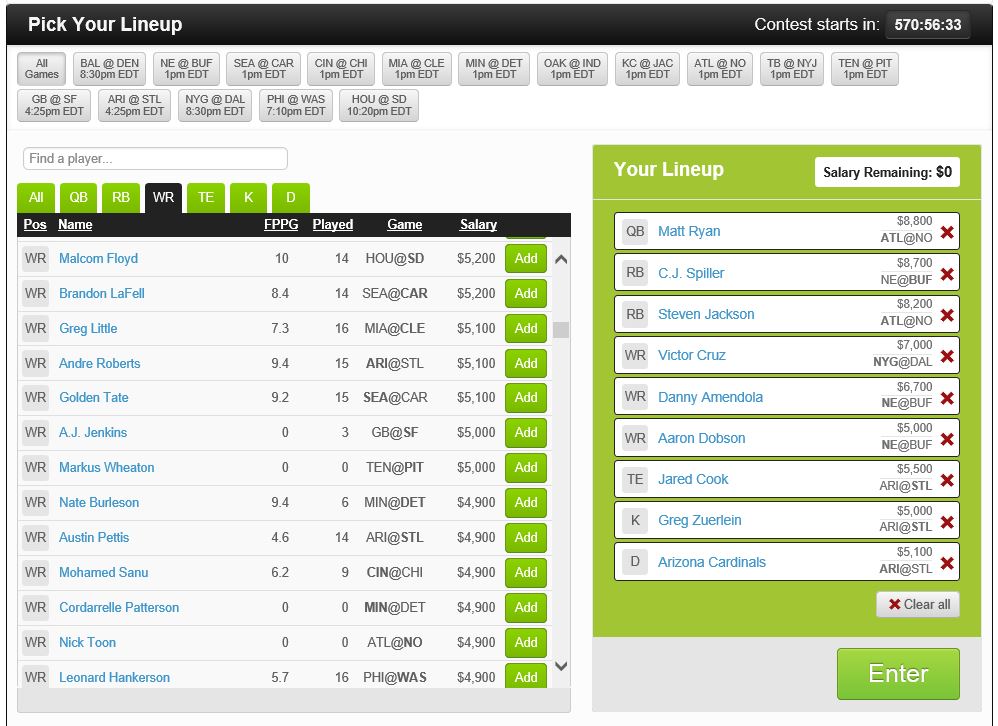 Sample lineup for week one of the 2013 NFL season.